Having it all: being a full-time mum and full-time manager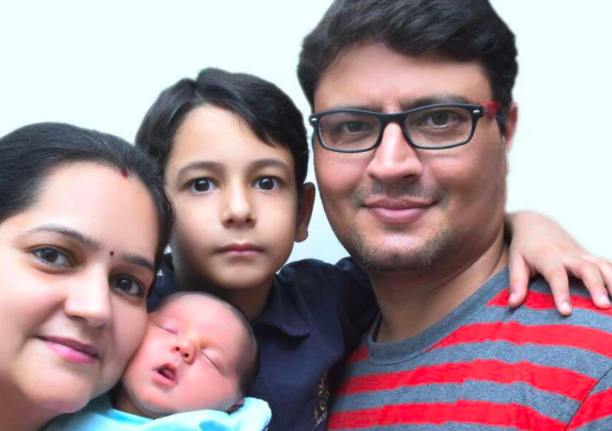 When it comes to balancing family and work, Bhumika Sharma never worries because the Salesforce culture stresses the importance of family; and the support she receives helps her bring her best self to work every day.
Let's start with getting to know you! Tell us about yourself.
I am from Delhi and completed all my schooling there. While I was pursuing a Bachelor's degree in Chemistry, I also completed a course in Computers from GNIIT. As a course requirement, I had to work for a year in IT. I started off as a school teacher, training students from pre-primary to Grade 6 in Computer Science. That experience inculcated in me a passion for teaching and I went on to join a learning outsourcing company as a trainer.
My first love has always been studying. I continued studying even as I worked, completing my Masters in Information Technology and pursuing a dual MBA in marketing and IT. I have also completed many international certifications from Microsoft. I believe that as a teacher I can never stop my own learning journey.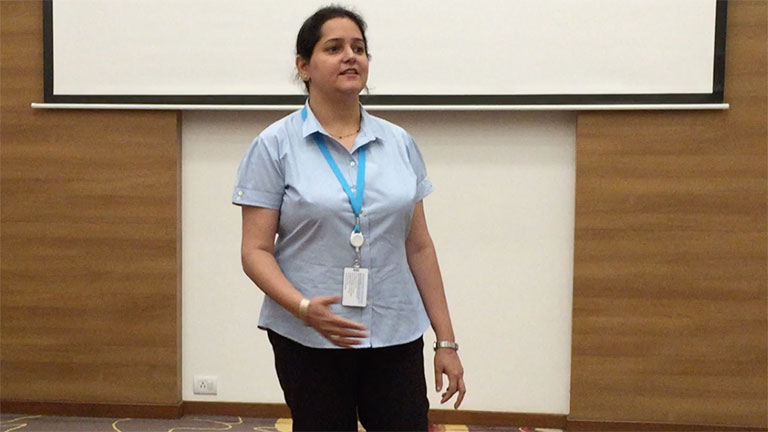 How did your Salesforce adventure begin?
When I was at my previous company, I took maternity leave to have my first child. I was hoping for an extension of the leave, but unfortunately, I did not have that option. With no choice but to go back to work within two and a half months, I decided to instead move on from that company. I continued to study while taking care of my newborn.
When my son was two years old, I started looking for a new job but faced rejection everywhere. I was overqualified for entry-level roles, but not considered for those that were actually right for my level of expertise, simply because I had taken a career break.
I was conducting training as a freelancer and decided to pursue Salesforce certifications in the hope that these would open up doors for me. Imagine my surprise when Salesforce then contacted me asking if I wanted to join them as a corporate trainer! This was the opportunity that I had been waiting for! Salesforce evaluated me based on my experience and talent, not gender or personal situation. The day I joined the company as a Senior Instructor in 2015 I knew that my career path was sorted and it would all be uphill from there.
What is the role of a Business Operations Manager? What is most challenging and most rewarding about your job?
I began by training new hires on basic certifications that they needed for their roles. I trained the Hyderabad Customer Success Group (CSG) to begin with, but quickly started leading a global training team across different locations. I also began to train the trainers themselves – it was then that I became a Business Operations Manager.
Now I host virtual certifications and product trainings for CSG employees based in different Salesforce locations, identifying knowledge gaps, and planning and executing training to ensure they are successful. I train people at different levels and with different needs. My role is really to help upskill agents so that they can enable their customers' success.
Salesforce gives me the opportunity to focus on my own learning as well. I feel like I have the power to grow my career in any direction I am interested in; I am responsible for my own development.
The constant learning is the most rewarding part of my job – but it is also the most challenging! I work with Marketing Cloud one week, and Einstein the next, and a particular certification the third. Keeping up to date with new releases and innovations can be challenging; luckily, I have a learning mindset, so I find this rewarding as well.
I also find it extremely rewarding when I see people I have trained grow their careers within the organisation – especially when they come back and thank me for giving them a strong foundation.
You are a new mum (for a second time!) – congratulations! How do you balance work and life?
Life automatically finds a balance when you have supportive people around you. I get 360-degree support from my peers and leadership team at work, and from my family and kids at home. This support helps me perform well in all aspects of my life.
Salesforce offers great flexibility in work timings. My trainings can happen anytime during the day (or night) depending on the time zone my students are in. As long as I deliver and complete my work, I am free to manage my own time.
The organisational culture stresses the importance of family time. We are told that if it comes down to a choice, family always comes first. And this helps me be there for my family even as I continue to do great work.
How do you think Salesforce creates an environment where you can bring your best self to work each day?
The flexibility and support Salesforce offers are like no other. When I had to go on maternity leave, I was quite stressed – already thinking about how I would fit into the flow of things after a long break, and wondering whether I would be able to balance family and work.
But my manager pre-empted all my worrying by assuring me of the team's complete support. When I came back to work, my peers and leaders gave me ample time to settle back in and to learn how to manage my time. This kind of supportive culture helps me be the best I can be – more productive, dedicated, and engaged. And it keeps my passion for my work alive.
You are a female leader in a traditionally male-dominated industry. What are some of the challenges you've faced and how have you overcome them?
I did face a lot of gender bias in earlier roles and jobs where I was made to feel that as a woman, I was not cut out for this industry. This became worse when I became a first-time mother, with people raising questions on how I would cope.
The more people challenged me, the more determined I was to break the stereotypes around working mums. And this has helped me achieve a lot in my career.
Did you take advantage of Salesforce's parental leave policy?
Yes, Salesforce gives you six months of maternity leave – and this is time you really need when you are a new mum. I was not asked to come back early and I was completely confident that my role would be waiting for me when I returned. Salesforce has a great paternal leave policy – 26 weeks of paid parental leave for primary caregivers and 12 weeks for secondary caregivers. This means that dads get to spend plenty of time with their newborns as well – something most companies in India don't bother about.
One final question: where do you see yourself in 5 years?
I see myself still working with Salesforce! Salesforce offers employees multiple paths to career growth. I don't feel compelled to climb the leadership ladder; I work as an individual contributor and enjoy the fact that I can explore different roles, going where my passion takes me. I am free to plan my own career path and can be assured to support at every step of the way.
Interested in joining Salesforce? Indicate your interest to their recruiting team.