How Remote Work is Transforming the Security Industry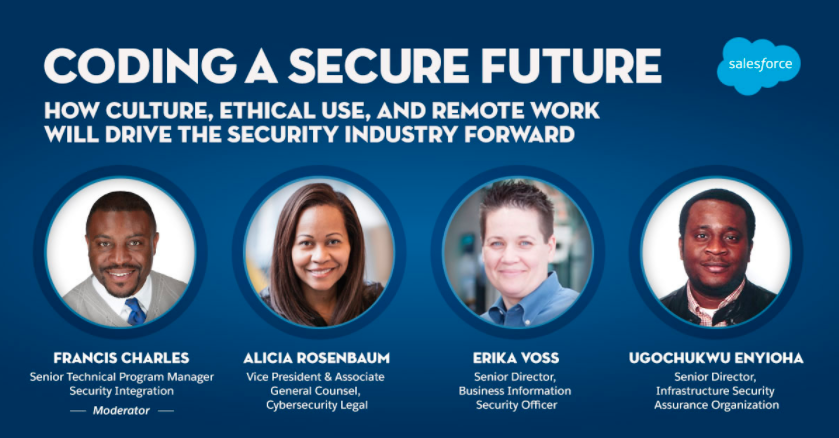 In a time when remote work has become our new norm, we're seeing a shift across many industries. What's this shift you might ask? Well, everyone working digitally is now a security professional. Okay, maybe not security professional in the traditional sense, but there is an increase in how people are engaging with their own privacy, especially as it relates to establishing firmer work-life boundaries. As our personal and professional lives become increasingly more intertwined, how do we balance personal data privacy rights and company security?
In a recent Tech Talk, Coding A Secure Future: How Culture, Ethical Use, and Remote Work Will Drive the Security Industry Forward, we heard from a group of Salesforce security leaders about how they've made their own adjustments to working remote. They also spoke on how the security industry as a whole can adapt to meet the demands of this remote world. In case you missed it, here are a few takeaways from our panelists that will help you answer this question.
"Security is as much a feature as privacy." – Alicia Lowery Rosenbaum, VP & Associate General Counsel, Cybersecurity Legal at Salesforce

While it might seem that maintaining company security restricts the ability to retain your own privacy, that is actually not the case. We need to start viewing security and privacy as features that work together to achieve the common end goal of increased protection. For example, tools such as multi-factor authentication and shredders are designed by security professionals with your privacy in mind. A shift in perception will allow us to become more active participants in securing our privacy.

"Diversity helps build a high-performing security organization." – Ugochukwu Enyioha, Sr. Director, Infrastructure Security Assurance Organization at Salesforce

When we think about security, the importance of team diversity may not be the first thing to come to mind. In order for us to live in a more secure world, we need to have security professionals who come from varied backgrounds. As the global workforce population continues to evolve and become more diverse, countless studies have shown the benefits of building workforces that reflect society. Diversity leads to smarter and more innovative teams who can create products and services for customers from a myriad of backgrounds and identities. We all have our own standards of what privacy looks like, so it helps to have representation from underrepresented minorities and groups to provide inclusive perspectives in the necessary spaces concerning how security can better support privacy. Learn more about the action Salesforce is taking to build a diverse workforce.

"Change the culture of security."- Erika Voss, Sr. Director, Business Information Security Officer at Salesforce

While security threats become more complicated and targeted, one of the best ways to maintain our privacy is returning back to the basics of security. In order for security teams to get the necessary buy-in from users, we must change the culture of security. Rather than being an overly cautious department whose response is typically "no," security teams need to become the department of "know." This means companies need to invest resources and time into educating our employees, so they can rely more on security teams in times of need. Investing time into educating our stakeholders, like emphasizing the importance of completing patching updates, will ultimately end in a more secure future for all. We all have a part to play in maintaining our own personal privacy via our security tactics, and it's up to the security team to help facilitate.
These are only a few of the gems our panelists dropped in this webinar. Watch our on-demand Tech Talk to get the full download.
If remote work has taught us anything, it's that we must continue to adapt and innovate. Here at Salesforce, maintaining our customers' trust and keeping their data secure is our top priority. We are constantly coming up with strategies and tools to support the security of our large infrastructure, and are looking for individuals who can help us accomplish this. Interested in learning more about security at Salesforce? Learn more about our security team!