The speed of technology: Social change is catching up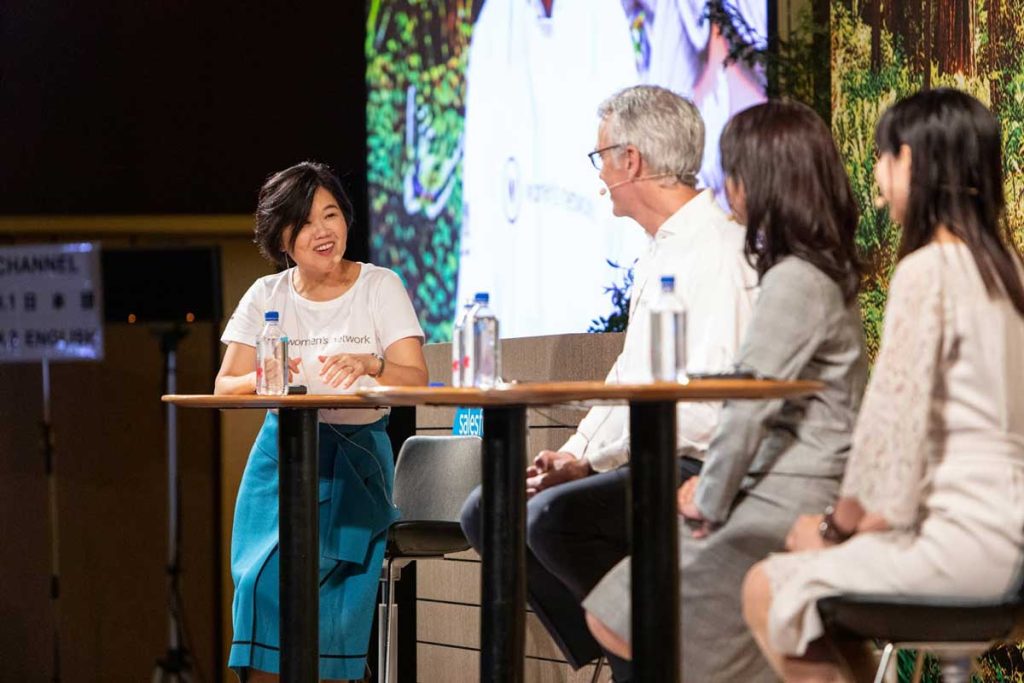 By WITI Staff Writer
We don't always realize the impact that sharing our journey can have  on others who are in the process of launching their own. When the Senior Vice President (SVP) of Salesforce's Platform software visited Salesforce Japan, she left Mariko Sugiyama inspired to help with the development of the Salesforce Women's Network (SWN) community. Today, Mariko is Co-Leader of SWN Japan, alongside her role as Executive Officer for the Salesforce Innovation Center. Since Mariko joined Salesforce in 2012, themes of innovative workplaces, education and mentorship have woven throughout her career to inspire the next generation.
Thriving in a success from anywhere world
The benefits of working in Tech are many and fabled outside of the industry and this attracts a diverse talent base looking for innovative workplaces. As offices around the world reopen and get back to in-person work, Salesforce is offering employees flexible options.  Mariko agrees and sees these progressive approaches as, "a great advantage for the time-restricted woman and for flexible working."  She goes on to say that creatively adapting to changing times with policies like flexible work schedules, "not only [benefits] women but all employees."
Mariko explains that for a person to be successful in business in Japan, people typically think that they have to live near Tokyo. "Tokyo is a big city and most of the business(es) [are] concentrated there." That isn't true for the technology world, however. "There's a lot of potential for women. If they live in a region apart from Tokyo, there is still a chance to get a technology job." That's the beauty of how the workplace is changing — you can truly be successful from anywhere.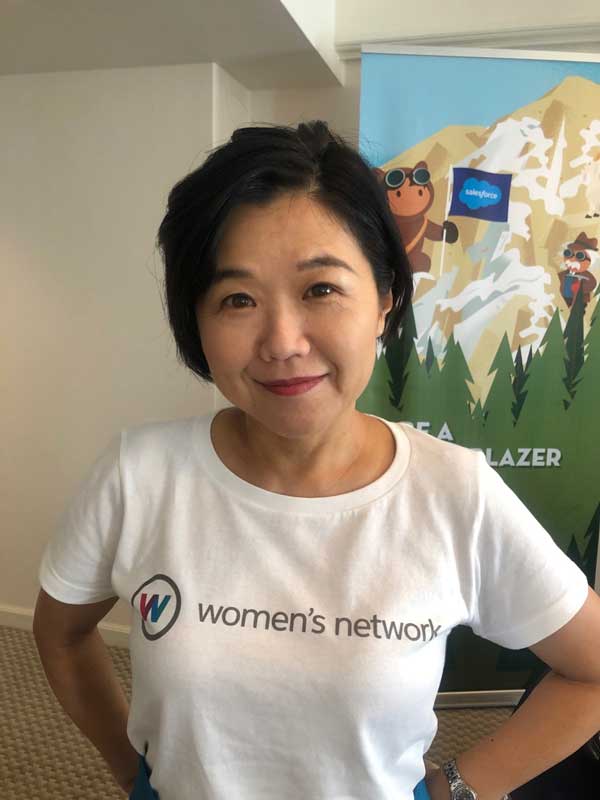 You're not in this alone
When it comes to building a career in tech as a woman, Mariko has two pieces of advice. Her first piece is continuous learning — "Learning gives me the courage to try new things."She advocates and believes in continuous learning because it can help anyone gain a competitive advantage in the workplace.
In order for anything new to happen on any scale — from a project at work to major social change — people "need to learn." She quotes Thomas Watson Junior, who says, "There is no saturation point in education." It's this philosophy that drives her passion for her career.
Her second piece of advice is to join a community. This community can be a professional development organization, a local club, or even a company's Equality group. The desire for a community is one of the reasons Mariko co-founded SWN in Japan. Mariko recalls one of her most interesting initiatives with the SWN, "'I am remarkable', is one of workshops that was delivered through Salesforce Women's Network Japan [and the Talent Experience division] to celebrate their achievements with each other and how important it is to express themselves as remarkable." 
Finding your community may also include establishing and strengthening mentorship relationships — as a mentor or a mentee.  "I give some of my own experience, but I receive new ideas from the mentee." Mentorship is a two-way street, so the collaboration leads to positive change in both participants. "The mentoring program is one of the great tools for people to connect and solve problems."
To learn more about mentorship, and how you can find your own mentor, check out this episode of "With WITI," — a video series created in partnership with Salesforce.
Japan's unique diversity challenges
It isn't just the technology industry in Japan that faces challenges of gender and ethnic diversity. Out of 150 countries, "the diversity index reported by the World Economic Forum placed Japan at 121." The index looked at areas such as health and education, but it was business and government where gender diversity was low.
"In government, we've had no woman prime minister and few women in government… in business, employees graduate from university about half and half, but of the leaders who remain in business… the percentage of women is low in Japan. We need to increase that."
To work towards a solution, Mariko helps the Women's Network increase visibility of women role models. "We provide fireside chats and listen to women senior executives in other industries, regions, or in Salesforce."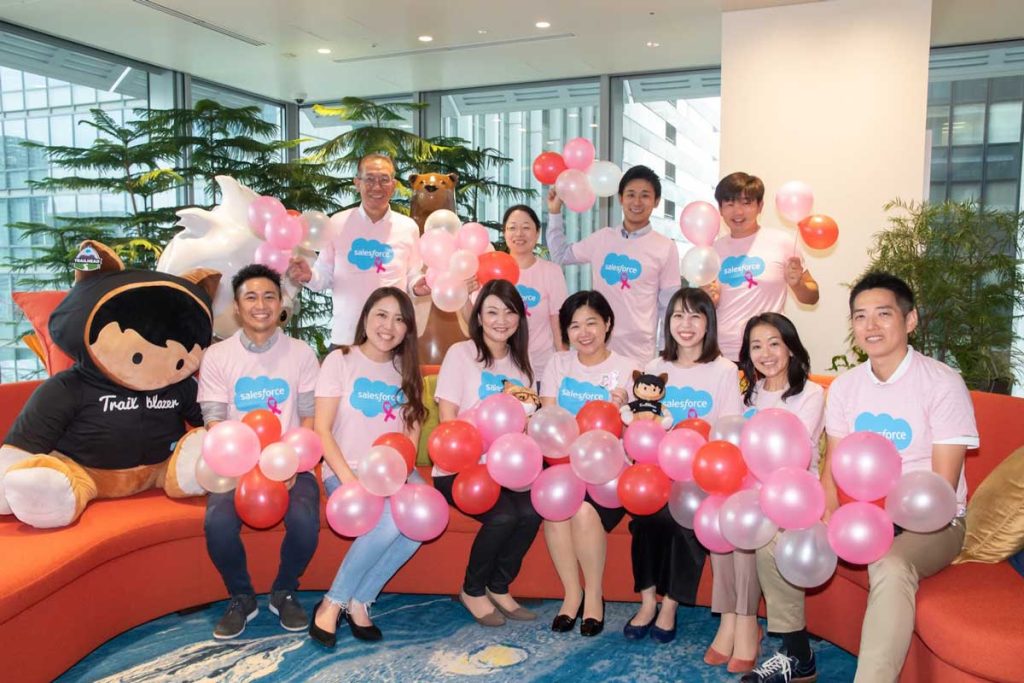 Joining the mission as an ally
Mariko says it best: "Gender equality is not a problem just for women… We need allyship from men because we need to understand each other." They made sure to have at least one man on their team of organizers managing the Women's Network. "We need to involve a different view of Women's Network activity."
Beyond providing role models, the Global Women's Network ultimate goal is to have 50 percent of women as leaders by 2030. Allyship is one part of this. "In the previous six months, we provided 12 events produced by the SWN Japan. About 500 employees have attended these programs, so it's a great chance to bring awareness to the SWN and the diversity gap."
"The person who knows HOW will always have a job; the person who knows WHY will always be the boss." – John Maxwell
As she wraps up, Mariko spotlights the people who inspired her on her career path. Genevieve Weber, SVP & COO, Salesforce Platform, shared a transformational piece of advice. "If the senior leader asked her a question, she gave not only the answer; she also gave additional insight." Mariko, herself, has started doing this, too. "It changes the relationship."
Early on in her journey, when she was at IBM, another mentor taught her to view the world in a way that helps her at Salesforce today. When she would ask him about current issues for Japan, he would relate it to a global view. Now, she focuses on the larger questions first: "Why does this function need to exist? Why does this function provide value to the users? Only after that do I think about how to use it."
Whether your interests range from hyper-focused to big picture, find your place with Salesforce by checking out the available positions.