Reflecting on my 10 Year Journey in Sales at Salesforce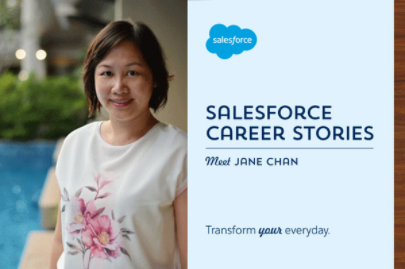 Meet Jane Chan, an Account Executive at Salesforce Singapore. She's reflecting on the last decade she's worked at Salesforce, and says it's the "win as a team" sales mentality, collaboration across different internal organizations, and the values that keep her here.
How did your Salesforce adventure begin?
Ten years ago, I was selling another CRM brand in Hong Kong. I didn't know Salesforce nor cloud computing at all at that time. However, I started noticing that I was losing deals to a company called Salesforce.com. The previous CRM that I sold took the bottom-up approach, meaning that our point of contact always started from IT. However, Salesforce is the opposite – it is always top-down. Salesforce always engaged with C-level / business decision makers. I was very interested to know more about this approach! I started to dream of joining the company so I could learn the Salesforce way of selling. Half a year later, I interviewed and got the job! I have now been at Salesforce since May 2008. Crazy to think it's been 10 years!
What was the moment you knew you'd made the right decision to work here?
After joining, I noticed that at its core, Salesforce is dedicated to the success of our customers and employees. The concept of a Sales Enablement Team was very new to me but it implied to me how much the company wanted to help us to be successful. Learn more about our Enablement software and strategy here. Then, when I worked with our sales operations team and legal counsel on my first deal, I found that they had the attitude to solve the problems with us and make us win the deals. In other companies that I worked for, I always had the impression that the salespeople had to beg for help from the internal teams. However, Salesforce had the best supporting teams that really gave me peace of mind in bidding the deals and servicing the customers. That is the moment I know I'd made the right decision to work here!
What is the biggest Salesforce lesson you've learned?
Salesforce upholds many values that I feel are important — trust, customer success, and treating our colleagues as family members. Sales is naturally a highly competitive environment, so it may be easy to create the self-protective, "only look out for yourself" mentality. However, that is not how we operate at Salesforce. Over my last decade at the company, I've learnt that a successful salesperson doesn't need to be greedy, selfish nor do whatever it takes to achieve your own goals. Instead, helping other people win creates a healthy, positive and proactive working environment that everyone can benefit from.
What has changed in your 10 years at the company? What hasn't?
When I joined the company, the Singapore office was very small and it felt like close-knit family where everyone knew each other. While we've grown exponentially, and not everyone knows each other, the feeling of family still exists. Our commitment to our values has also never faltered — we are still 100% committed to trust, customer success, innovation, and equality.
Why Salesforce, why now?
In my ten years at Salesforce, I've realised that the sky is the limit here! I can hardly believe that the company continues to grow exponentially year after year…but it keeps happening! Salesforce has always had a long-term vision and continues to execute that vision strategically. I feel proud when I tell people that I work at Salesforce — not just because it has strong brand recognition, but because of the values it represents and the culture of family it has created.
Fun facts about me:
Having worked at Salesforce for 10 years, I have not only experienced career success and rewarding earnings, I also experienced the happiest moments of my life! I met my husband after relocating from Hong Kong to Singapore with Salesforce, and we now have a lovely daughter who is now four years old. I also got the chance to move from Hong Kong to Singapore, where the regional headquarters was at the time and got my Singapore citizenship a few years ago!