Salesforce Career Stories: The inadvertent intrapreneur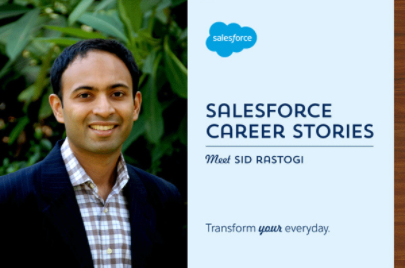 Like many of life's most fascinating careers, Sid's came about by serendipitous accident.
Originally a software engineer, his career began in the mid 90s writing code for the French bank, Credit Lyonnais.
But during a recruitment process for another job in development, an intuitive interviewer identified a spark in Sid well-suited to sales and asked if it was a path he'd ever consider.
After some reluctance, he test trialed the suggestion, believing it would be a short lived experiment, but was proved pleasantly surprised — and a couple of decades on he is now MuleSoft's Director of Sales (Financial Services) for South East Asia.
While Sid didn't stick with code for long, he believes the thrill of building something from scratch — something that actually works and never existed before you created it — has stayed with him across three start-ups and a number of large organisations, including his leadership role today.
Get to know Sid as he shares his outlook on…
…A global work and family life:
I grew up in India and split my adult life almost evenly across New York (for 14 years) and Bombay, which are two of my favourite cities in the world. I married my best friend from high-school and together we have two daughters (ages 13 and 11) and an adopted family of 150 stray dogs and cats.
In August 2017, I moved to Singapore to assume my current tenure at MuleSoft. However, I actually spend most of my week travelling across South East Asia — plus India every second weekend — so my Singapore apartment is mostly for laundry and the occasional sleep! It's such a great jump off point for Asia and a nice place to bring up a family due to its safety and good schooling.
…Pivoting from software development into business development:
I totally stumbled into it. I was in my early 20s when I was hired as a software developer for a banking tech company owned by Citibank. I caught the attention of the Global Head of Sales who was my final interviewer. He wanted me to give sales a shot, which I was very skeptical of at the time. With all the arrogance of a young developer, I said I'll try it as long as I have the option of moving back to software development. But, as fate would have it, I never looked back.
Reflecting on my career to date, selling of one kind or another has been the one thing common across everything I've done — across big tech, start-ups and investment banking — whether that's selling to prospective customers, investors or employees.
…The MuleSoft product and value:
MuleSoft allows large enterprises to completely reinvent themselves. With APIs as easy-to-use building blocks, they're able to quickly create new customer journeys and new products/services in a way that has security and visibility baked in from the get-go.
When we talk to a large enterprise, whether it's a bank or McDonalds, it's really about how they're re-engineering themselves to compete with all the internet players out there. The product sits at the forefront of the current API revolution that every major CEO is rushing to be a part of; so our teams frequently find themselves at the centre of some of 2019's most fascinating and electric boardroom discussions.
…The job satisfaction in digital transformation:
Essentially what you're doing in sales is envisioning a joint future with whomever you're selling to. It's a course of establishing their trust by basically saying, "If we go down this path together, it's going to end in a good place."
When you're selling something that's truly transformational (like MuleSoft), you're actually changing a business. I can walk into a bank of 50,000-60,000 employees, talk to C-level execs about how our product will impact their business — transforming what they're currently doing into what a bank could look like in five years time. That kind of broad vision conversation is very exciting — as is being able to deliver on the execution of it.
…What makes for a successful Account Executive (AE) in his team:
It all comes down to our core Muley values:
1. Be fearless
The ability to think big, imagine how MuleSoft would change the client's business and the lives of its tens of thousands of employees and its millions of customers — believe in that vision, and fearlessly communicate it.
2. Make it awesome
The ability to tell that story, and mobilise your account team to tell that story, in a way that leads the customer — right from the developer all the way to the CEO — along that journey.
3. Own it
Sales is ultimately about execution, and the buck stops with the AE. We're still a start-up in many ways, and you've got to own the overall business, the overall territory, the overall account, the overall opportunity to be successful
4. Be a good human
MuleSoft is not a feature/function sale. It is a transformation sale. You cannot get people to trust you with their future if they don't believe you actually care about them and their success. That caring has to come through to customers — and it's hard to fake it.
…Being part of an acquisition:
Mulesoft was founded around 2006 and Salesforce was actually an early venture investor from the beginning, so it's been a very long-standing relationship.
Prior to the acquisition, a number of our clients were businesses where we came in to the account with the purpose of enabling Salesforce integration with the rest of their systems — so the shift from a partnership into a merger has been a very natural fit.
This is in fact the third acquisition I've been part of and I can honestly say it's been the best to date. There is genuine openness and respect from the Salesforce side, and a culture compatibility that's unmatchable.
On a practical level, our office literally only had to move a matters of metres.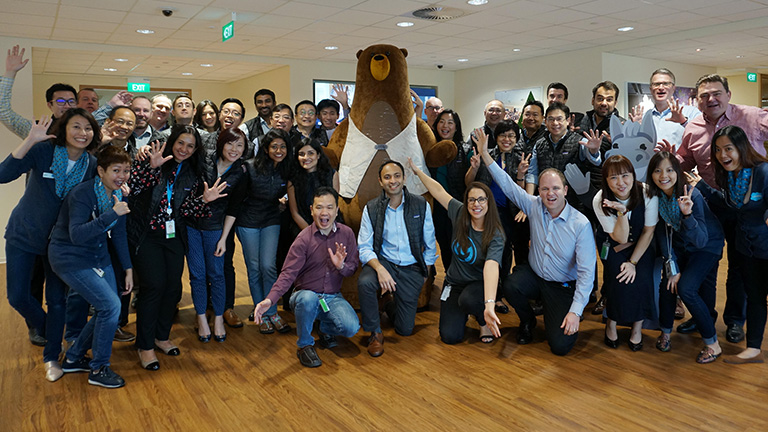 …The impact of being a part of the Salesforce Ohana:
Joining forces has enhanced our selling proposition massively. It opens up relationships across many of MuleSoft's target accounts, as many clients we are going after already do business with Salesforce, so the ability to have existing relationships and contracts already in place that we can leverage is huge.
We can go into a company and say you're basically gaining a two for one set of advantages — firstly, getting more out of your existing investment in Salesforce and secondly, driving all of your digital transformation.
…Who he'd love to have lunch with (dead or alive!):
It's a little geeky but as a bit of history buff, my answer would be Mikhail Gorbachev. I was 17 when the Berlin Wall fell, and the next month the Soviet Union collapsed. Thanks to his role in ending the Cold War, I'm sure he'd have the most fascinating stories one could enjoy over a long lunch!
Interested in joining Salesforce? Indicate your interest to their recruiting team.