The three things that make Salesforce fun to sell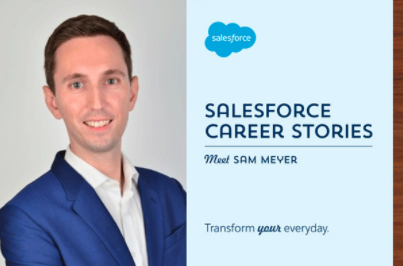 Growing up in France and having lived in America, Europe and now Asia, Sam Meyer is a global citizen. Warm weather, friendly people and a sense of adventure brought him to Singapore. After a stint with a well-known enterprise software company, Sam joined Salesforce, attracted by the focus on customer success, the culture, and the cool product. He sits down with us to share more about his journey.
So, let's start with how you got into sales.
I have a technical degree in IT, which I supplemented with a Master's in sales and marketing from the ICN Business School. When I finished my studies, I jumped into the sales world and loved it.
My first real sales role was in business development, after that I became an account manager. While at Oracle, I saw an online opening at Salesforce; I applied and was accepted. Once I joined the company, I just kept going up the ladder and was lucky to find my path right away. Now I manage some of our strategic accounts in the region.
What did you love about that first sales role that made you want to pursue it long term?
It's about helping people; you're interacting with people, trying to understand how they work and how you can help them. I just find it interesting. And I think when you're in sales, you enjoy seeing the reward for your day-to-day efforts, the work you put in. I see the reward on the customer's side and for me personally.
You've lived and worked in Europe, America, and Asia. Tell us a bit about what that's been like and what ultimately brought you to Singapore?
Well, I did an exchange program in the U.S. as part of my Master's program, and stayed there for a couple years. Then, I worked at Oracle in Ireland. Although it was cold and windy there, the people and culture were amazing. I lived in Ireland for three years. It's where I started my sales career.
So, I was looking for a new adventure, but it needed to be a country where English was the primary language. My wife and I both speak English, so we Googled English speaking countries. Of course, there were the usual suspects, U.S., Canada, U.K., and so forth. But Singapore was also on that list. We found it interesting and started to research a little bit more about the country. We came here for a one-week holiday. We were ready for a change of scene, so I networked with everyone in Oracle's Singapore office and left with a job offer. Three months later, we were in Singapore.
So, it wasn't a job that brought you to Singapore.
No, it was the place. The tropical weather, the ability to discover another world in a new place. It's Asia, but it's a nice introduction for people who have never been to Asia, like me. Everything is in English, so you can live without struggling with language too much.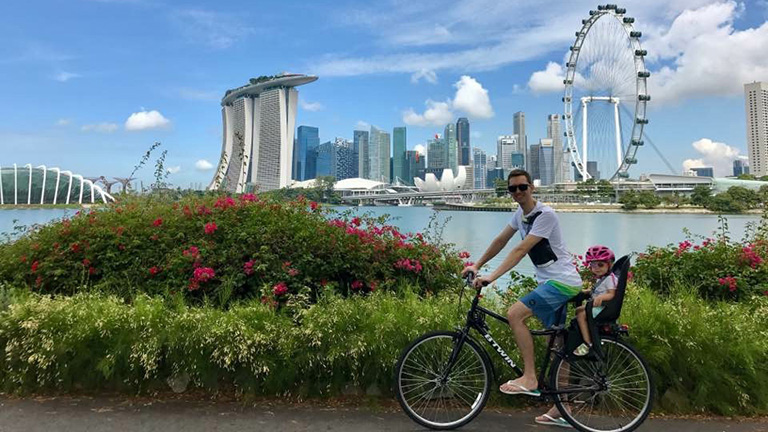 Have you been anywhere else in Asia?
Moving, no. But traveling, yes. I really love the countries around Singapore, they're very easy to get to. I particularly love Thailand and Indonesia. The people are extremely nice, super humble. Every time I go there, it feels like a lesson in life — live simply, be happy, be grateful. Very beautiful.
So, you worked at one of our biggest competitors before joining Salesforce. What inspired you to want to leave and join Salesforce? What makes Salesforce fun to sell?
The reason that I joined Salesforce is that it was one of the rare companies that is really focusing on the customer, trying to help customers succeed and not just squeeze them for money. It is not a pleasant experience as a sales person when you go to a customer, and you know you're just trying to squeeze them for money, without bringing any additional value. So, the customer focus is what I found really interesting at Salesforce.
Now of course, you have the Ohana culture, which makes the place really attractive. People are friendly, it's easygoing, and the product is really cool. So, there's a cool factor. Those are the three things: customer success, the culture — the Ohana culture, and cool products. It's really fun to sell Salesforce.
What differentiates how we sell compared to previous companies where you worked.
I think we have a different business model compared to many companies. Our fundamental philosophy is that we care. And that's important because that's what makes you successful. If you care about what you do, if you care about your customer, if you care about selling the right things to the right people for the right purpose, that provides a personal satisfaction and a success for the company.
"Our fundamental philosophy is that we care."
Everybody says that. Find a problem and solve it. But how much do they really do it? Or, as I said, are you squeezing customers without bringing additional value?
What's a typical day like for you — if there is a typical day.
There is no typical day, which is why it is fun. But I would say that on average, I have two or three customer meetings a day where I would go and visit. And Singapore is easy because a lot of customers are in the central area, so you can easily go from one meeting to another.
Then one meeting with my internal team to prep for our next sessions. Probably another hour to prep for presentations. Thirty minutes on self-training. And keeping up with the new things we bring to market. Dreamforce, for example, is a lot to catch up on. Lunch with colleagues. So, that would be a more or less typical day.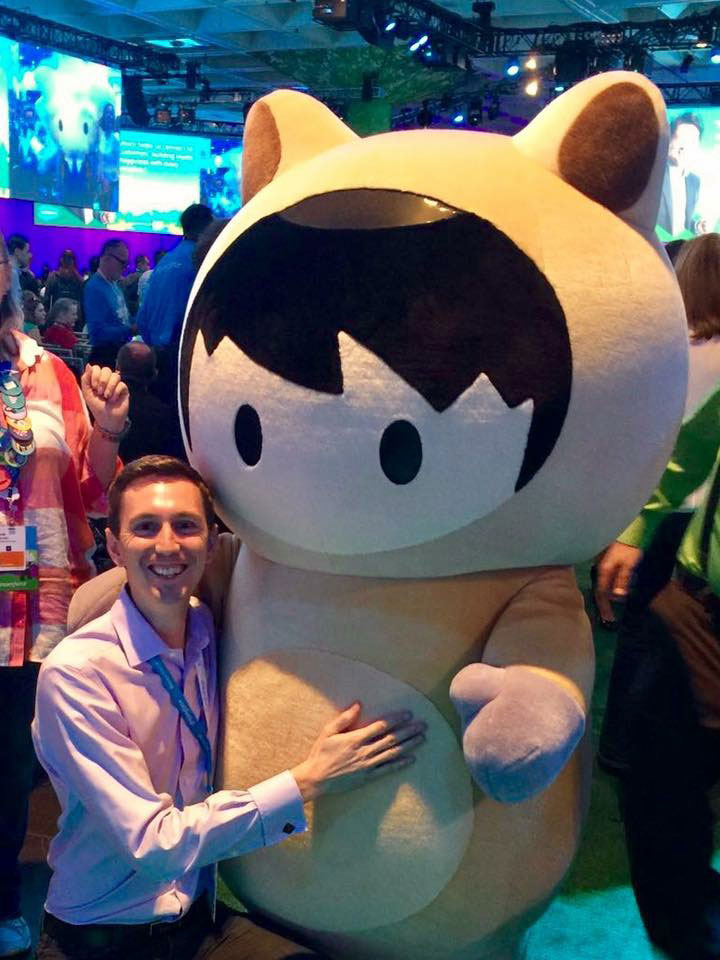 Tell us how you landed your most successful sale.
That's an interesting one. This was last year. I found a customer, one of the fastest growing organizations in the region. We were just talking to them, doing pure discovery. They were struggling, growing at a really fast pace and hiring a lot of people. They needed tools to help them. They had 700+ sales people and they were tracking business on 10 Excel spreadsheets.
We don't necessarily see that in the U.S., Europe or Australia. But here there are a lot of opportunities like that. My boss and I met with the CEO who said, "I work based on trust. This is only a small deal, but we can do a lot together if we can make this work."
We said, "That's fine; we believe it's a journey. Let's start small." We're now 12 months in and they've bought 20 times what they started with. And this is not just for the sales team, but across customer service and marketing. I have no doubt that this account will grow another 10 times in the next 12 to 24 months.
So, that's my most successful sale. Start simple; build trust, and the business will come.
That's a great story. What's the toughest part of an Account Executive's job?
I don't know if it's just for Account Executives, but probably persistence. You must get used to people saying no and just keep knocking at the door. One of my customers is one of the largest transport organizations in the region. We knocked on the door for over three years, and only last year did we manage to crack it. And this is another story where we started small. And we expect to do maybe 30 or even 40 times the original revenue in the next 24 months.
So, persistence. I don't know if it's the toughest, but it's not easy every day. It's important to always think long term.
What's been your biggest learning moment since joining Salesforce?
My biggest learning or maybe "aha" moment was when I got to go to Dreamforce three years ago. Dreamforce gives you the ability to really understand what's happening.
When you're there, I think you learn there is not a single organization we cannot help. Different types of people, organizations and industries. The opportunity is massive. So, there's a strong future for the organization.