Coding Customer Success: An Engineering Leader's Journey to Salesforce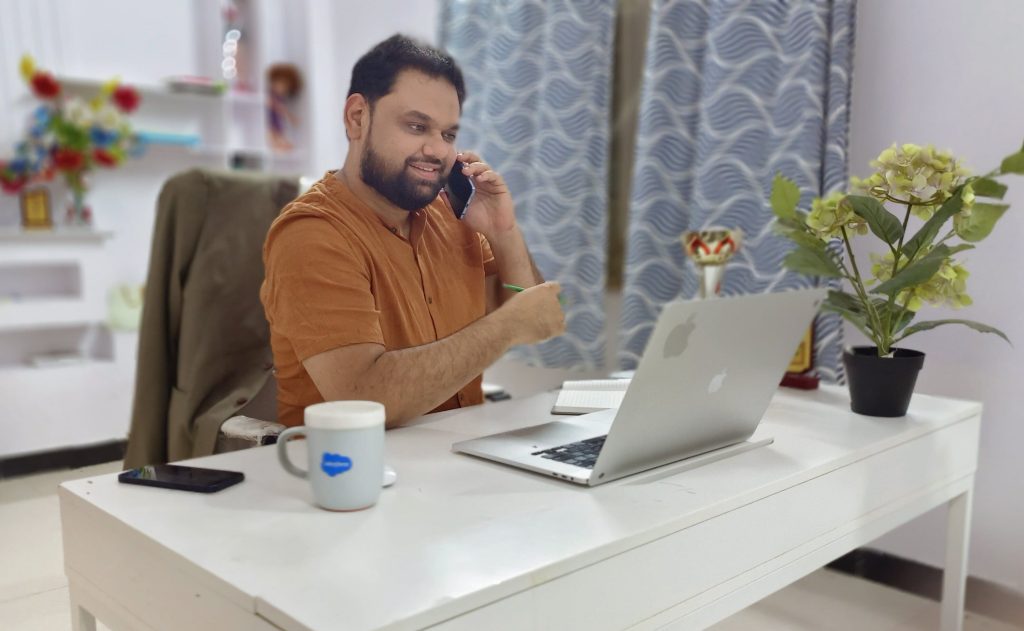 By Pragya Sharma
Steve Jobs once famously said: "Learn continually — there is always 'one more thing' to learn!" Khalid Mohammad Abdul embodies this sentiment. The former biology student's chance encounter with the Salesforce platform piqued his curiosity in coding, leading him into what had been a completely alien world until then. Today, Khalid is the senior manager of a team of development engineers. His career trajectory reflects how a passion for learning can lead to success, career growth and personal satisfaction.
The recipe for growth
Khalid first developed an interest in the Salesforce platform back in 2008 when his former employer migrated its CRM to Salesforce. Despite his biotechnology degree and his current non-technical role, he took to coding like a fish takes to water.
"I started by using the admin features, relying on YouTube tutorials and trial-and-error to create custom solutions. However, I soon realized that I would need to learn code if I wanted to craft specific solutions for my clients. I started learning Java and spent hours on YouTube figuring out what seemed like rocket science to me at that point," he says. Khalid also visited online forums and discussed doubts with developer friends.
Soon, he was implementing small projects of his own on Salesforce. Before long, his quick adoption of the platform and considerable experience landed him a job as a developer at a technology company. "I was fortunate to be assigned a project which involved working on the latest Salesforce technologies," he says. However, there were no shortcuts. What engineers would finish in a day or two initially took Khalid almost a week. "I took my time to learn but stuck to it." This diligence did not go unrewarded and Khalid soon joined Salesforce as a Senior Engineer, in Technical Support Engineering.
Even after joining his dream company, Khalid's learning curve showed no signs of flattening. To fully understand the problems of customers, he started building a full-fledged project on Salesforce. "I made this project, put it on paper and then transferred it to the platform. By the time I completed it, I had understood Salesforce from A to Z," he explains
Today, Khalid is a Senior Manager of Sales Cloud in our Customer Success Group, leading a team of more than 30 engineers. Khalid mentions it was both Salesforce's culture of recognition and his zeal to understand the company, its products, and its values that helped him earn a rare promotion from Sr. Support Engineer to a Manager.
Going beyond the call of duty
Even while handling daily challenges such as capacity management and customer concerns, Khalid makes time to attend trainings and continuously develop his skills. "A milestone in my upskilling journey has been a degree in management. It helped hone my soft skills and improve my interactions with team members. Currently, I am taking up a product management course to understand the product better and to further my career growth ambitions." He adds that Salesforce encourages employees to participate in trainings by sponsoring them.
Balancing work and life
Khalid's professional pursuits have not gotten in the way of his hobbies or holidays. Khalid is a three-time table tennis champion at Salesforce with more than five medals to his credit. He travels extensively and can't stop raving about Suryalanka Beach in Andhra Pradesh, where he loves watching the sunset from a cabin on the shore. Khalid also confesses to being a big foodie and knowing all the best restaurants in and around Hyderabad, a resource his colleagues take full advantage of when they need suggestions for dining places.
Through Salesforce's culture of flexibility and trust, Khalid is able to prioritize his wellness while continuing to build an impressive career. "When you understand the Salesforce values and culture, and you take people along in a manner aligned to these, you succeed easily. I love interacting with and understanding people. This, combined with my trust in the organization's values and the career paths it offers, makes my professional path very smooth and hassle-free."
"When you understand the Salesforce values and culture, and you take people along in a manner aligned to these, you succeed easily."
Imbibing values in daily life
Trust and customer success are two core Salesforce values that Khalid resolutely follows. Debugging complex issues, collaborating with the research and development team, and stopping at nothing until a resolution has been achieved have translated into an excellent Customer Satisfaction score for his team. "Apart from the fact that each case lets me learn something, the feeling that we helped our customers keeps me motivated," he says.
Khalid shares a recent example where he and his team pulled out all stops to help a client. "Typically, only premier customers have access to full support developers. Once, a customer with a standard plan reached out to us with a support request, without which his business could stop the following morning." Khalid acquired the necessary permissions to make an exception for the customer and worked with the research and development team to quickly resolve the issue.
"The next morning, we got two positive updates — one from the excited client thanking us for our timely services, and one from our sales team confirming that the customer is likely to upgrade their account to a premier one," he shares, adding that "if someone is part of the Salesforce family, all efforts are made to ensure their business functions smoothly, irrespective of their account type." Khalid's words echo Salesforce's approach to customer success — when our customers succeed, we succeed.
"If someone is part of the Salesforce family, all efforts are made to ensure their business functions smoothly, irrespective of their account type."
The path to success
When asked what advice he would give to those aspiring to join Salesforce, Khalid signed off with one last word of wisdom. "Don't learn Salesforce; understand it. More than your skillset, your understanding of the company's values and your willingness to learn will help you grow here."
Like Khalid, are you also looking to fulfill your professional ambitions while maintaining an ideal work-life balance? Join our Talent Community to stay in the know on the latest Salesforce career opportunities, news, and events!