Employee Safety and Wellbeing Is a Major Concern for the Future of Work — Is Your Tech up for the Challenge?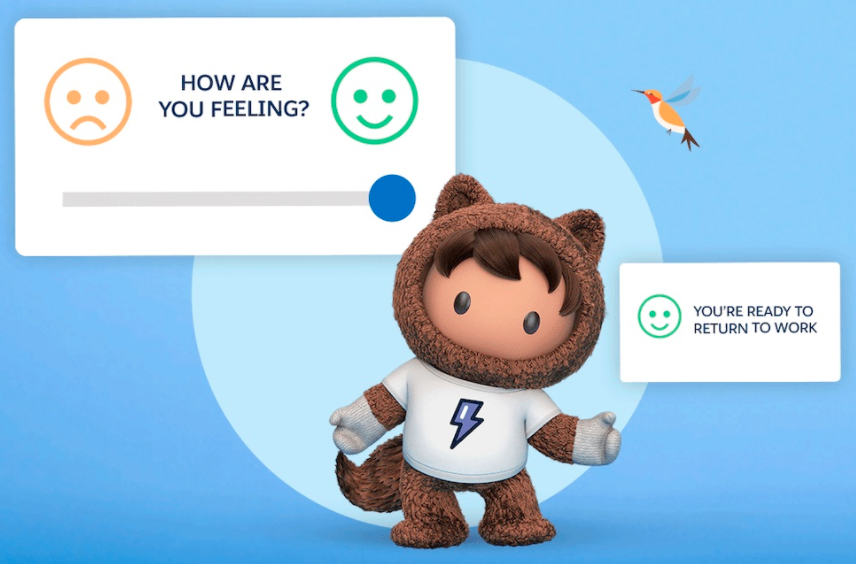 This piece is part of our series, Employee Experience Reimagined, where we explore how company leaders are instrumental in building employee experience through technology.
More than 25,000 participants in a recent global survey say employee wellbeing is the number one concern for businesses. And what are the two most important focus areas for businesses over the next six months? The first is technology to ensure employee safety at work, and the second is employee mental health. These are two areas where HR and IT can intersect to positively impact the future of work, now.
The partnership between HR and IT is in identifying, implementing, and optimizing technology that helps employees focus on and improve their wellbeing and safety. We're sharing tips and tools that will help you put workplace safety and employee wellbeing at the forefront.
Here are four ways HR and IT can put your workplace on the path to sustainable wellness:
1. Monitor health, safety, and wellbeing with digital employee surveys
Recent research findings show 67% of employees are concerned about their mental health, while 80% of employees are concerned about their physical health. HR teams can empower people managers to guide their employees with short wellbeing checks online. A simple quiz can help leaders and employees determine their stress levels and understand how to move forward. Plus, with science-backed tips called Microsteps from Thrive Global, you can take actionable steps to address your wellbeing.
And when it comes to physical health, managers can champion team safety by implementing personal wellness assessments: customized surveys each employee receives automatically before entering the workplace. The results from these surveys tell you who is ready for work, who is not feeling well, and who may need to stay home, so you can prioritize and lead effectively. Workplace Command Center tools keep employee data private yet still use key insights to show you simple, secure dashboards for wellness metrics across your organization.
2. Plan for shifting priorities
Resilience comes not just at an individual level, but organizational too. Having up-to-date information in a single platform permits you to both zoom out for longevity planning and zoom in to meet today's needs, securing your stability on multiple fronts. If an unexpected change arises, and an employee needs to stay home, tools like Work.com help you adjust work schedules accordingly. You can stagger start times, define shift management, and activate schedules while respecting the time and space needed to complete critical work.
3. Enable leaders to build resilient teams
More than 40% of adults experienced anxiety, depression, and other mental health challenges during the pandemic. In addition to the toll on individuals, these challenges also diminish organizational resilience: Stanford economist Nicholas Bloom predicts productivity drops within companies by 5 to 10%.
One of the ways leaders can help build resilience within their teams is to specifically encourage mental resilience. Personal resilience assessments give employees an understanding of how to cultivate a growth mindset and set themselves up for success in any given moment.
4. Design a work-life integration plan
Working parents with children at home are interrupted 15 times per hour, with an average length of three minutes and 24 seconds of uninterrupted work time. Even without kids, it's easy to blur the lines between work and home. Help yourself and your team better manage your days (and nights) with the self-assessment and tips in the Leader's Guide to Work-Life Integration.
Respond with speed through the COVID-19 crisis and beyond
How can you protect employees and your business that you've waited so long to open back up? Even under the most rigorous safety precautions, someone may still test positive for COVID-19 at your organization. With a simple opt-in manual contact tracing tool, you can quickly capture information around previous office and event interactions to determine who may be at risk for exposure. This tool allows you to securely track conditions in the workplace while ensuring only the appropriate individuals have access to data. Designated authorized leaders can see internal and external contacts who may have interacted with an exposed individual, and the Workplace Command Center's automatic workflows can point your company toward decisive next steps and guidance.
While COVID-19 is impacting all of us today, emergencies are an ever-present reality. We have to keep our employees and workplaces safe through natural disasters and unexpected events. As leaders look toward the future, emergency response management will be a critical tool in ensuring employee experience is a top priority in all circumstances.
In the new age of business, progress begins long before temperature checks at the door. From monitoring employee wellness to having impeccable shift management, technological agility enables you to propel your company forward.
Visit our Employee Experience resource page to see how technology can be a crucial enabler for you during this time. And check out the Thrive Global Wellness Playbook, where you and your teams can take two-minute surveys to assess where to begin on your wellbeing journey.