From Dabbling to Developing: A Journey to Salesforce Engineering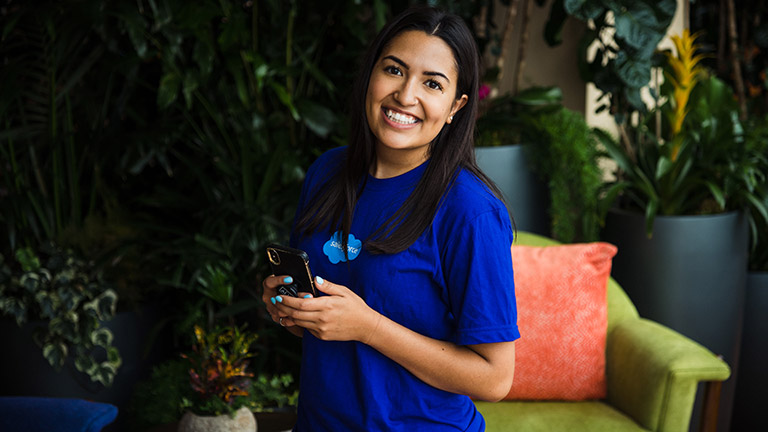 Angelica Rodriguez, Senior Software Engineer at Salesforce, didn't originally identify herself as a coder.
When she was little, she loved to tinker — hacking her Blackberry to make it run faster, digging into code to beautify her Myspace page, and even joining her middle school robotics team. But she didn't associate these things as programming interests. "I'm just a problem-solver at heart," she reflected.
It wasn't until her late teens that Angelica recognized engineering was her passion. She visited a technology college that had presented an overview of their majors at her high school's career fair. On their recruiting materials she noticed a photo of a Blackberry — the same one she'd had years prior — and decided software engineering was her destiny.
But as she got into classes and tackled team projects, Angelica discovered that some assignments — while interesting, weren't for her — like developing video games. "I wanted to do something to change someone's life — either by saving them time, teaching them, or making their life better. I wanted to create purpose-driven software."
Fast forward a few years, Angelica landed at an internship with ExactTarget, an email marketing company. She earned a full-time offer upon graduation, just as the company was acquired by Salesforce. And it's been a perfect match. "I've been fortunate enough to receive a promotion every year, the latest being to Senior Software Engineer. Salesforce has contributed to my career growth every step of the way."
What's kept her so passionate and eager to grow is the impact of her work. "'I'm not just writing code for apps that automate sales and marketing processes. I am making someone's life easier, freeing up their time to focus on what matters to them."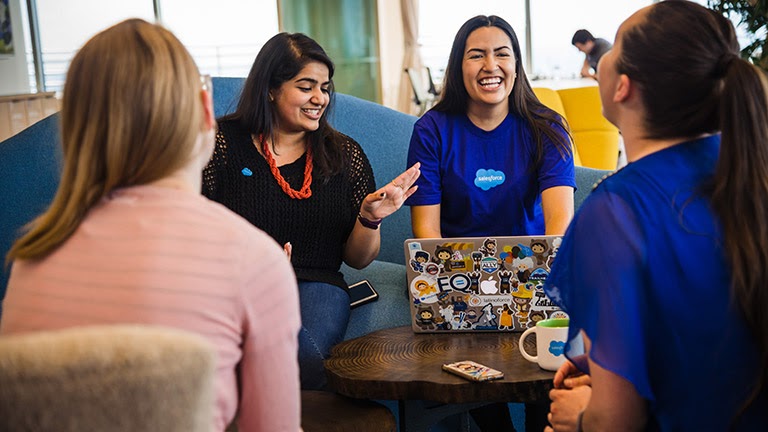 One of the contributions she's most proud of is supporting the integration of Journey Builder, which delivers personalized experiences throughout the customer lifecycle, and Sales and Service Cloud, our customer support software. Gone are the days when companies send you irrelevant emails. Through this tool, customers like yourself receive hyper-relevant content that gets you what you want, when and where you want it. And as a result of Angelica's work on the integration, Salesforce customers have the unique opportunity to power journeys automatically based off of changes to data in their Sales and Service Cloud.
Angelica quickly became known by other Engineers as the subject matter expert (SME) on the Journey Builder integration — enabling support, debugging issues, and aiding customers. "Coming from a background where I had never truly written code until I went to college, this was the first time I'd been considered a SME of anything. Establishing this type of recognition was a big deal for me."
Today, Angelica is excited to not only add and maintain features, but help build something from the ground up. "I'm working on a cross-cloud project that will be transformative for Marketing Cloud. I love being a part of the prototyping, deciding which technologies to use, and integrating the different pieces to build the ideal user experience. We are using the latest and greatest web components and data management for this project. I'm innovating, growing every day, and have a chance to contribute to new technologies. It's an engineering dream." Every project she works on helps to bring companies and customers together.
Angelica's enthusiasm and eagerness to learn are readily apparent. And it didn't take long for management to take notice of her potential. She was nominated to participate in a Salesforce Women's Leadership Forum by her manager. "I live in Indianapolis and the training was based in San Francisco, so I'd fly out once a month and connect with all these incredible emerging female leaders from all areas of the business — UX, data, security — it was incredible to come together and hear their unique perspectives."
"One of the most impactful lessons I learned from this was the importance of knowing the business behind what you're doing when you're on the technical side. Now I feel more comfortable speaking up and asking questions to understand the impact and potential of what I'm working on."
As part of her development, Angelica was paired with a mentoring circle. But her advice to others would be not to wait on a formal mentorship pairing. "Most of the people I consider to be mentors don't even know it. They're people I admire, see an opportunity to learn from, and who offer feedback. Look around you! There is something to learn from everyone."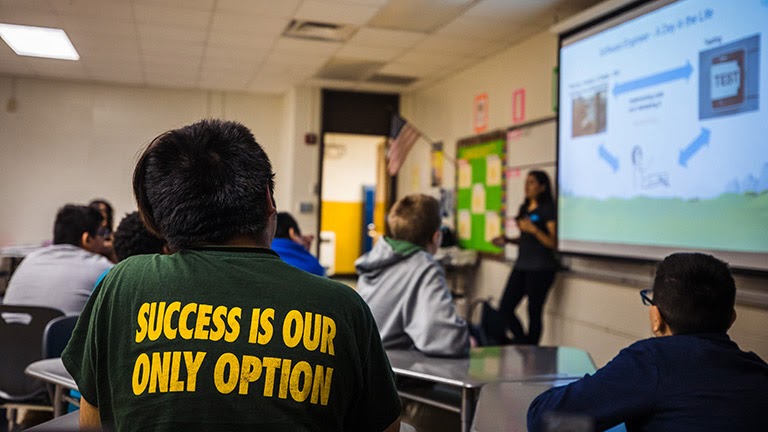 After seeing the benefit of others investing in her success, Angelica chose to pay that goodwill forward.
"I'm President of the local chapter of Latinoforce — our employee resource group for the Latinx community in Salesforce and our allies. We do a lot of volunteer work with local students to show our underserved and underrepresented neighbors about the potential in tech. I know from personal experience growing up without a Latina Engineer role model that representation matters. So I'll always be on these panels to tell my story."
"We also do coding exercises with these students to help them see what software engineering can really do. We bring people in to job shadow. It's so powerful when a student comes up to me and says, 'Hey, I'd never considered a career in tech before. But now I want to be like you.' Their faces light up with possibility."
If you're also looking to unlock your potential in tech, consider Angelica's career advice:
It's okay to fail and be vulnerable. Admit what you don't know, ask for help, and learn from your mistakes.
Be flexible, resilient, and quick on your feet. The tech industry moves very quickly.
Always be collaborating. Making incredible things quickly means lots of cross-team, cross-cloud projects where communication is key.
Ready to transform your everyday? Indicate your interest to the Salesforce Recruiting team.