From Italy to Silicon Valley: A Career Journey in Localization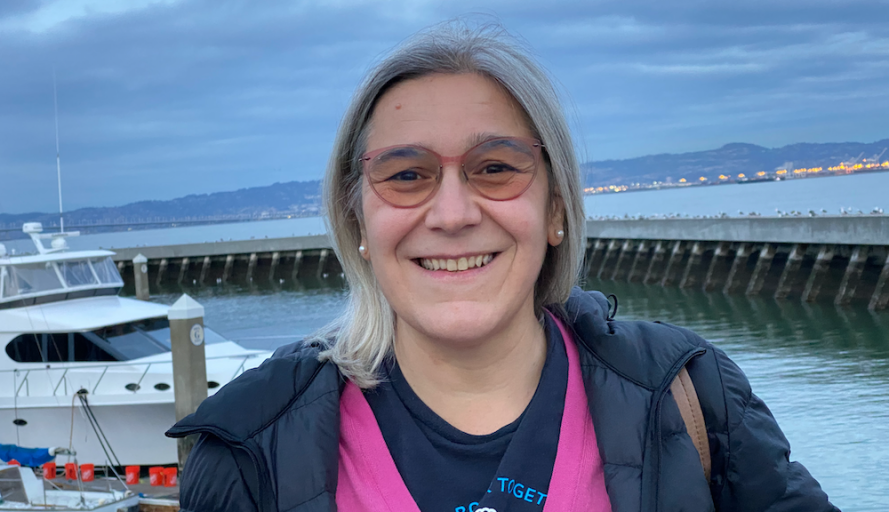 Life is unpredictable. That's what Raffaella Buschiazzo says about how she ended up living in San Francisco and working as a director of localization at Salesforce.
Raffaella's Early Life and Education
Raffaella was born and raised in Aosta Valley, on the border of France and Switzerland, and grew up bilingual, speaking both Italian and French. She developed a curiosity for grammar early on and attended a high school specializing in studying foreign languages/literatures, adding German, English, and Latin to her list. During those high school years, she spent a month studying abroad each summer, meeting people from all over the world, enjoying multicultural environments, and immersing herself in other languages and cultures. As she was beginning her college search, a few former students visited her high school and shared their experience studying at the University of Geneva in Switzerland in the Translation and Interpretation program. It was then that Raffaella started dreaming of becoming a United Nations interpreter. She then went on to complete a MA in Translation, and post-graduate degrees in terminology and machine translation.
After graduating college, Raffaella started working part-time at a financial software company in Geneva. The company had clients in Italy and needed to translate its software and documentation into Italian.
Raffaella admits, "I had never translated software nor software documentation before. I could barely use a computer and I was not a technical person. Nobody in the company knew the norms of translating software. I didn't even know that what I was doing had a name: software localization." It started to seem like she was doing the work backward: translating the documentation, which referred to the user interface (UI) of the software, which was not translated. So then Raffaella started translating the UI—the buttons, welcome screens, etc.— in the documentation but quickly realized that might not be the way to go, either, since those elements were not translated in the software itself.
"I was 23 and working in a world where I was one of four women out of 25 employees — all male engineers. I was convinced because they were older and more technical than I was that they knew what they were doing. I finally had the courage to present all my doubts to a couple of them and they said that of course, I was right. It turned out that they were counting on my expertise!"
The takeaway? Don't be afraid to speak up when you see something that's worth calling out!
Raffaella also wore a lot of other hats at this job, including doing live interpretation from French and English into Italian on support calls. She had to not only learn how the systems and products worked so that she could explain them, but also the correct terminology for different things in all three languages. Soon enough, Raffaella was identified as a detail-oriented person, and her boss asked her to help with the company's accounting, too. This experience is where she learned the basics of how a business works, which she was later able to apply to her own freelancing business once she moved to Silicon Valley.
The takeaway — be open to learning new domains, because you never know how it may be helpful to you later on.
Getting Started with a Career in Localization
Today there are localization programs and enough content online that people can learn localization best practices and typical internationalization issues in software development. These resources didn't exist for Raffaella in Geneva in the early nineties. She only discovered that the localization industry existed in 2003 when she moved to San Francisco. Be patient and willing to figure things out, because there's not always someone to show you how things work.
There are several related terms that tend to be confused with one another, which Raffaella helps demystify:
There are a number of career opportunities in the world of localization including working as a technical translator, freelancing as a localization consultant with multiple clients, or working as part of the localization team in a variety of roles at a single company. Raffaella is the director of a team of localization program managers who are responsible for all the operations to localize Salesforce products and documentation in 34 languages. For anyone interested in pursuing this path, she recommends brushing up on your project management skills.
Learning from the People Around You
Raffaella also encourages people just starting in their careers to surround themselves with people who believe in them. For her, that's been her husband (who is also the reason she ended up in the Bay Area!). She says, "Every time I succeeded in a new challenge I told myself that if I could do that, I could do a little more. It has been a work in progress over the years to build more self-confidence and take action with the risk of making mistakes. I was very lucky that I had my husband who pushed me to go beyond my comfort zone so many times, encouraged me when I was stuck, and in general, spurred me in every situation." Be flexible, she says. Her career journey has not been linear, but at every step, she's met more people and learned new tools, software, and terminology that have all added up to place her where she is today. Be curious and become an expert. Learn what other people don't want to or don't have the time to. Become the go-to person for tools, process improvement, or something that you enjoy doing.
Remember that first job Raffaella had out of college? She says she realized later that she had learned more than she realized there, but didn't have the terminology to know she was doing localization that early on. The next evolution of localization is around machine translation. We use machine translation at Salesforce to provide our help content in 16 different languages. But even with automation in place, there will always be a role for people who are familiar with the intersection of globalization, internationalization, and translation; speak multiple languages; are good communicators; have project and/or people management skills; and can advocate for the importance of supporting a growing global customer base by localizing their products.
It takes a village to do localization successfully at a big company like Salesforce. Executive support is paramount. Raffaella gives a big thanks to her team for always going above and beyond and to her manager for helping her grow over the years. She knows her career journey wouldn't have been possible without a lot of people's support.
Resources
If you're ready to learn more about localization and to start building your network, here are a few groups, degrees, and resources Raffaella recommends:
Education Opportunities
Self-Directed Learning Opportunities
Organizations and Events
Ready to join our growing teams? Explore Career opportunities at Salesforce