From Passion to Leadership: Taking Risks to Grow Your Career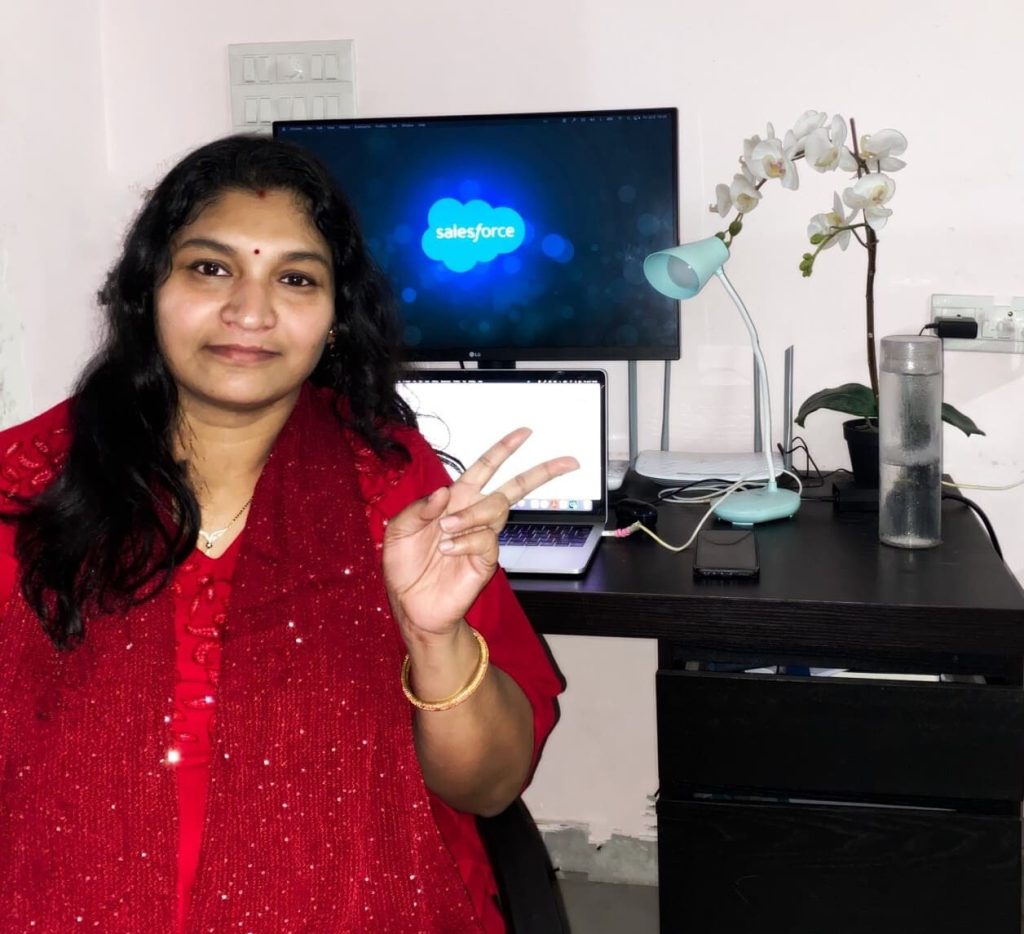 By Pragya Sharma
When Chandrakala Gokarla started her career in engineering, it was challenging for women to make a mark. Yet, almost two decades later, she proudly dons the mantle of Director of Software Engineering at Salesforce, heading a global team of more than 40 members. Her journey is a testament to resilience, passion, and the power of an inclusive and encouraging workplace.
Being open to opportunities
In 2020, Chandrakala was already leading enterprise integration at another organisation when she came across a job opening at Salesforce for the engineering director position on the enterprise integration team.
"Given the scale of work at Salesforce, it was a chance for me to leverage my skills in the same domain but in a fast-moving company. I would have the opportunity to build enterprise-wide APIs and integrate between multiple sources and target systems. Considering how precious data was as an asset, I was thrilled to join an organisation where I could learn more about the same," she shares.
One and a half years into the job, she found the opportunity to grow within the organisation. In keeping with Salesforce's core value of innovation and its belief that innovation comes from everyone, she was given a chance to move to an entirely different domain. "I moved to the security domain to pursue my passion for building software, platforms, and services," says Chandrakala.
While equal growth opportunities are a regular feature at Salesforce, she admits that she was clearly bracing up for a massive challenge. "Though I did start my software engineering career as a trust vulnerability manager, that was a good 15 years ago. The security domain had changed vastly since then, and even though I was apprehensive about the role, I took it as a challenge that I had to win," she says with a grin.
"I moved to the security domain to pursue my passion for building software, platforms, and services."
Thriving in a values-led business ecosystem
In her new role, Chandrakala is responsible for leading a global team that takes care of Identity, Lifecycle, and Management (ILM). It has involved extensive learning curves, including managing people across three different time zones. From leading technical discussions to jumping on various meetings with numerous stakeholders at different hours of the day, the experience has been a wonderful one for her. And she credits the supportive leadership team at Salesforce for making the transition smooth.
"In my observation, a lot of leadership support at Salesforce stems from the fact that they are always keen to listen — something even I have imbibed and brought to my team interactions," she says. She adds that this empathetic approach is reflected in how the company approaches individual development goals.
"While it is important to align to the larger organisational goals at Salesforce, it's never at the cost of an employee's personal goals. These can be related to family, mental health, learning curves or professional ambitions — we get ample support from the company to choose and create our own path," says Chandrakala, highlighting another of Salesforce's core values — trust.
"While it is important to align to organizational goals at Salesforce, it is never at the cost of an employee's personal goals, be they family, career, or learning curve-related"
Unlocking the path to learning and growth
Chandrakala has been focusing on upskilling and growing on several fronts, beginning with the skills critical to her latest role. "I believe we need to upskill and take risks at every stage and in every aspect of our life. During the transition, my primary focus was to ace the domain skills in security. Innovation is a core value, and acquiring new skills helps me and my team improve our efficiency," she says.
She also makes it a point to sign up for training sessions and courses organised by Salesforce in collaboration with partners, as well as other certifications. In fact, she has personally been involved in designing a course for women in business technology leadership. "It wasn't easy, but the managers were very supportive and helped their women employees benefit from the course," says Chandrakala.
At Salesforce, Chandrakala has been able to upskill and grow on several fronts. In fact, she has personally been involved in designing a course for women in leadership.
Making time for oneself
Just as it's important to take on challenges in the professional world, it's equally vital to make personal time for oneself, says Chandrakala. "Sports are my stress-buster. Throwball, volleyball, javelin, discus, cricket — you name it, I've done it. I used to participate in a lot of inter and intra-school and Corporate competitions."
When the pandemic struck and she was largely confined indoors, Chandrakala took up a new hobby of gardening. "It was a way for me to relax as well as give back to the society. Nothing makes me as happy as a fresh rose blooming in my garden. And just like it spreads joy, I too try to spread some positivity in my professional space by remaining cheerful, no matter the level of pressure I have," she says. Whether it's a flexible work environment or wellness breaks, Salesforce ensures employee wellbeing is its first priority.
Finding inspiration and forging ahead
As an individual who views growth as multi-faceted, Chandrakala believes responsibilities and familial pressures must not be a reason for women to give up on their careers.
"Compared to 10 years ago, today we see many more women leaders in management and individual contributor roles. We must take inspiration from them and use it as a motivation to do the things we need to do to grow. This is because only we can best understand where we stand and what our strengths are. It's up to us to take the steps required to be confident and move forward," she shares.
Adding to this powerful perspective is her personal mantra for moving ahead in life. "It's important to keep adapting to any changes in our environment, whether they're from internal or external reasons. It is important not to get demotivated. Instead, we must think of the smallest things that motivate us and keep going," she concludes with a smile.
Like Chandrakala, are you also looking to fulfill your professional ambitions while maintaining an ideal work-life balance? Join our Talent Community to stay in the know on the latest Salesforce career opportunities, news, and events!