Gloria Tumushabe Finds Her Beat at Salesforce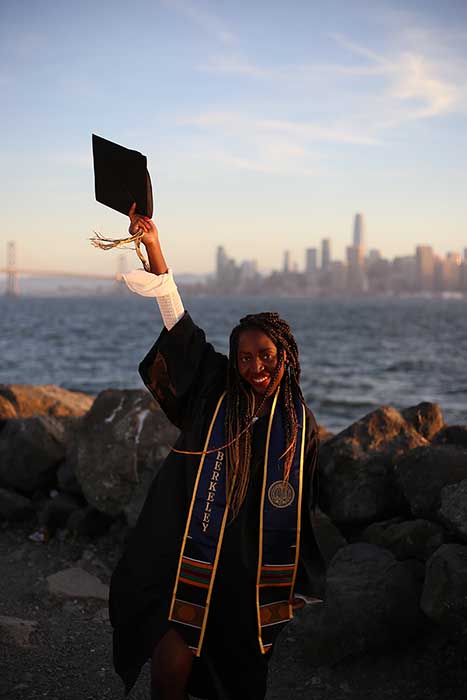 Gloria Tumushabe is the Founder of and an instructor at Afro Fem Coders and a Software Engineer at Salesforce. Prior to starting her work as an engineer, she completed her studies at the University of California, Berkeley where she earned her Bachelor's and Master's Degrees in both Electrical Engineering and Computer Science. In the past, she worked with Uber as a data analyst intern and Salesforce AI as a deep learning intern before starting her job as a software engineer. These experiences working in the technology field made her realize the need for more African women in Tech, so she founded Afro Fem Coders to create a safe and inspiring space where women feel motivated and supported to learn computer science. In her free time, she loves spending time with family and friends, exercising, traveling, cooking, dancing, and writing.
Gloria Tumushabe arrived at UC Berkeley from her home in Uganda in 2016 expecting California to be warm because of what she had seen in popular culture her whole life. But Northern California's cooler climate wasn't the only new thing she had to get used to. There were no Ugandan restaurants in the Bay Area, so she learned to love Ethiopian and Thai food and found familiar spices in Indian foods. She also looked around her computer science classes and often found herself to be not only the only person of African descent but also the lone African woman in the room—an all-too-common problem that she also noticed during an internship back home in Uganda.
Gloria kept busy with school and with her internship at Salesforce, but when the COVID-19 pandemic brought the world to a slower pace in 2020, she realized it was the perfect time to do something about the gap she saw in access to good programming jobs. That's when she posted to her networks that she was available to teach women how to code, and the response was overwhelming. From this grassroots beginning, her organization Afro Fem Coders was born.
The timing of this venture was fortuitous, because in many less-developed countries, lack of internet access at home during the shutdown caused students to be out of school completely during the pandemic. They now had time to dedicate to Gloria's introductory Python coursework. Only 13 of the women who answered her original post had laptops, so, many of them tuned into the classes from their mobile phones just to listen. Gloria also used some of her own funds to help the women pay for internet access. She started by teaching Python because it's the coding language that is the closest to English and is readable. But after completing the first cohort, Gloria reached out to her own mentors and asked if they were interested in helping as she wanted to be able to teach additional skills that were not within her wheelhouse, such as design or frontend engineering.
From its humble beginnings, Afro Fem Coders has grown to encompass more than 5,000 students, ages 11 to 50+, representing 20 African countries, led by a team of 18 instructors, all teaching different topics. Gloria says, "Being able to continue to teach keeps me connected to home. It's something I love to do and it's making an impact. It's going to change my students' lives."
Through all of this, Gloria has also been working full-time as a software engineer on the Einstein Bots team at Salesforce. She was extended a full-time offer after completing an internship in the summer of 2019, but pushed her start date back in order to complete a Master's degree at UC Berkeley for which she received a full scholarship. She uses technologies such as Terraform, Jenkins, and AWS to build the infrastructure that enables the bots to work. "It's such an impactful org because even before I came to Salesforce, I used bots," she says. "I remember one time I lost an online order and called them, but then was able to use the service bot instead." This personal experience motivates her to work on what she knows is a very impactful product for Salesforce's customers, and for their customers, too. One thing she loves about working at Salesforce is that, on every project she's worked on, she's had the opportunity to learn something new.
Gloria reserves the weekdays for her day job, but weekends are dedicated to Afro Fem Coders. Because of the time difference between the Bay Area and the African countries where her students reside, she has to get up early to coordinate everything. But since she loves it, she hasn't struggled with feeling burned out. It also helps that her team at work, not to mention the culture at Salesforce, is very encouraging of her volunteer efforts. Many people have reached out asking how they can help—some of her team has even volunteered their time helping Afro Fem Coder participants with preparing for technical interviews. Gloria notes that her team's willingness to join even during their evening hours to support her work motivates her even more. She says, "The biggest thing that helps you continue to do anything and do it well is when you have people to support you."
And if she does feel tired or unmotivated? Well, she turns up the afrobeats and takes a 15-minute dance break! This has been one benefit of working from home, since busting a move while debugging code might not go over as well in the office. That said, Gloria says it's the people that make working at Salesforce such a great fit. "My favorite part about being at Salesforce is the people," she says. "Every time we meet for lunch or dinner, I can be myself, and it feels so good. Anyone can code anywhere—there's so much coding work to do in the world—but meeting good people and having a supportive manager is what makes Salesforce special."
Looking for your own perfect fit? Search our open roles to find your place!