Yukti's Story: The Journey to Meaningful Work at the Enterprise Level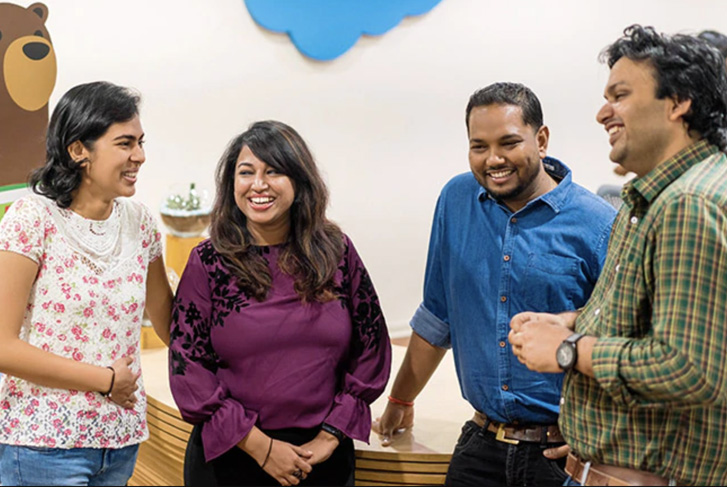 Yukti Tulsyan joined Salesforce in October 2017 and relocated from Bangalore to work out of our Hyderabad office. She is a client-focused, innovative Senior Product Manager. We met with her to discover why she chose to make the move to Salesforce, and how she's quickly achieved meaningful professional growth. Keep reading to learn Yukti's three tips to bring your personal touch to the enterprise level.
What does a fulfilling work day look like to you?
I love starting off my day with my cat. While I never thought of myself as a pet-person, it's been quite an adventure (and definitely a worthwhile one, at that)! One of the many things I cherish about a career at Salesforce is having the time to do meaningful work and spend quality time at home. I moved away from home at a young age to further my career, so being able to connect with my mother when she's visiting has been invaluable, and very precious to me. With Hyderabad being the tech hub that it is, I currently live apart from my husband who is a banker in Mumbai. The office, team, work, and career growth have been so fulfilling that I've received the full support of my partner to live out here.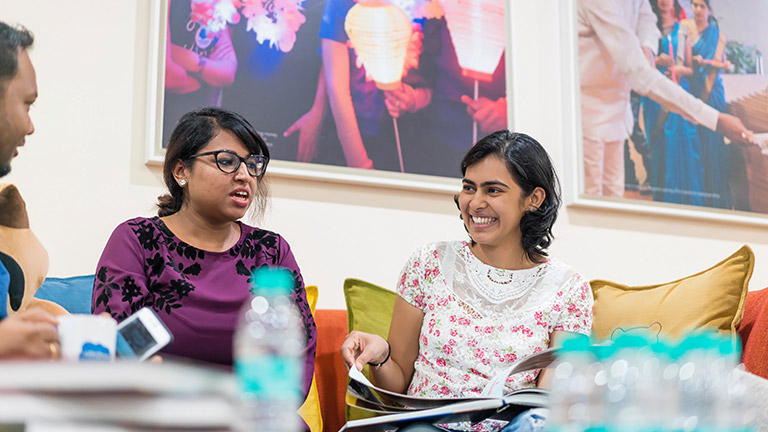 What drew you to Salesforce?
The opportunity at Salesforce meant taking a leap in my career, professional development, and looking deeper at what I wanted my impact to be. I've recently been promoted to Senior Product Manager and the biggest influence on that achievement was the way our team lifts one another up. Alongside that, the projects we've worked on have had lasting impacts. We've delivered many high-profile programs that have changed the lives of our clients and their customers. Our impact is overwhelming and humbling.
So how can someone have an impact while working for a large company?
There are three clear ways people can infuse personal touch in their work at a large corporation.
1. Help customers amplify their impact in the world.
For one of our projects, I worked on enabling The Global Fund to move their entire grant management system from an office of physical files to a completely automated platform on Salesforce. This grant managed the disbursement of millions of dollars in funds to countries to fight against AIDS, malaria, and tuberculosis. This previously took about 60% of their workload, but after our automation, dropped down to 0%. Working together on my team in an agile environment to expand The Global Fund's reach was an incredible experience.
2. Lock arms with coworkers to give back to the community.
Salesforce's 1-1-1 model dedicates 1% of Salesforce's equity, employee time, and product back into the community. Through this, I was able to organize a heritage walk fundraiser with the children of the Cherish Foundation Orphanage. This foundation gives orphans the chance to experience family activities that parents would typically plan. It's been amazing to see how the model at Salesforce fosters a genuine passion to volunteer, and that underlying spirit to do good thrives.
3. Be a champion for equality.
I've also been involved with Outforce, an Employee Resource Group (ERG) for allies of diversity in sexual orientation and gender identity. Outforce promotes an open and inclusive culture that empowers employees to bring their whole, authentic selves to work every day. I was fortunate enough to collaborate on an event that educated attendees on the importance of accepting all lifestyles, especially in our region. We hosted a Bollywood dance class and held a seminar that broke down stereotypes around transgenderism. It's inspiring to see how others have driven the conversation around equality too.
I'm grateful I've had these amazing experiences to build my career and independence, and this drives me to ensure I'm helping others that haven't had the same opportunities. Growing alongside Salesforce has been absolutely transformative. Seeing the value of giving back and being empowered to make meaningful contributions to the company has allowed me to grow and connect with our customers in a very unique way.
I challenged myself to take the path that wasn't necessarily the easiest, and said "Yes" when opportunities arose. My piece of advice for those looking for deeper meaning in their work? Be open to different opportunities and trust your passions. Strive to connect with others, find mentors, and ask for feedback.
Ready to transform your everyday? Indicate your interest to the Salesforce Recruiting team.