Advocating for Your Career: An Interview with Salesforce Mexico's Women in Leadership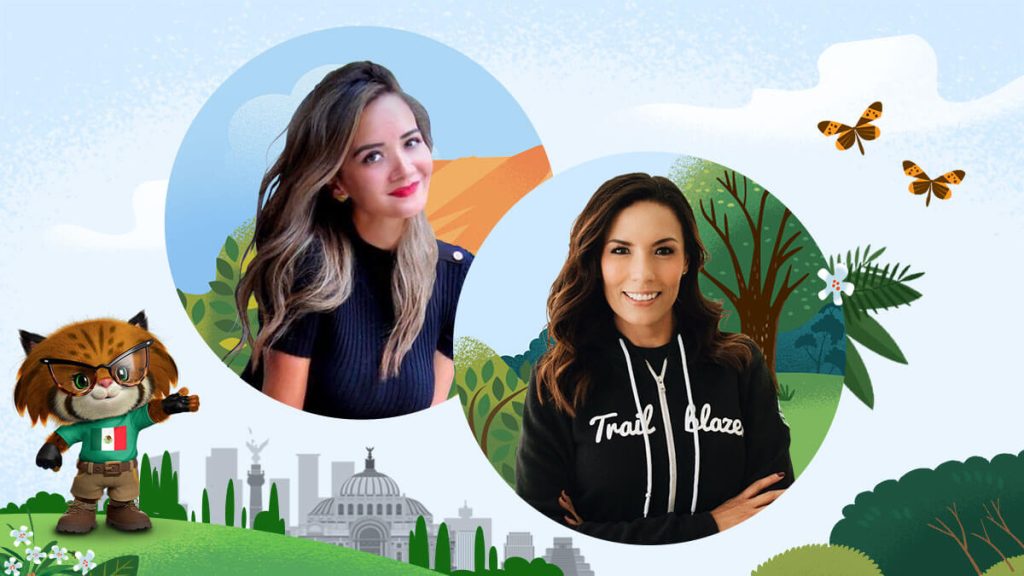 Paula Arango, Regional Sales Director of Mid Market, and Elsa Velez Perdomo, Senior Manager, Enterprise Corporate Sales (ECS) believe they have found their dream jobs.
Based out of Mexico City, both women have broken into leadership roles during their careers at Salesforce. Named a Great Place to Work in Mexico, Salesforce is committed to a culture that invests in the continued success of all employees across the globe. We sat down with both Paula and Elsa to ask them how they made their dream jobs happen and made Salesforce their own great place to work.
They created a network of support
Both women utilized networking to build their personal brand, credibility, and reputation throughout the organization.
Elsa credits much of her success to the relationships she's built throughout the organization, paired with her reputation for high-level work. Four years ago in her first role at ECS, her then-manager asked her to partner with the International COO on an important sales forecast. Elsa was determined to show her expertise in developing a sales forecast as well as her interest in growing her impact beyond her current team. When a leadership opportunity became available, the COO and her manager knew Elsa was not only capable, from their time working together, but cited her self-advocacy as a reason to promote her to a new department.
"I truly believe that networking is a key part of growing my career. It's important for people outside of your immediate team to know who you are, what you are doing, what you've accomplished, and what your goals are — long- and short-term." Now, Elsa works on the commercial side of the business while being in a leadership position that gives her the opportunity to mentor and coach her team.
Paula Arango, who met her long-time mentor outside of Salesforce after sending them a LinkedIn message, remembers being very nervous to network initially. "But you have to try. When you try, you break through that mental barrier and realize… Oh, that wasn't so bad! You grow by being uncomfortable, and then realizing nothing bad happened."
Paula has experienced rapid growth in her career at Salesforce, joining as an account executive on the General Business Sales team in 2020. "During this process I had the full support of my manager to be creative and disruptive with the clients who were trusting us to help them; through the use of Salesforce we were able to launch innovative projects that allowed our clients to have more and better sales. My ideas were fully supported by my team, and I felt encouraged to continue to try new things."
They were their own biggest cheerleaders
Self-advocacy can feel uncomfortable. An Indeed study found that 73% of women surveyed feel that generally, "women who self-advocate are perceived more negatively than men who self-advocate," and the consequences of being less liked in the workplace can be irreparably damaging.
When you speak about your work and show your appreciation for others, Elsa recommends, you make it about yourself by default. "I make it about everyone when I talk about my accomplishments. 'Look at what amazing things my team is doing!' I am included in that, but I am also giving my teammates positive exposure. That energy stands out to people, and they remember what you say."
When you communicate your career goals to your manager, they are able to look for opportunities that will help you gain the skills you need to get to the next level. When Paula arrived at Salesforce, she knew it was important to speak up on her intention to grow and voice her expectations with leadership. "I communicated my growth intentions to my manager, declared it in my Individual Development Plan, and stated what specific help I needed from him and his RVP to achieve my goal. I found myself under the leadership of two incredible professionals, human beings, and allies who have committed themselves to my personal and professional growth."
They became a force for growth
Promoting your interests and achievements in the workplace is a powerful skill to master, and the more you practice doing it, the more natural it will feel. Both Elsa and Paula coach women to shift their mindset, from thinking of self-advocacy as a selfish and negative to seeing it as an opportunity to champion their hard work and feel good about the difference they were making.
Elsa, a mentor to younger professionals, encourages her team and those she coaches to hone their sense of self-worth: "Be self-confident and proud of every achievement! Acknowledge that you deserve to be recognized for what you do and that your contribution is enough, and that it counts! Take ownership of your work and see that you're part of making something bigger. You're there for a reason!"
Paula is an active member of several volunteer organizations where she also helps women work towards feeling comfortable speaking up for themselves. "It is difficult to advocate for yourself, because imposter syndrome is real, but you have to challenge yourself to leave your comfort zone in order to expand. That is where your growth happens." She believes that Salesforce's commitment to equality and developing great leaders is why she is now able to help others build their own careers.
Paula and Elsa are two shining examples of women in leadership at Salesforce who have forged their own career success. Salesforce actively continues investing in women, including this year's launch of the Women's Leadership program in partnership with the Executive Leadership Council to strive for true workplace equity. Salesforce also invests in pay equity for all employees each year, analyzing and adjusting pay disparities among gender, race, and ethnicity. To date, we have invested $16.2 million to ensure fair pay.
Join our Talent Network to learn about Salesforce's upcoming events, company news, and current or future opportunities.