Global SWN President Shares How to Leverage Your Skills to Grow Your Career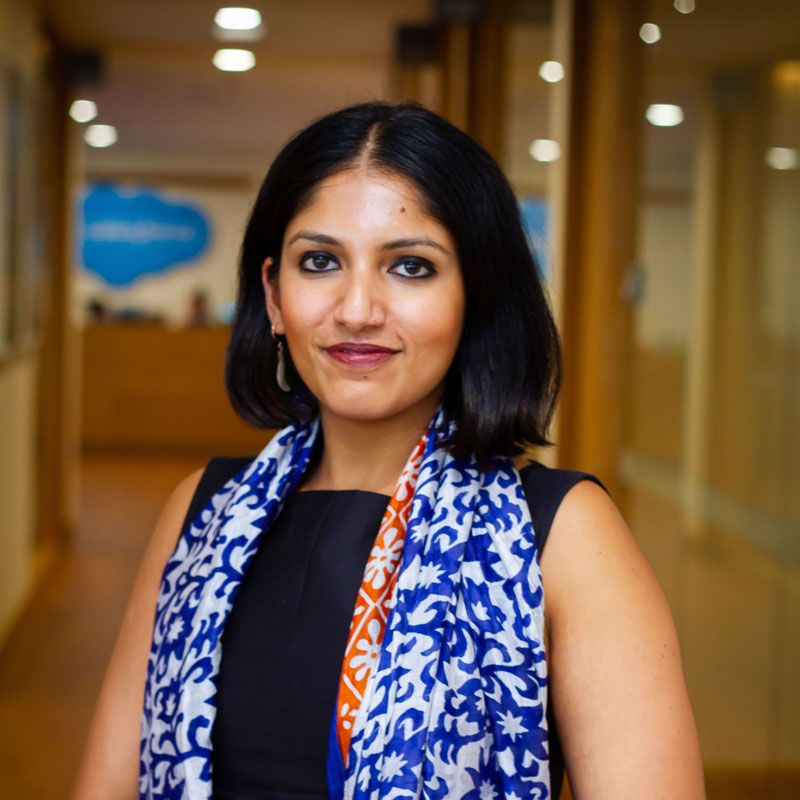 Shreya Sethi grew up in India wanting to be a doctor or engineer. She says back then everyone believed there were only two "stable and well-paying professions." However, during high school, she found her love for economics. "That's when my eyes opened to the world of different professions and also to technology, consulting, and strategy — all my areas of passion! Since then, I wanted to do something that would allow me to see the economics in action and understand businesses."
Learn more about Shreya's journey in her fireside chat on YouTube. Ready for your Salesforce journey? Check out open roles on our careers site.
Growing Strategically
Today, Shreya is the Senior Director of Strategic Growth, Salesforce Australia and New Zealand, working with customer experience and executives and focusing on value and growth. "I do a lot of work with our financial services customers and CXOs (customer experience executives) around value narratives, why they should be changing and also looking at business value of the same. And then, also, when it comes to really the large complex deals, looking at growth models, such that we can both scale together in partnership."
Shreya is also the Global President of the Salesforce Women's Network (SWN), an Employee Resource Group or Equality Group comprising over 12,000+ women and allies. "My job as the President is to develop deep relationships with our executive sponsors and align on a global company-wide gender strategy, removing roadblocks for my stellar board so they can do their magic, ensuring alignment and feedback from global to local (and vice versa)…" Her work at SWN has been impactful, saying they are most proud of the "gender diversity strategy alignment at [a] company level … and of delivery on an amazing Champion Month in March that includes a wide range of activities for our members!"
Through all her experiences, Shreya learned valuable skills to become a leader and progress in her career. Read on as Shreya tells us how she found and focused on her unique skills to further her career.
Defining Your Skill Sets
We all know we have skills, but how do you define your strongest skills? Shreya says it's helpful to identify skills that give you energy, as well as skills you're naturally inclined to. "If you are naturally inclined towards a skill set, it's probably easier to pick it up and also probably easier to make it your strength … It does not mean you can't learn them." If you're not aware of what your skills are, Shreya suggests looking for patterns in feedback. She says, "early on in my career … I used to keep feedback notes in one particular diary. And then every time I got a feedback, over a period of time, I would go back and look through that feedback to understand what were the emerging patterns." As a result, she discovered that structure, strategy, and stakeholder management were some of her best skills.

Changing the Lens
Now that you know how to find your skills, you need to know how to utilize them. Shreya says many people get caught up looking at how to get through the upcoming months or weeks, but you need to view your career through a wider lens. For example, she suggests asking yourself questions by "taking a more strategic point of view and saying, where am I today? Where do I want to be? And so what type of work do I want to be doing? What type of skill sets do I need for that? Who do I need as my supporters and sponsors and mentors?" After you answer them, Shreya says you need to be sure to follow through. She credits her ability to follow through as something that helped further her career.
Need more guidance on how to utilize your skillsets to progress in your career? Check out our full fireside chat with Shreya over on our YouTube here. Ready to further your career by joining our teams at Salesforce? Apply today!