How Jessica Ross Manifested Her Way to Executive Leadership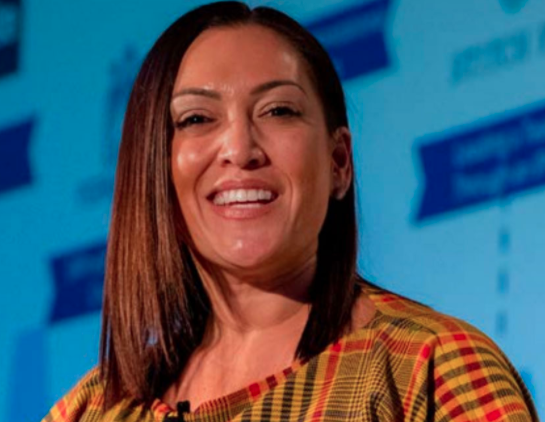 The series of events that lead up to a major change in your career uncover lessons that shape your growth.
This perfect storm of events for Jessica Ross, SVP Finance, Office of Transformation, happened in 2010 with the culmination of intense pressure to make partner at a public accounting firm, challenges parenting her two children as a single mother, all while facing a personal health struggle. In this moment, she knew a change must be on the horizon.
She received some of the best career advice from a colleague: build your skills to evolve your perspective and build a personal strategic plan.
I am a finance leader by trade and a change leader by heart."

– JESSICA ROSS

(Members of BOLDforce, Salesforce's Black Employee Resource Group, at our company Kick-Off in 2020. Jessica is the executive sponsor)
Taking this advice, Jessica pushed herself to continue her education and said yes to challenging assignments that would refine her skillset. Over the next 9 years, her career journey led her through a series of opportunities that prepared her for who she is today "a finance leader by trade and a change leader by heart", according to Jessica. She leveraged the practice of manifestation, pursued intentional relationships, and aligned her core values to eventually land her dream role at Salesforce in 2019. Here are a few lessons we can learn from Jessica's journey:
1. Identify your personal core values. Jessica shared that early on in her career she solidified her core values and began making career decisions based on these values. Her prioritized values include family, integrity, and impact. As new opportunities arose she made it a habit to check in on these values by asking these three questions: Are your values in conflict? Are your skills being used to their highest and best use? Are you happy? Jessica decided to join Salesforce as the company values align so closely with her own and she had the opportunity to build her career and lead teams all according to those values.
(2020 family photo with her children Jasmine (17) and Josh (24))
2. Invest in intentional relationships. Jessica's superpowers are rooted in connectivity and building relationships with people. Her advice is to build a personal board of directors, each of whom play a role in helping you succeed by serving as mentors, advocates, and true friends. The best example of this Jessica recalls is her relationship with Robin Washington who sits on the Salesforce Board of Directors. They met many years ago in a mother's group, learning how to excel as working mothers. Their friendship developed over the years and soon their professional lives began to intersect. When the perfect role opened up at Salesforce, Robin was able to open the door for Jessica to get connected with Salesforce leadership. Jessica shared that, as one of very few Black women CFO's, Robin impacted her life in ways she never could have imagined and broadened the lens of possibility that Jessica had for herself in navigating her own career journey.
(Jessica Ross' vision book)
3. Visualize your strategic plan. Jessica describes the visualization process as reflecting on the images and feelings surrounding the life you want to live. She then turns those images into a vision book which is a strategic plan personified through a scrapbook-style vision board. Jessica shared that, in May of 2018 she imagined herself with a global job as a transformative change leader. With that image in mind, she took an image from the movie Hidden Figures and superimposed her face on Octavia Spencer's character [Dorothy Vaughan]. A few months later the role at Salesforce became available making Jessica the newest SVP in Finance. In Hidden Figures, Dorothy Vaughan prepared herself and her team with the skills and capabilities necessary to succeed as programmers when the machine computers were introduced to NASA in 1961. In a similar fashion, one of the objectives of Jessica's role leading global finance transformation is to prepare the finance team to thrive with the introduction of digital technologies such as AI and other automations made available in the fourth industrial revolution.
(Jessica visiting Tokyo, Japan for a global finance site visit in November 2019)
"One's career trajectory is not and should not be linear because ultimate success requires a career journey spanning a depth and breadth of uncomfortable growth experiences."

– JESSICA ROSS
Jessica believes, "one's career trajectory is not and should not be linear because ultimate success requires a career journey spanning a depth and breadth of uncomfortable growth experiences". She emphasizes that a personal strategic plan provides structure and clarity to what would otherwise be an ambiguous and overwhelming journey. As the Executive Sponsor of BOLDforce, our employee resource group (ERG) for Black employees and allies, Jessica used these principles to teach others how to transform their personal strategic plans into action using manifestation and visualization. The Visionaries program opened an intimate space for a cohort of BOLDforce members to redefine how they imagine their career path through a deep level of trust and authenticity. In light of the challenging year gone by, Jessica is striving to "promote purpose and inspiration for my community". Learn more about Equality Groups at Salesforce and how these communities promote intentional relationships that make it a mission to propel your career forward.
At Salesforce, we are committed to advancing gender equality in the workplace and in society. Click here to view the recap of our third-annual gender equality summit, Trailblazing Women, where we heard from inspiring authors, business leaders, and activists. If you're interested in a career at Salesforce, visit our careers page.
Editor's Note: Jessica is now EVP, Finance & Chief Transformation Officer