Koa Club Spotlight – Nancy Kamerer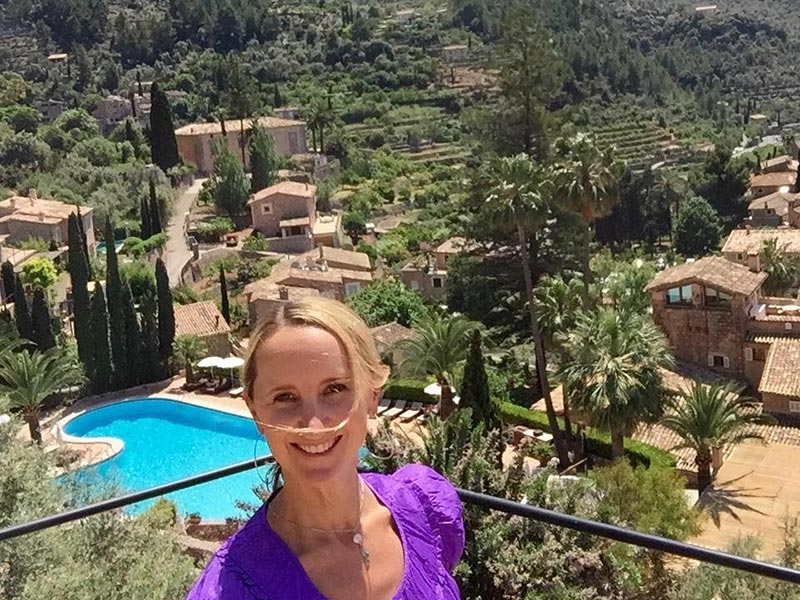 By Theresa Ludvigson & T.J. Vilardi
"I Have Been Able to Reinvent Myself Every 3 or 4 Years"
This month's Koa Club Spotlight features almost-17-year-veteran, Nancy Kamerer. Read about why she has decided to stay at Salesforce for nearly two decades.
From start to still not finished at Salesforce
As an almost-17-year-veteran, Nancy Kamerer has seen Salesforce evolve from its infancy stages to what it has become today. Much like Salesforce's successes, Nancy's career has flourished and evolved year after year.
She started with the company in 2005 as a manager for sales development representatives. "We only had 12 sales development representatives at that time. Some of them are still at Salesforce and others have gone on to partners in the ecosystem," said Nancy. She continued, "We were the welcome mat for people early in their tech careers. In some cases, it was their first job right out of college. I ended up staying in that role for around six years and saw 12 reps quickly turn into 90 between the Toronto, Chicago, San Mateo, and San Francisco offices."
After six years in sales development, Nancy decided that she wanted to pursue sales enablement. "I was always interested in sales enablement but felt that I needed to walk the walk as an account executive before I could be successful in the role," said Nancy. She became a successful account executive for two years in the general business space. She told us, "I made great friends during those two years and gained the experience that I was looking for." During this time in sales, Nancy followed Amy Regan Morehouse on Chatter. "Amy was doing amazing things with the Executive Briefing Center (now the Salesforce Innovation Center), and I was so intrigued by the work she was doing that I reached out to her to learn more," said Nancy. That same year Nancy hosted a Dreamforce gathering for one of her customers and discovered her passion for planning events and experiences. "This passion was a natural pathway for me into the Salesforce Innovation Center where I could be running these customer events regularly," she said. And that is exactly what she did. Amy would end up moving over to Salesforce University (now the Trailhead Academy) which allowed Nancy to step into her role and run the program that she fell in love with.
SDR Team 2010
Trans Tahoe Swim Relay with Salesforce friends 2007
The inflection point
In 2015, Nancy hit her Koa Club milestone at the company. "Once I hit Koa Club, I had this inflection point and wanted to figure out what my next career move would be. I was either going to leave Salesforce and find something new or look within the company," she said. Needing advice on what to do, Nancy turned to her mom. "My mom encouraged me to take a sabbatical. Salesforce had just introduced this program for our employees so it was really perfect timing," said Nancy.
Nancy jumped on the opportunity and took a two-month sabbatical. "Those two months were incredible. I went on a pilates retreat in Marrakesh, I swam with whale sharks in Baja, and I spent some time in Amsterdam, France, and Mallorca. I even got to clean out closets that had not been touched in years!," she said. She continued, "This sabbatical allowed me the space I needed to make a big decision in my life to start a family and have kids. As soon as I got back, that is exactly what I did."
Sabbatical in Deia, Mallorca, 2015
Nancy and her girls
Upon her return, she found Salesforce gearing up for another amazing Dreamforce event. "When I returned to Salesforce, I still didn't know what I wanted to do next. That was until I went to Dreamforce that year and was introduced to Trailhead. It was the focal point of the event and really changed the entire atmosphere at Dreamforce. All of a sudden we had these incredible mascots, and it felt like you were in a national park. Just like our customers, I was super intrigued by this," said Nancy. She was so intrigued that she ended up inviting Adam Seligman, EVP in the Trailhead organization at the time, to come talk to her team about all the buzz surrounding Trailhead and what it would do for the future of Salesforce. She told us, "Adam came into the meeting and explained what Trailhead was and why it would be successful. He even challenged my team to a Trailhead challenge to see who could earn the most badges in six weeks. It was during those six weeks that I became instantly hooked. From the learning to the gamification it reminded me of Pitfall on Atari because of the challenges and the different ranks you could climb." Nancy was so hooked!
She emailed Adam after those six weeks and as she told us, "I told Adam I wanted to come join his team and sing about Trailhead from every rooftop." She would do just that by joining the Trailhead team in 2016. It was during this time that the infamous Trailhead Ranger program was born. "Sarah Franklin had this incredible idea of rewarding employees that earned over 100 badges on Trailhead with this Ranger ranking. She partnered with Vik Mediratta to figure out how we could bring this to the entire company and get them excited about it. It started with 14 employees that had achieved 100 badges on their own and launched the program. We adopted bears in their names, gave out green desk flags with the Ranger logo, developed Chatter badges, and of course the famous Trailblazer hoodie. The program took off like wildfire and now has resulted in close to 28,000 Rangers at Salesforce," said Nancy. Today, Nancy finds herself on the Trailblazer Ecosystem team. She is tasked with developing programs to help our customers spread Trailhead engagement within their companies – and it's working! "Standard Bank, the largest bank in Africa, just hit 20,000 Rangers internally. We were super excited about this achievement," she said.
Joining the Trailhead team!
Life as a mom, giving back and wellbeing
Earlier in the story, we talked about Nancy's important decision to start a family and have children. We asked her what it was like being a mom during the pandemic at Salesforce and she told us, "Salesforce has always been supportive but during the pandemic, they went above and beyond. I have always been a fan-girl of Salesforce but the support we have seen during the pandemic put it over the top. I get to work for the wonderful Leah McGowen-Hare, who has always been so supportive, especially during the pandemic. She has shown up in all the right ways and is constantly asking us how we are doing as soon as meetings begin. Her leadership has been amazing."
Giving back is another strong passion for Nancy. Today, she works with Veterati, an organization that helps mentor service members, veterans and military spouses. "The experience has been so rewarding. It really is such an incredible organization. I even get to point the people I mentor to the Trailhead community because it's free and they find it as a great resource," said Nancy. She has also taken advantage of the international VTO (Volunteer Time Off) that Salesforce offers. "I have been able to volunteer all over the world — Tanzania, Sri Lanka, and Peru, and my backyard," she said.
Nancy has also been able to use Salesforce technology to give back. She told us, "During the first All Hands Call of the pandemic, Marc Benioff encouraged all of us to create a personal vision for ourselves to help guide us through this difficult time — a north star. Mark Hawkins, the CFO at the time, asked us how we want to look back on this time — How did we show up for our family, friends, team, and ourselves? I remember thinking to myself that I needed to find my north star. The last big event I attended before the pandemic started was Oprah's 2020 Vision Tour so it was very top of mind for me. I love creating vision boards so I reached out to the platform team and wanted to see if they could help me create an app on Heroku. This turned into a digital web app called My North Star. It has a vision, your top three values, and action that you will take to achieve your vision. You can do it on your laptop or mobile device. We have had over 1,000 Trailblazers create these vision boards and in the process were able to give back to UNICEF."
Mynorthstarapp.com, a digital vision board Nancy was able to work on during the early days of the pandemic
VTO Trip with Room to Read in Sri Lanka
Much like everyone else, Nancy is figuring out how to stay well while working remote. "One of the things that I have been doing is standing more. I found that when I was working from home I was sitting for the longest hours. When I was in the office I would get up more frequently and move around. To help with this, I invested in a platform desk that is very similar to a standing desk. I took a 7 Habits of Highly Effective People class, and they said you are about 7% smarter while you are standing. I am also obsessed with my Peloton bike. I try to get on it at least 3 times a week. As a single mom, it is perfect because I don't always have the luxury to go to the gym or get outside and go for a run. My Peloton username is @nankam if anyone wants to ride along," said Nancy.
To Koa Club and Beyond
Nancy has been a member of the Koa Club coming up on seven years. We asked her what keeps her coming back to Salesforce every year. She told us, "The fact that I have been here for 17 years is because I have been able to reinvent myself every three or four years. I have taken on new roles and have not stayed in one segment too long. It has allowed me to grow and learn new things. I have been on the sales side, I have been a manager, I have been an individual contributor, I have been on the product side, and I have been on the marketing side. Seeing Salesforce from all these different lenses has allowed me to see it in new lights and get different perspectives. It keeps me on my toes and still interested in our mission."
Nancy also had some very sound advice for people that find themselves in their inflection point, just like she was 6 short years ago. "I think you have to look for these opportunities. Sometimes it will happen organically but pay attention to things about your job that you love the most. Where do you feel engaged and alive? This will give you a sense of direction that you are meant to head in. Make sure to follow some of your leaders that you are inspired by on Twitter and look at their V2MOM. See what problems they are trying to solve and see how you can help. Try to watch the weekly all-hands calls hosted by Salesforce leadership. That's where you learn what our top leaders are focused on and what they are working on. Salesforce seems to reinvent itself every year so there is always new products, teams, and initiatives to learn about," said Nancy.
Want to learn more about Nancy's career journey? Check out her career on Linkedin!