Mentorship in Action: Meet Julia Park and Willard Monroe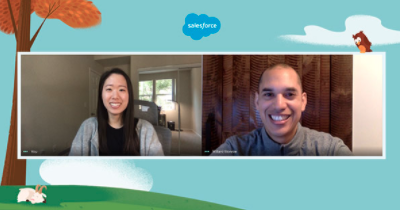 Our most recent blog featuring mentors and mentees from the Salesforce Equality Mentorship Program, which exists to create access for our employees of color to senior leadership, introduced us to Loren Taylor, Senior Digital Marketing Manager for the Salesforce Security Team, and Amy Regan Morehouse who leads the Trailhead Academy and global myTrailhead Go-to-Market (GTM) Organization.
In the fourth blog of our series, we meet Julia Park, Lead Pardot Solution Engineer, and Willard Monroe, Senior Director of Sales Strategy.
Mentors and mentees are matched according to their core competencies, a growth area for the mentee and a strength for the mentor, geographical location, and their relative experience. Learn more about our company's Equality efforts.
When Julia was looking for a mentor outside her solution engineering network, her manager suggested the Equality Mentorship Program. Julia was looking forward to being paired with a Salesforce leader who also identified as a member of an underrepresented group.
Julia and Willard were matched in the mentorship program, and they'd also met casually at a business event a couple years prior.
"I was excited to be matched with someone who's extremely experienced in the realm of mentorship and equality," Julia comments. "Willard is well known for his contributions to the Salesforce Equality Program."
And she was a trifle nervous.
"I hadn't had formal mentorship experiences in the past," says Julia, "and wasn't sure how to prepare. So, for my first meeting with Willard, I prepped as I would for an interview!"
Read on to benefit from Willard and Julia's insights.
Finding Guidance in Support of Aspirations and Opportunities
With nearly 10 years at Salesforce — much of that as a people leader — Willard has acquired significant mentoring experience. From his interaction with mentees, Willard believes most people are looking to mentors for general guidance, not to solve a specific problem.
"Many people want support during periods in their careers where there's some ambiguity," he explains. "It was that way with Julia. She had aspirations and saw opportunities. She wanted feedback and tactical actions on how she might move through those."
Julia was looking for an outside perspective on her career journey.
"I wanted another sounding board outside of my direct management," Julia concurs, "to allow me space and permission to be fully candid with my feelings and opinions around my job."
It was another plus that Willard used to support Julia's current Pardot team.
"I want to build my own long-term career at Salesforce," Julia comments, "and Willard has been able to explore different functional business lines at Salesforce while progressing in his career." In fact, Willard started his experience with Salesforce on the traditional sales track — growing from business representative, to account executive, and business development manager. After exploring another tech company, he boomeranged back to Salesforce to become Vice President of Sales for Pardot before entering his current role. He's explored various roles that tap into his sales expertise.
Willard advises, "When you're thinking about your career — consider the job after this job. Don't be reactive to something right in front of you. Make sure it fits into a longer path and do some soul-searching to understand what that path is."
Tip for mentees: Your mentor wants to hear about your total experience, so be open and honest about the opportunities and challenges you face in the workplace.
The Joy of Growth
"I hold the act of mentoring close to my heart," says Willard, "because I wouldn't be where I am today without having had some really strong mentors in my life. There's an innate joy in watching people grow."
Of course, navigating that growth can often be challenging and uncomfortable.
"I'm going through a growth period in terms of developing interpersonal and leadership skills, which has been quite an adjustment," Julia notes. "In consulting with Willard, I can express any frustrations on my career journey. Hearing his perspective is affirming and encouraging — it helps my emotional wellbeing."
"Having that outlet gives you the ability to just get out of your own head," agrees Willard. "That's a lot of what mentorship is about. It helps give a more structured, guided path to the next thing."
The Value of Mentoring
Everyone can benefit from support in our careers. But it's crucial to recognize every community faces unique historical and systemic challenges that are important to acknowledge and address. As company leaders, explore ways you can set up a mentorship program to support underrepresented groups in the workplace. An underrepresented group is any group whose representation in an organization doesn't reflect the general population. For example; women, people with disabilities, some people of color, or veterans can all be underrepresented in the workplace.
The recent Being Black in Corporate America report found that Black professionals have less direct access to senior leaders in their company than their white counterparts, 31% compared to 44%.
"Creating a workplace that reflects society where everyone feels seen, heard, valued, and empowered to succeed is important now more than ever," points out Salesforce Equality Mentorship Program, Specialist Marcus Stevenson.
"I think an example of that," Willard emphasizes, "is when somebody comes into an organization and they don't see anybody that looks like them. It can be isolating."
That isolation, in turn, can create self-doubt.
"If you have self-doubt, having a mentor who looks like you, and is further along in their career can balance that out," he adds. "They're showing faith in you. Someone's telling you, 'Yes, you can.'"
Willard's dedication to mentoring led him to work with BOLDforce and the Office of Equality to create a mentorship program on the west coast for underrepresented groups.
"We had some great success," says Willard, "building a foundation for retention and upward mobility. "It was the start of building the program that Marcus Stevenson has grown and formalized, which is now blessed all over the company."
The Power of Reflective Listening
Often times, the most valuable thing you can do as a mentor isn't to coach, guide, or advise.
"One of my good friends is a reflective listener who creates space for me to share my thoughts," says Julia. "This helps me come to my own conclusions. I've always admired her for her ability to turn off 'teaching mode' and lend me time and space to organize my own thoughts."
This emphasis aligns closely with Willard's thoughts on what makes a good mentor.
"A lot of times mentorship is just letting people bounce ideas off you," he says. "Then they reach a conclusion themselves on how to move forward. If you insert your point of view too soon, you aren't helping them develop the skills to pivot in real-time when you're not around."
Tip for mentors: Be a reflective listener. Often mentees need to communicate their ideas to someone else so they can process their thoughts and arrive at a decision.
Looking to learn from more conversations on mentorship? Check out our on-demand Trailblazing Leaders of Color webinar. And to explore opportunities at Salesforce, head over to our careers site.