Raise Your Voice: How to Create Change by Asking for Your Next Position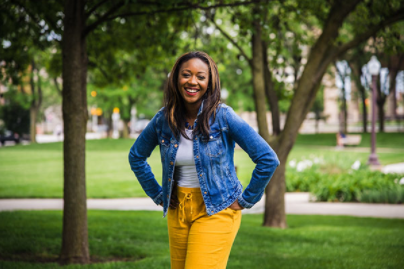 After three years working in recruiting, Kai Johnson knew it was time to try something new – she wanted more opportunities to help people of color build meaningful careers in tech. So she spoke up, designed a role, and pitched it to her leadership team.
As Manager of Community Relations and Partnerships at Salesforce, Kai partnered with Indianapolis' community groups and organizations to advocate for change.
Since then, Kai has served as Indianapolis president of employee resource group BOLDforce – the Black Organization for Leadership and Development – and continues to speak up in her current role supporting values-based marketing.
Here, Kai shares her story.
I have always strived to be someone who speaks out, steps up for what counts, and advocate for others to do the same. Empowering people of color to amplify their voices is important to me. Thankfully, I work in an organization that also strives to empower a diversity of voices, and encourages me to amplify those voices as much as I can.
Two years ago during maternity leave, I paused to consider how I was helping shape the future. I was compelled to make myself heard about the issues I believe matter. When I returned to work, I sat down with the leader of the Indianapolis hub, where I am based, and told him I hoped Salesforce could do more.
I'd been working for Salesforce in recruiting for about three years – I loved the culture and the passion of the organization. It was a company that had stood by me both financially and personally when I had two babies, facilitating the kind of parental leave and flexible working arrangements that meant I never had to worry about not having enough time to bond with my babies.
But sometimes you know it's time for a change. I had mastered my role and wanted to reach further in my goals of giving back to the community. A job in a new city with a new organization was on the horizon, and perhaps the prospect of moving on helped me to speak a bit more freely than I might have otherwise.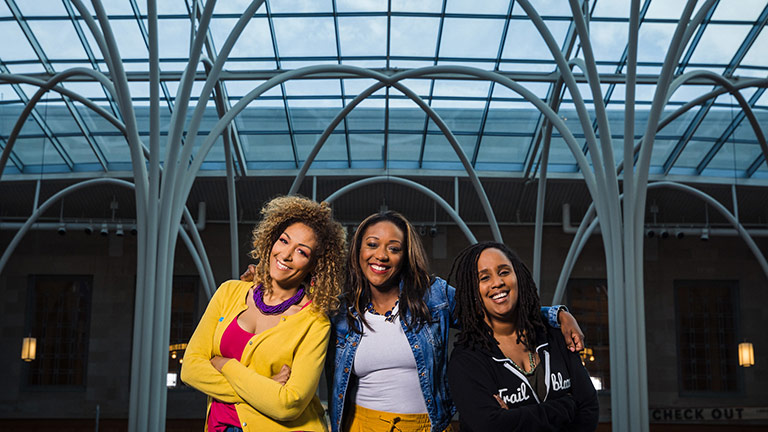 Saying It Like It Is
I talked to colleagues about how much I loved the diversity of Indianapolis but how it still felt very divided and segregated in many ways. I told the Indy hub leader that I felt like Salesforce was in a position to do more in the community here, especially with underrepresented minorities and the organizations associated with them. With all these incredible resources, tools, and platforms at the ready, why not use them to help these communities skill up in ways that could change their lives?
I had the information to back up my claims, I was clear about what I wanted to say and I was very, very frank.
"You're right," he said. "I want those things too. Let's create a job for you so you can make it happen."
That wasn't the response I was expecting! I was amazed but also a little skeptical at first. It seemed almost too good to be true. But before long, as Manager of Community Relations and Partnerships, I was working closely with leadership to enable real change in Indy and helping meet those community goals I'd raised my voice about.
I was blown away by the degree of trust involved. The Indy hub leader didn't know me or have any experience working with me. But that can be the power of a truly authentic and candid conversation. It can be a bit scary – you're putting yourself on the line – but if you don't speak up, you don't discover what opportunities might be available. This is especially important for underrepresented minorities. Speak up. Find allies. Be heard.
Creating Change in Indianapolis
In partnership with Nextech, we've helped provide computer science education for kids in under-resourced inner city schools, as well as internship opportunities at Marketing Cloud. It's really exciting to share this world with kids who would normally just not have access to this kind of opportunity. Plus they can include it on their resumes when they're applying for colleges, which is a huge advantage.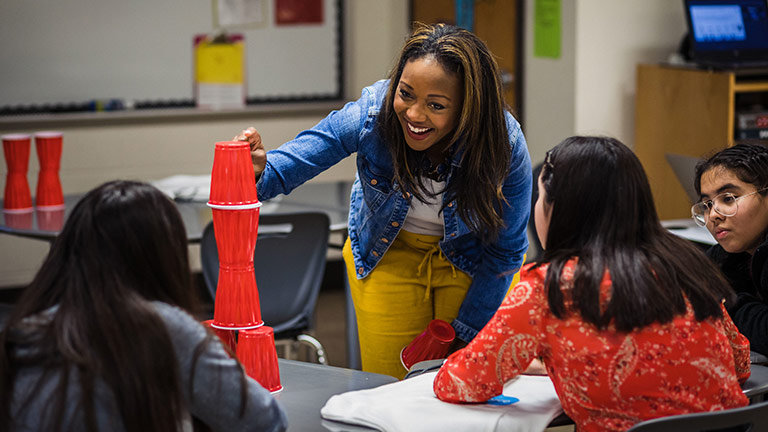 Another platform we use across Salesforce to drive community action is the employee resource group. We have 12 of these, and refer to them as Equality Groups. I am a member of BOLDforce – the Black Organization for Leadership and Development at Salesforce – which I was Indy President of until April 2020. I worked with an incredible leadership team and together we expanded and empowered not only the Black Salesforce community, but the wider Black community in Indianapolis.
I often have friends or colleagues visit from Chicago and New York and they'll be walking around downtown saying, "Where are all the Black and Latinx professionals?" At BOLDforce, we are constantly looking for ways to change that picture, and really drive opportunities and widen access into tech roles for people of color.
Building upon our existing partnership with PepUp Tech, which focuses on getting Black, Indigenous, and Latinx people into the tech ecosystem, we've expanded into Indianapolis with a Salesforce Marketing Cloud Email Specialist Program. Seeing real results is the exciting part – because of Salesforce creating this opportunity in Indy, we've now partnered with EmployIndy to establish a special program through the YES (Youth Employment System) Indy. PepUp Tech will lead classes to build Salesforce skills and help talent find job opportunities in the Salesforce ecosystem.
Education remains a strong focus of BOLDforce and we love partnering with Latinoforce to get Black and Latinx students involved in our job shadow day and mentoring opportunities so that they can see people who look like them working in the tech industry. We understand how much representation matters and how important it is to feel that you can come to work and truly be supported to be your authentic self.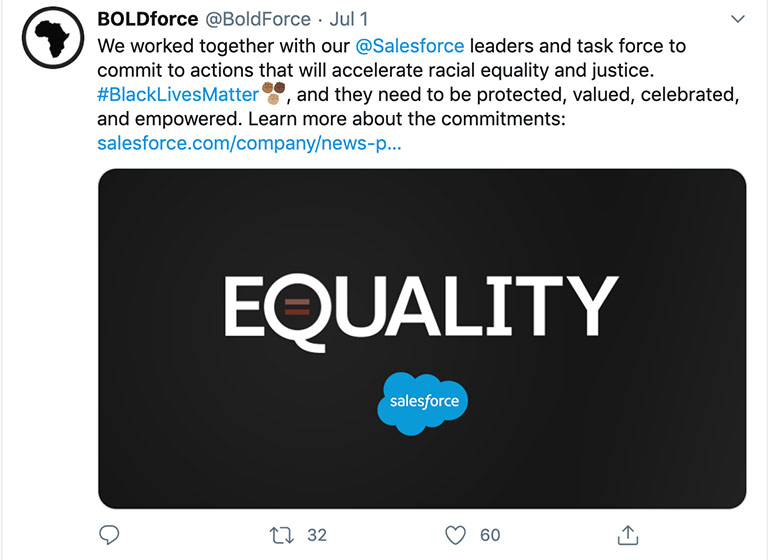 And that's a big part of what success looks like to me: bringing your full, authentic self to a workplace that empowers you to succeed, professionally and personally. I love being part of an organization that understands the value of equality of education and opportunity, and knows that a diversity of voices enriches and raises everyone up.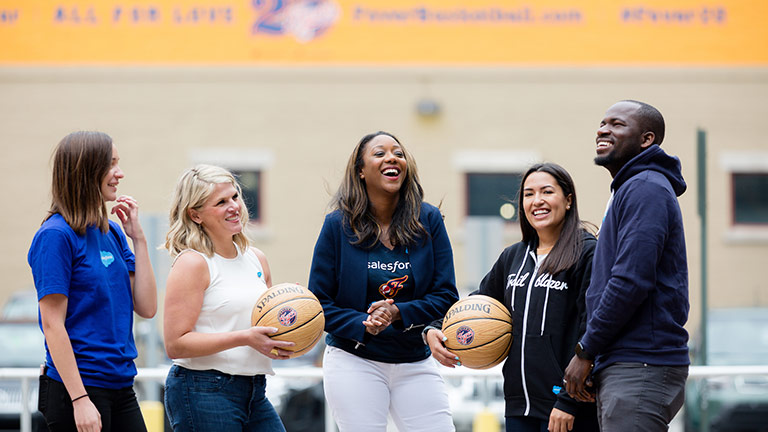 So at the end of last year, when I wanted to continue growing and challenging myself in new ways, I raised my voice again for a new challenge with Salesforce as Manager of Values-Based Marketing. I continue to speak up and take action, and am supported to succeed and learn new skills.
Looking for new ways to continue growing while being empowered to succeed? Find out more about careers with Salesforce. You can also watch a replay of our our annual Racial Equality summit, Representation Matters — a week-long virtual event to empower and elevate our Black, Latinx, and Indigenous tech communities while also learning how we can all drive change.