Salesforce Careers – Mentorship in Action: Meet Loren Taylor and Amy Regan Morehouse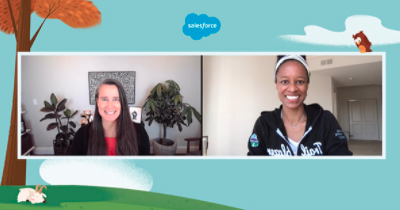 In our second blog featuring mentors and mentees from the Salesforce Equality Mentorship Program, which exists to create access for our employees of color to senior leadership, we met Salesforce Director of Software Engineering David Dieterich and Small Business Essentials Adoption Coach Rachel Kim.
In this third blog, Loren Taylor, Senior Digital Marketing Manager for the Salesforce Security Team, and Amy Regan Morehouse, who leads the Trailhead Academy and global myTrailhead Go-to-Market (GTM) Organization, tell us their story.
Mentors and mentees are matched according to their core competencies, a growth area for the mentee and a strength for the mentor, geographical location, and their relative experience. Learn more about our company's Equality efforts.
For someone new to a company and a city, a mentor can help make the adjustment easier. When Loren and Amy met, Loren had been with Salesforce less than a year and had recently moved to the San Francisco Bay Area from northern Virginia.
"I was excited that Amy was from a different part of the organization," says Loren, "so I could learn more about Salesforce teams in addition to Security — especially the Trailhead and Marketing teams."
"Loren had a lot of 'new' in her life and work," Amy points out. "Most people I've mentored have been at Salesforce for much longer. With them, we talk very specifically about solutions and next steps."
But Loren needed a different approach.
"To be a valuable resource for Loren," Amy continues, "I wanted to give her as much access to other areas of the company as possible. In addition, I wanted to share more about programs to help her become even more 'Salesforce Smart,' which will help build her career here."
Salesforce Smart is a characteristic that contributes to employee success. The key traits include company and industry knowledge, innovation, integration, managing ambiguity, compassion, and change management.
"Loren is very clear about how she wants to grow her career and leverage her skills," notes Amy. "For me as a mentor this is great because I know where she wants to develop and how to help her make an even bigger impact at Salesforce."
Find out how Amy and Loren's relationship evolved as Loren completed her first year with Salesforce.
Tip for mentees: When you're new to a company, a mentor outside of your team can help you learn and adapt to the organization more quickly.
The Two-Way Street
In previous blogs, we've emphasized that mentoring is a two-way street — offering benefits to the mentor as well as the mentee. With Amy, the joy she finds in mentoring is obvious.
"I have a genuine curiosity about people," Amy says. "I want to know what's important to them and what brings them fulfillment. I love hearing about people's goals and brainstorming together creative ways to achieve that success."
Mentoring has also given Amy broader insight into different departments, which is especially useful when mentoring someone new to Salesforce. This exposure has been ideal for helping Loren achieve her goals from the relationship.
"I wanted a mentor I could share my ideas, aspirations, and challenges with," explains Loren. "Someone I could establish a professional relationship with, and who could encourage me to develop my voice as a leader. I needed to better understand the right tools for different challenges and the needs of my team at Salesforce."
Tip for mentors: Build a relationship based on trust so the mentee feels comfortable being their full self.
Deepening the Bonds of a Good Match
Loren wanted a mentor she could connect with on a personal and professional level. As she and Amy continued to meet, their relationship grew richer.
"Amy and I have had five calls," Loren comments, "and with each call, I believe we better understand each other and why we're a good match. We have similar work styles and when I present her with challenges, she provides actionable ideas to address them. For example, she recently provided recommendations to help me better prepare myself and support my team during meetings."
And, Loren recalls the most valuable piece of advice she's received from Amy was decidedly personal.
"It was advice that I normally hear from my closest friends and family," Loren says. "It was to allow myself grace. I felt seen, heard, understood, and supported."
The Making of a Good Mentor
Within these blogs, we're always trying to share the qualities of an effective mentor. Being a good listener never fails to make the list of desirable traits.
Amy adds, "I think a good mentor is someone who asks lots of why and what if questions and offers have you thought of ideas."
She also feels it's important to share personal examples that are actionable or cautionary.
"You need to be a courageous communicator," Amy emphasizes. "And let your mentee know where you see an opportunity for improvement that they've missed, which may hold them back."
A tip for mentees from Amy: "Instead of always trying to get to the 'next level,' focus on what brings you joy. As a career metaphor, think of a jungle gym vs. a ladder. It's far more interesting."
Finding a Mentor
Loren gets straight to the point when asked how to find and spark a conversation with a new mentor.
"Do some research and choose a leader based on traits you admire, such as confidence, ability to inspire, and integrity, " she recommends. "Then reach out to them and share a little about yourself. If you can, offer ways in which you can support them and their goals."
"Find people with jobs or work in one of your areas of interest," contributes Amy. "Once you've found someone you like, leverage any connections you have for an introduction. Or simply send them a note. A casual, informational chat is a great way to see if you click."
You can learn more about the value of mentoring by watching our Trailblazing Leaders of Color webinar. And to explore opportunities at Salesforce, head on over to our careers site.
Editor's Note: Loren is now Senior Manager, Program Management – Technology