Sau-Yeng Dixon: Diversity requires passion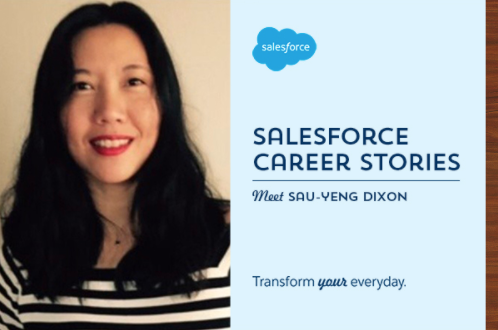 With four and a half masters degrees under her belt, political refugee Sau-Yeng Dixon shares how her personal and professional life combined for her to become a problem-solving consultant at Salesforce – and how she takes diversity by the reins to create an inclusive future.
Can you tell us about your role at Salesforce?
I'm a business architect, part of transformation services in the Customer Success Group. I work together with my customers and business stakeholders to translate their strategies into transformation execution plans. I guide their decision-making processes and how they think about transforming their operating or business models with the Salesforce platform.
Most days I actually work with my customers at their sites and with our internal team to provide solutions to complex transformation problems. Once a week, I come back to the office where I'm able to connect with my colleagues and other parts of the CSG.
It's a journey of partnership that sometimes becomes friendship as well, with emotional ups and downs. It's so important to remind ourselves constantly of what values drive us and what our final vision is.  And then all the rest is really about technicality. Salesforce is an amazingly adaptable, flexible platform that can make magic come to life. If you have clarity of where you want to go, and you have clarity on how you want to get there and the impact you want to have, then you can mould Salesforce to fast track that transformation.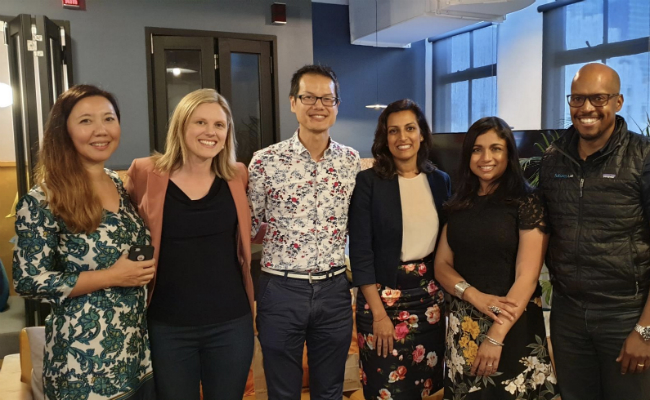 I focus on how to serve my clients with better products and services, and how to streamline their internal processes by providing the right tools so that they have more insights on their customers. Great implementation is so important to the impact Salesforce products can have on our customers' business, meaning better scoring for them in customer satisfaction, growth in their revenue and increased employee satisfaction. There are a number of metrics like this we look at to measure our success – to focus on always helping our customers the right way.
What qualities does a Salesforce employee need to succeed?
Passion – because that's going to drive your sense of urgency to make things happen. I think that's really important in a world that is changing so quickly. And also authenticity – it's so important to us that everyone in Salesforce can bring their authentic selves to work every day, and this isn't just because it's the right way to work together, it also helps us collaborate better and provide authentic interactions for our customers.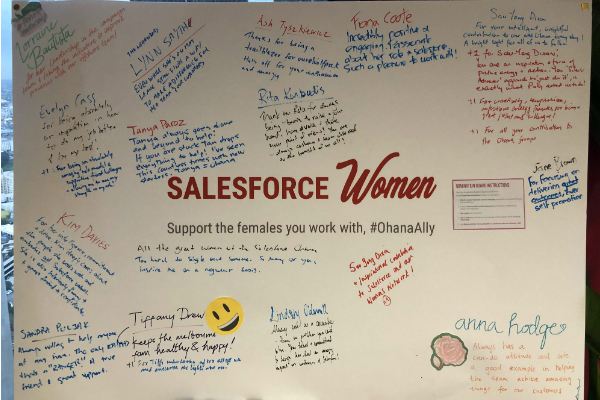 Bringing my authentic self and my passions to work each day is a conscious decision. I've focused on unlearning a lot of the expectations that I thought society had of me. Whenever I feel uneasy about saying or doing something, I know I'm not being authentic.
"In a world where we are in constant movement, we must evolve with or faster than the movement."
I have to find the courage to know this is happening and to say, "Well, that's really who I am. That's really how I feel. And I think I should voice that".
The more I do it, the easier it becomes. It's a little bit like meditation where you have to practice a lot to the point that it becomes natural. And I've got to admit I'm not at that point yet, but certainly I'm working on it every day.
We're actively working to improve the world we live and work in. We know that achieving our collective vision is everyones' responsibility. Working towards that is a privilege. It also links back to the 1:1:1 model, the value of giving back. We have the tools and channels available to make this happen.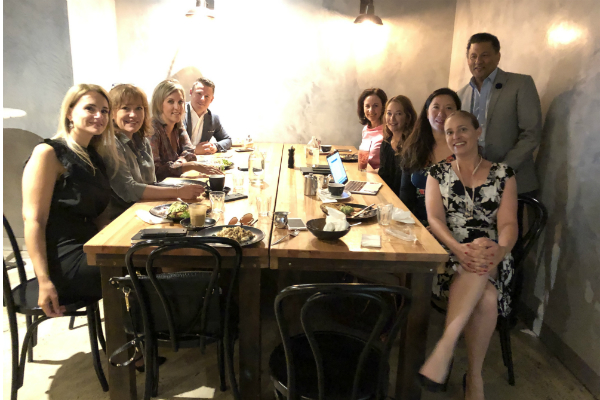 Tell us about your career that led you to Salesforce.
I've been in consulting for 15 years, so I have always had a passion for transformation – or as I say, evolution. In a world where we are in constant movement, we must evolve with or faster than the movement. When I joined Salesforce three years ago, it was because I was convinced that innovation could only be led by companies that had vision. The vision that Salesforce has is using business influence to make this world a better place.
I study to expand my understanding of the world, so I have four masters degrees and I'm halfway through my fifth. Consulting was the best way for me to use all of the skills I am passionate about that I gained with my degrees – problem solving, storytelling and bringing people together towards a shared vision. It's the perfect dream job for me.
"Being an equality evangelist is about creating a community that is able to be inclusive of all types of diversity."
Can you tell us about your favourite volunteering experience?
My family (my husband and two children) and I volunteered last year with Salesforce by building a house for families in need in the rural area of Siem Reap, Cambodia – my parents' country. It really created connections and I learnt so much from the people at the same time as contributing to making their lives better. We loved it so much we've decided to go back every year.
I'm also leading the Equality Council for APAC CSG to advance the conversation around diversity and inclusion. For International Women's Day this year, we thought that instead of just having a day, we should have a conversation that lasts for the whole month because one day is not going to do justice. We put together a program that went throughout March with keynotes panels and fundraising activities. Overall, $4400 will be donated to Y Gap for their program Y Her that supports women social entrepreneurs.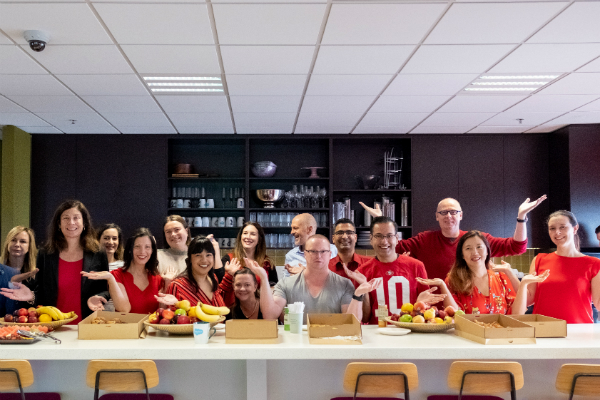 What does being an equality evangelist mean to you?
Being an equality evangelist is about embracing who you are and being proud of who you are. My mum and dad fled from Cambodia during the civil war by walking through the jungle to Vietnam, where I was born, so equality is really a personal resolution for me, in the sense that I was a political refugee. We moved to France when I was 8 months old, and my focus throughout my childhood was fitting in and just to be the same as everyone else. It took me 20 years to understand that it was okay to be me.
I think everybody can be an equality evangelist by fighting their biases constantly, so I want to create a platform where people feel safe to talk about that. It's also about giving a voice to people who don't necessarily feel like they have one.
Being an equality evangelist is about creating a community that is able to be inclusive of all types of diversity. And certainly I want that for my children and for the community that I live in. The way I do this is by making sure I hold that safe space for everybody. And making sure that diversity is not just embraced, but celebrated. A lot of studies are actually showing that diversity is the source of innovation which is where my professional skills come in.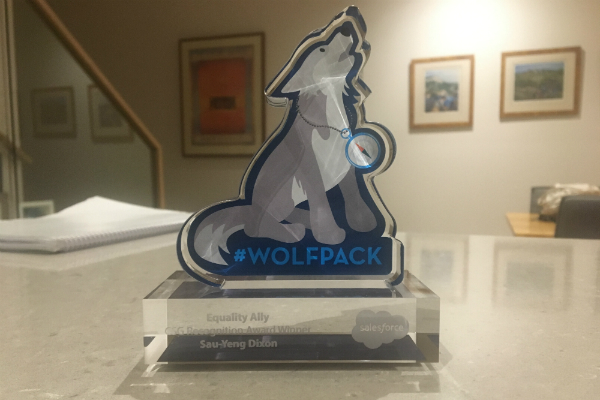 What's next?
We have held six women's circles in Melbourne and Sydney and would like the program to continue. We are talking about putting together a policy for womens' health. I'd like to see that come to life this year.
We also have an idea to use World Tour as a platform to create the biggest diversity and inclusion conversation we have ever created in APAC. There's a big group of volunteers who raised their hands to make this happen, with the support of Salesforce's Office of Equality as well as the local team. So that's really exciting. And I can't wait to see this come to life.
How does V2MOM enable and empower you to achieve your goals?
V2MOM stands for vision, values, methods, obstacles and measures – it guides every action we take to ensure we're always powering towards our goals That's how V2MOM helps us. It's really a north star and it's a map.
I personally ask how we can solve inequality, and my personal strategy has always been to create a conversation. This is a really important part of the plan. It creates the right type of calls to action and outcomes. Gender diversity calls to me because women are 50% of the population – our Women's Network is  the largest Ohana group at Salesforce.
How do you think that Salesforce has impacted you personally?
It has done so many things. I think the first thing it has done is restored a form of faith that the corporate world can actually use its influence and power for good rather than for greed. And I'd been looking for a place to really belong for years before I found the Equality Council –that's what Salesforce has given to me. I feel like I belong which is very fulfilling, it gives me a platform to keep exploring and pushing boundaries, which makes me happy.
What do you do to relax outside work?
I enjoy going into nature and creative activities. At the moment, I spend a lot of time designing mala necklaces, which are meditation necklaces made with gemstones. I love the creative and meditative aspect of the process.
Little things bring me joy, like spending an afternoon with my kids just playing cards and then having a nice dinner with my friends, or seeing a movie that really inspires me.
Even just having a nice hot coffee and chat with a friend, it brings me joy.