Trailblazing Leader Shares Her Best Career Advice and The Importance of Advancing Racial Equality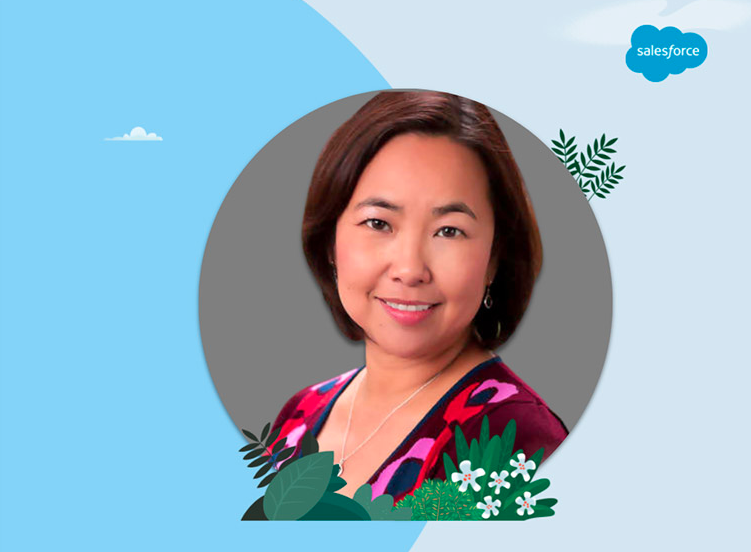 May is Asian American and Pacific Islander (AAPI) Heritage Month, and is a time where we're able to reflect, honor, and celebrate the history, culture, and impacts of the AAPI community.
Here at Salesforce, we have some inspiring trailblazers who are creating new paths for others to follow. Neeracha Taychakhoonavudh is one of them. She has been with the company for eleven years, starting on the Customers for Life executive team, focusing on post-sales strategy and operations for consulting, support, renewals and customer success services. Now, she is the Executive Vice President leading the Global Customer Success & Strategy team where she is focused on creating sustainable customer success for customers of every size and in every industry. Neeracha shares with us her experience in a fast growing tech company, the importance of advocating for personal career growth, and how authenticity can help spark impactful change.
Discovering the power of my voice
"I grew up in a traditional Thai household. I was the oldest daughter, and took care of my family. My father worked for an airline so we had the opportunity to travel across Europe and Asia for much of my life. So when we finally arrived in the U.S., it was a very interesting and contrasting experience. When I started working here, I didn't communicate very much. I didn't feel I could speak up much in meetings, and it just didn't feel natural to. One day, I found myself in a personal development course and during one of the feedback sessions, I learned that people found me judgemental and stand-offish because I wasn't participating enough. Of course, I disagreed with what was being perceived, but then they said "Neeracha, you never speak. How would we know?" This is when I began to realize the power of perception, and the power of impact versus intent. I learned that I needed to speak up, and speak up often, if I wanted to grow.
This has become one of my biggest pieces of advice for other women looking to advance their careers: create goals. Write them down, and share them with others. This was really difficult at first, but once I started to rediscover my voice, I got more comfortable using it and voicing what I want to achieve."
"My biggest piece of advice for other women looking to advance their careers: create goals, and voice them."
Neeracha speaking during Salesforce's Dreamforce annual event in 2018
Being open to new possibilities
"I tried out a role in technology on a whim, I really just wanted something to spend my time on before going to graduate school. The pace of the tech industry, the people I've met, and the impact our technology is able to have completely changed my outlook. Our employees and our customers in this industry have so much power, because we all have a unique voice and perspective to share.
I changed my career focus from looking for specific roles, to looking for specific skills that I wanted to gain. This mindset kept me open to opportunities and open to learning. I've now also been the Executive Advisor for the Salesforce Women's Network for the past nine years, where I've been able to help other women develop their careers, and to hone in on their personal development."
"The best piece of career advice I've ever received was to state your needs, and ask for what you want. Nobody is a mind reader."
Taking Action against Anti-Asian Racism
"The rise of violence against the AAPI over the past year has elevated the conversation around the experience of the AAPI community in the U.S. and around the world. It has caused a lot of members of the community, including myself, to reflect on our history and culture, and for some of us even painful memories of simply wanting to fit in.
By leaning into our voices, and being authentic to our values, we're now seeing dialogue around the AAPI experience being elevated and we're able to take action, with the community and together with allies. Internally at Salesforce, we've been able to work together to address anti-Asian hate, donate $700,000 to the organization Stop AAPI Hate and $250,000 to the Chinatown Community Development Center. Our Employee Resource Group, Asiapacforce, has been a huge driver of these initiatives."
We all have a role in driving racial equality
"We need to continue the dialogue. We need more companies to take action, and we need more allies to take part in the discussion. If you're a company leader, ask yourself how often do you have conversations around equality at work? How often do you offer your support to your Asian friends and colleagues? At Salesforce, we identify allyship as having four main characteristics: ask, listen, show up, and speak up. The pandemic hasn't started the discussion, it has continued it. The racism that hurts our communities, including our Black community, is systemic, and it's not pandemic-related, it's pandemic-exacerbated. We need more than people saying that they're here for us — we also need you to speak up for us, too."
At Salesforce, we are committed to advancing Racial Equality and Justice in the workplace and in society. If you're interested in a career at Salesforce, visit our careers page.