A Sales Career Story: How an Account Executive Took Her Selling to the Next Level with Marketing Cloud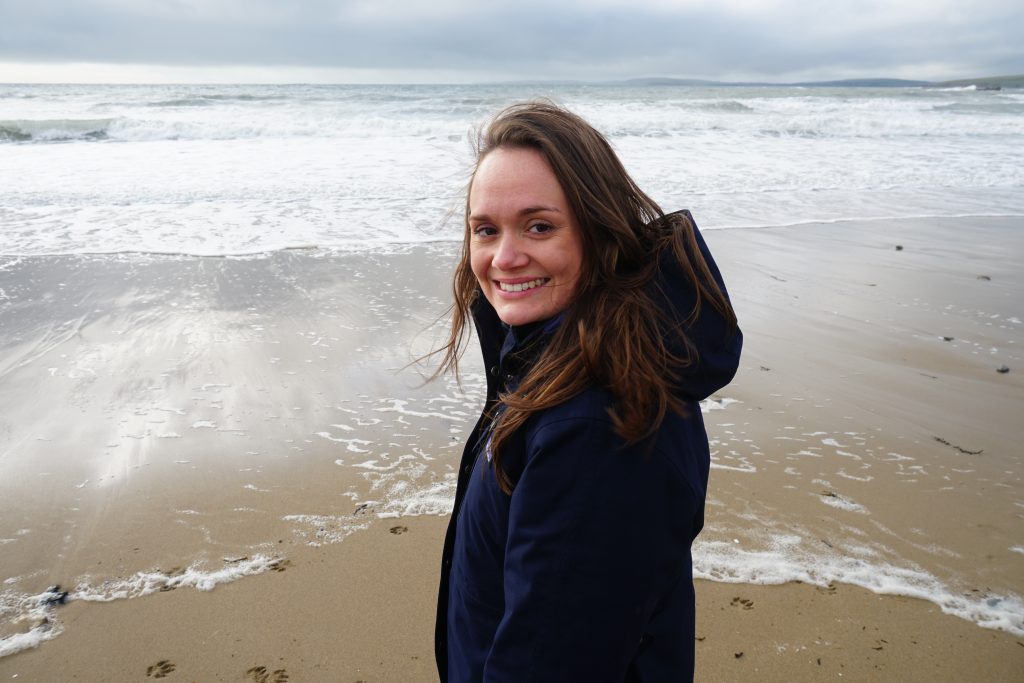 Based in Dublin, Senior Marketing Cloud Account Executive (AE), Lena Jansen (she/her/hers) launched her Salesforce career in October 2015 as a business development representative. Since then, her career journey has taken her from Salesforce's Core Sales team to enterprise projects at a large tech firm to her current position in Cloud Sales.
Before joining Salesforce, Lena worked in marketing where she created campaigns targeted to gaming developers in Germany. Though she didn't love running campaigns, she enjoyed meeting customers and getting them excited about new business ideas. It's what led her to Salesforce where she's honed her passion for helping small-midsized businesses deliver transformative, personalized customer experiences with Marketing Cloud, the world's #1 marketing platform.
Lena shares why the "internationality" of her role makes her job so enriching, how her unique path led her to tech sales, and her advice for those looking to pursue a career as an AE.
Interested in applying to an account executive role? Search for jobs on our Careers website.
For an account executive, no day looks the same
During her youth, Lena's family moved all over Europe. So when she landed the AE role at Salesforce Dublin, a position that oversees the Benelux (Belgium, the Netherlands, and Luxembourg) region, it suited her perfectly.
"Every day is very different," says Lena when thinking about her typical day as an AE. "Just yesterday, I flew to the Netherlands, hosted a panel discussion at an event we were running, then flew back to Dublin. On a different day, I might talk to a prospect in the morning and do discovery sessions about the requirements of their projects. During the afternoon, I might run some analysis on my territories."
That variety keeps Lena attuned to creating programs in her region that help account executives position Marketing Cloud with customers. "To succeed, I need to create a comprehensive plan for the product in my region, including events and content, as well as provide thought leadership on marketing trends and more. It's a bit like running my own business, and there's lots of freedom to be creative and try new things since it forces you to think on a strategic, long-term level."
Making the leap from generalist to specialist
After 3 years as a Core AE, the transition to Cloud Sales has been immensely rewarding for Lena. In Cloud Sales, she focuses exclusively on selling Marketing Cloud to customers. Specialising in a specific area of the Customer 360 platform has enabled her to sharpen her product knowledge and work with different account executives across several regions.
"You really become an expert," she remarks. "It feels good knowing something in-depth and having customers say, 'We never thought of that or thought about it this way.' So, we're really opening their eyes and changing the way they think."
Lena loved her time in Core Sales and says the experience prepared her for her role in Cloud Sales, teaching her the basic skills account executives need to succeed: supporting customers, analysing opportunities, and negotiating. "I think everyone has a chance to have a role at Salesforce where things just come together from past experiences. Because, with an industry focus and product focus, there's so much opportunity to develop into what you find interesting and what you're good at."
Your career path to sales doesn't need to be linear
Lena stresses that the professional journey to tech sales doesn't have to be a straight one. In fact, she's a Salesforce Boomerang: She left her senior AE position at Salesforce in December 2019, then later returned as a member of the Cloud Sales team 2 years later.
"For me, Marketing Cloud was that moment of, 'Wow, now it's all coming together,'" reflects Lena. "My time as a marketer; the sales skills that I built up as a business development representative and Core AE; and the 2 years I spent in online advertising — it all fell into place."
For Lena, coming back to Salesforce was a natural progression to specialising in a product that focused on marketing and doing sales in a way that wasn't just different from competitors but also inspired customers. "I wanted to go into sales and Salesforce was the best place to do that."
"A lot about sales is going for it"
Transformative, consultative, and complex are words Lena uses to describe the sales process at Salesforce. Likewise, she views sales as an attractive opportunity for anyone with the drive and passion to kickstart a career in this exciting field.
"Don't limit your idea of sales to [someone] who is pushy or extroverted. You don't have to be that person," says Lena. "You can be an introverted person who will be able to analyze their territory and prioritize their conversations in unique ways. For the kind of tech sales that we do at Salesforce, you don't have to be the 'car salesperson'."
If you're not sure where to start, Lena shares the following advice. "Don't overthink it. Just give it a shot. So much of the person I am right now is because I decided to become a salesperson 6 years ago. Even in my private life, the skills have really helped me understand problems, communicate better, and become a public speaker. That's something you learn in sales."
Blaze your own career path in sales
Salesforce is a top destination for building a cutting-edge career in sales. Every member of our sales organisation, from account executives to business development representatives, plays a crucial role in helping companies tap into the full power of the Customer 360 platform while adapting to an ever-evolving, digital-first marketplace.
Follow Salesforce Jobs on Facebook, Instagram, LinkedIn, and Twitter for more stories on how our Sales Academy fuels our unique culture of sales excellence, cross-functional teams, and dedication to customer success.
Want to hear from our recruiters about current and future roles in sales? Join our Talent Community to stay updated about open opportunities with the world's #1 CRM company.