A Sales Career Story: How Hybrid Work Enables This Account Executive to Balance Her Career and Motherhood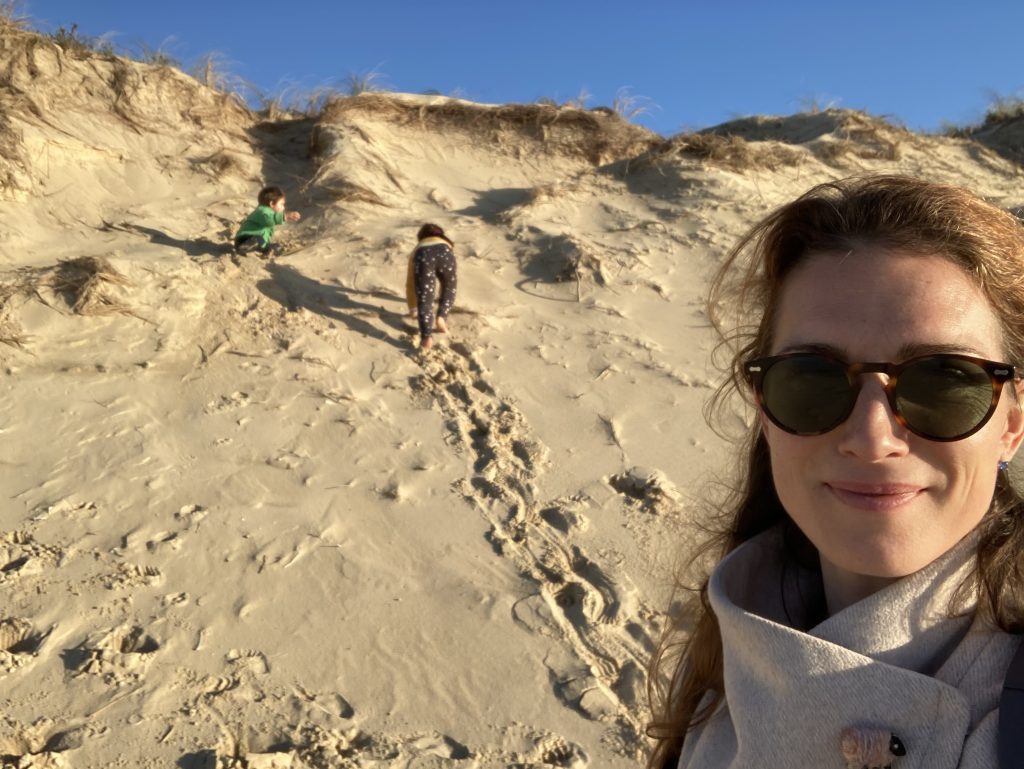 As a follower of the late Buddhist monk and peace activist Thich Nhat Hanh, Salesforce North EMEA Account Executive (AE) Jeanne-Marie Majoor (she/her/hers) was impressed that Salesforce's Co-CEO Marc Benioff was influenced by Nhat Hanh's teachings. When she left a big tech company to join Salesforce in July 2021, she saw the position in sales as both a great learning opportunity and an amazing chance to work for a company that aligned with her personal beliefs and values.
Jeanne-Marie manages a sales territory that covers small-midsized businesses (SMBs) in the Dutch market. As an AE, she helps sell across Salesforce's full product suite and to SMBs across all industries — a role she finds strategic and challenging. Also a full-time working mom, Jeanne-Marie appreciates Salesforce's flex work culture, which allows her to connect with prospects, customers, and colleagues in person and from her home in Claouey, France.
Scroll to read about Jeanne-Marie's experience as a member of Salesforce's world-class Sales team, how she balances work with motherhood, and why she believes there's power in building connections.
Interested in applying to an AE role? Search for jobs on our Careers website.
A work environment that encourages autonomy and collaboration
Selling as an AE, says Jeanne-Marie, is in some ways being "your own boss" and strategic in how you organise your workday. Though she often works independently, Jeanne-Marie never feels alone. On the contrary, she finds that being an AE is highly collaborative and cross-functional due to her close work with sales leaders, solution engineers, and other account executives.
She also feels supported through Trailhead, Salesforce's learning platform, and uses it constantly to skill up and stay ahead of industry trends. "I'm always learning, and getting coaching from my managers and peers," remarks Jeanne-Marie. "Of course, Trailhead is really nice, and you have so much training on Salesforce so you actually get comfortable [with the platform]. You never feel alone when you don't know something. You are always able to find the information thanks to Trailhead and all the information we have online."
Finding the right balance as a working mother
Jeanne-Marie often travels to Holland and Dublin for business and team meetings. But at home, she's a busy, full-time mom to two young children. Following an office-flexible schedule gives her the freedom to pick up her kids from daycare while staying connected and productive in her virtual office.
"I've always worked as a mom. For me, it's not really, 'Oh how do I switch from not being a mother," says Jeanne-Marie. "Whatever I've learned as a mom to be highly organised — knowing what's in the fridge, knowing how many nappies you have in the cupboard — it's the same with work."
In sales, that means staying organised, planning ahead, and, most importantly, growing in a job she loves. "Thanks to Salesforce, I can be a good mom. You need to be happy in all aspects of your life to be able to be a good mother. And if you find a job in a company where you have that, where you are happy (though I'm not saying it's easy!), then it's much easier than if you worked for a company that is not flexible, not interesting, and not challenging enough."
Don't just work — build connections too
To strengthen her Salesforce network, Jeanne-Marie volunteers with the Cultural Guides group in Salesforce France. Cultural Guides are employees who help new hires acclimate to Salesforce's culture through virtual get-togethers, volunteer opportunities, and other activities.
"Don't just do your own work. Make sure you have connections everywhere so you don't get bored. When you have the right connections, you can reach out to whomever you want when you have questions." Jeanne-Marie adds, "For me, it's important to build relationships with all of my colleagues, not just my own team in sales and in the SMB market. But to 'look further than just your own nose' as we say in Dutch."
In addition to being a member of the ESMB Female Talent group for North EMEA, Jeanne-Marie sets a goal to use at least one hour of volunteer time off (VTO) per week. "Make sure you fill your work life with different groups, mentalities, and cultures. Because that's the power of Salesforce. We're so many people; why not blend as much as we can?"
"Starting as an AE is the best way to start at Salesforce"
Jeanne-Marie admits that when she first joined Salesforce, she felt a little intimidated. But she quickly learned and saw that trust — Salesforce's number one value — was deeply embedded in the way her team supported and collaborated with each other.
"When I joined Salesforce, my manager organized a team meeting. Everybody opened up and it was just a sharing moment for everybody," says Jeanne-Marie. "But it showed us the power of how much trust there is among our team. Once there's trust in a team, there's way more collaboration."
To people who are looking to start a career in sales, Jeanne-Marie hopes they have the courage to apply to Salesforce. "I would say to all the women and moms, don't be afraid because you will get all of the tools you need to be successful. Whether it's in 6 months or a year, or maybe on a different team, starting at Salesforce as an account executive is the best way you can start. It's a great sales school, and you will learn so much."
Blaze your own career path in sales
Salesforce is a top destination for building a cutting-edge career in sales. Every member of our sales organisation, from account executives to business development representatives, play a crucial role in helping companies tap into the full power of the Customer 360 platform while adapting to an ever-evolving, digital-first marketplace.
Follow Salesforce Jobs on Facebook, Instagram, LinkedIn, and Twitter for more stories on how our Sales Academy fuels our unique culture of sales excellence, cross-functional teams, and dedication to customer success.
Want to hear from our recruiters about current and future roles in sales? Join our Talent Community to stay updated about open opportunities with the world's #1 CRM company.