Alumni Network Spotlight – McLure Foote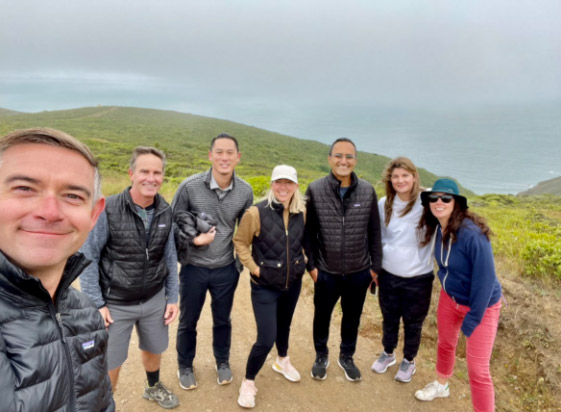 By Theresa Ludvigson & T.J. Vilardi
"Know Your Values, Live Your Values"
This month's Salesforce Alumni Network Spotlight features ex-17 year Salesforce veteran, McLure Foote. Read about his incredible Salesforce journey and see what he is currently up to today.
Second time's a charm
McLure Foote's 17-year Salesforce career almost never happened. In 2004, McLure interviewed for a Sales Development Representative position with the company but was not offered the job. However, a few months later, McLure saw another opening for the same position and decided to give it another shot. As he told us, "I knew I needed to get the job this time because I went to my job that morning in a suit and was heading to the Salesforce office during lunch for my interview. As I was headed down the elevator, resume in hand, I ran into my boss at the time. It made for a very awkward situation since she obviously knew I was going to an interview." McLure's (second) interview that day was something that he will always remember. Although the second interview was more intense, McLure was offered the job as a Sales Development Representative, which he gladly accepted, and in turn, kicked off a long career that even he didn't imagine could happen.
Over the next 17 years, McLure held just about every role within sales. "I went from that first Sales Development Representative role to a Business Development Representative role, then I was selling into the Small Business segment, to Mid-Market sales, and, in 2010, I moved to Chicago to help open that office as a Sales Leader," he said. It was then, in Chicago, that McLure realized just how good of an organization Salesforce had become. "At that time, Salesforce was an absolute freight train with 5,000 – 8,000 employees globally. They were opening the Chicago office officially and brought in successful employees from other large hubs to make Chicago as successful as possible from the start. It was there that I soon understood the importance of the Salesforce values. You really do live and die by people and the company culture. It was important that we brought that same culture to Chicago. Someone said 'you never know you are in the best of times when you are in them' and that remains so true. Chicago was the best of times and is where I met some truly incredible people." McLure then returned to San Francisco in 2017 to become the Sr Area Vice President for the General Business segment in the West. This was a position that he held up until his departure from the company earlier this year.
McLure and his prior team when he was at Salesforce after year close.
Reflecting and then looking ahead
With 17 years of tenure at Salesforce, there is a lot for McLure to be proud of. However, it wasn't a career accomplishment that he looked back on when we asked him what he is most proud of. He told us, "I am most proud of the relationships I developed over those 17 years. Relationships are absolutely everything. I am so thankful to Salesforce for ingraining in my DNA the importance of core values. The company does a great job of giving you the space to explore what core values are so that you can live by them both inside and outside of work. I felt empowered to create that experience for the people I worked with and the people that worked for me." McLure also spoke of many fond memories throughout his 17 years at the company. "There is just something about the Chairman's Club trips that you get to attend for reaching your goals throughout the year. You are in Hawaii (or Monaco) in this incredible atmosphere, surrounded by your closest colleagues and friends. One year that I was lucky enough to go, we had Eddie Vedder play a live performance for everyone. It was one of those moments where you look around, and you have to remind yourself how lucky you are to be in that situation. That was an extraordinary moment."
Today, McLure is the Senior Vice President of Sales, Real Estate at AppFolio, a leading provider of cloud-based business software solutions, services, and data analytics to the real estate market. "We deliver products and services that help customers digitally transform their business, address critical business operations and enable exceptional customer service. I joined four months ago, and I run sales, strategy, and field operations. People and culture are the reasons why I joined AppFolio and why I am excited about the future of AppFolio," said McLure. Speaking of relationships and their importance earlier in the story, McLure is working for someone he met in Chicago while opening the Salesforce office. "I wouldn't be at AppFolio today if it were not for the relationships I built during my time in Chicago. Salesforce does an incredible job fostering relationships and helping them grow. You can see the result of that in my career today," he said.
McLure took a few essential learnings from Salesforce and is applying them in his current role at AppFolio. "I feel beholden to the people that I work with that they understand what their core values are. Any company that is not value-centric will not succeed in today's climate. Great people make a great company, and to translate and lead with that value focus is huge. The outcomes will happen, and the results will happen when you have the right people in place and a good culture," McLure said. He continued, "Salesforce is special in how it has attracted all sorts of leaders organically through growing and developing leaders to the folks who come through acquisition. For example, Lisa Edwards was a phenomenal leader at the company that I really look up to, Sarah Franklin and her journey to CMO is inspiring, and Warren Wick can take the complex, challenging growth mindset we have and make it easy to understand and achieve. I have learned so many different lessons from Salesforce leaders, and now many of them are in the ecosystem doing incredible things. I feel a bit of ownership to carry the torch to AppFolio and inspire the next generation of leaders."
Wellbeing
When it comes to wellness, McLure's mindset is "If you don't value it, you won't do it." He told us, "Wellbeing is a core value of mine. It is both physical and mental for me. You need to understand both sides to have a complete picture of your wellness. When you are doing both well you are probably in your optimal state. How you show up and be present with people starts with your own wellbeing. There are 1,000 ways to work out and there are 1,000 ways to focus on mental wellbeing but you have to figure out how you want to get it done and what works best for you."
The Salesforce Alumni Network
Although he is just beginning his #SalesforceAlumni journey, McLure is excited about what he has experienced thus far. "I like that the Salesforce Alumni team runs at us with energy to keep us connected. It is nice to reflect back and understand that the DNA of Salesforce will never leave you. I like the connectivity of it and it's a constant reminder of where you came from and what you can pay forward in your new opportunity at a new company. It also allows you to continue to foster those Salesforce behaviors outside the four walls of Salesforce," he said.
Want to learn more about McLure's career journey? Connect with him on LinkedIn! Or, if his story has piqued your interest in careers at Salesforce, go ahead and explore open roles today.