"Always Go Where There's Space to Grow": Seeking Challenge and Adventure With Omar Faiz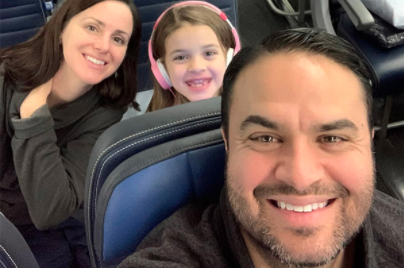 Omar Faiz is a U.S.-born account executive who has achieved his dream of living abroad with his young family while growing in his career. From his current London base, Omar is tackling his next new challenge, working with customers in the financial services vertical in the Middle East.
Equipped with an entrepreneurial spirit, a flair for sales, and a love of adventure, this busy father of four shows how pursuing your goals can bring you to your ideal destination.
Omar shares his story.
I grew up in Indiana with an Afghan father and an American mother. I definitely believe this upbringing whet my appetite for all things international. For as long as I can remember, I wanted to travel overseas, explore the world, live abroad, and immerse myself in adventures. I parked that dream to the side while I went through the motions of obtaining an education and developing a career.
Although I began my career in the pharmaceutical industry, I switched to project management at a startup named ExactTarget which was eventually acquired by Salesforce. I loved the fun and excitement of working at a startup, but during my time there I realized that project management was not the right fit for me. Under a few exceptional leaders at Salesforce, who I'm forever grateful to, I was able to move into the sales organization.
I love that sales is entrepreneurial. Your success is clearly defined and your ability to develop and close opportunities is directly mapped to your income. Some people don't like this because of the risk – you may have a good year, an average year, or a horrible year. However, the reality is that you can have a horrible year in any career and it's my belief that I'd rather have the opportunity to directly influence how my year pans out than not have that control.
Substituting 'Obstacle' with 'Opportunity'
I just knew, really early on, that I would live and work abroad. On my first date with my now wife I told her I would move to another country one day. Fast forward about 12 years later, we were married with four kids and we were preparing for the big move from the United States to the U.K. We heard it all – it will be expensive, too far, your kids won't like it, it's a different market, etc. Looking back, it was a bold decision, especially because my youngest child was only one year old, but it was the best thing we've ever done!
The Window Is Never Closed
The beauty of Salesforce is that there are so many 'next things' – the window is never closed. If you want to do something else, no one is going to make it happen for you but they will encourage you to get to where you want to be. You can network easily at Salesforce. Leadership is interested in people wanting to explore ideas and options.
At Salesforce, there is an annual process called Go For Growth (G4G) which essentially formalizes career progression. It's a chance for sales employees to demonstrate initiative and intent, apply for new opportunities internally, and get matched with a new role. G4G enabled me to raise my hand for a role outside of the U.S. and reach my personal goals.
Seeking Challenges
One of my International Business MBA professors at Butler University in Indianapolis said, "Always go where there's space to grow, and try to build something new there." That's where I am now, in a role with lots of opportunity amidst challenge.
I'm on the Emerging Markets team and it feels so rewarding to be doing something where the impact is noticeable and exploring how we can build a territory in a challenging market. I prefer our Emerging Markets over closing deals in a mature market — the Emerging Markets team represents long-term growth potential for Salesforce which is very important.
The leadership on this team is very in tune with the Middle East business climate and the many international factors at play. It was this truly robust international business climate that attracted me to the team a few years ago. Through insightful meetings with Robin Fisher, Senior Area Vice President of Sales, and Thierry Nicault, Senior Regional Vice President of Sales, I was able to learn and network within the team two years before joining. It's a perfect fit for me — entrepreneurial, challenging with high upside, and framed with strong leadership who are globally-minded.
Learn more about joining a team that will support your goals and continually challenge you – visit our Careers site.