Beyond the Monitor: Making an Impact in the Technology Industry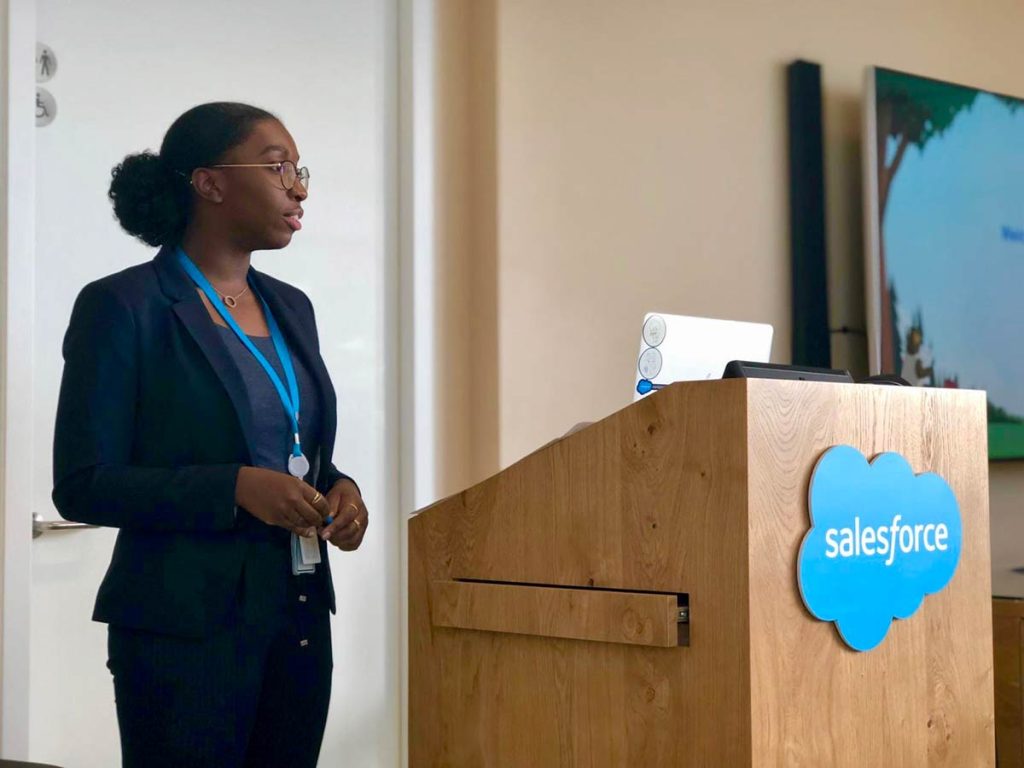 By WITI Staff Writer
A large family can serve as a support system and, in some cases, motivation to carve your own path. London-based Victoria Poku understands this firsthand; she comes from a large family herself. "I'm one of six girls, and my parents combined have over 20 siblings, so I have an obscene number of cousins."
With the support of her family, Victoria has long been an unapologetic mathematician with an interest in economics and politics. After many years of exploring jobs in the financial and technology realms, Victoria took a running start by joining Salesforce, and has transformed her career in ways she never thought possible.
Ready to transform your career? Explore Salesforce's open-roles here.
Getting Her Wings
As a Service Cloud Solution Engineer (SE) at Salesforce and co-president of BOLDforce (Black Organization for Leadership and Development) UK, Victoria is poised to offer her advice on growing her career as a woman of color. "I joined Salesforce back in 2018, on a Success Graduate Program in London." Early on in her career, Victoria became a certified Salesforce Administrator, along with becoming a certified Sales and Service Consultant, and then advanced to managing portfolios as a Success Manager.
When it came time for Victoria to make a career move, she had the same doubts many women in STEM often have at some point in their paths. As she was looking at job openings, a solution engineer role caught her eye — but the title itself, Service Cloud Solution Engineer, gave her pause. It sounded like you'd be programming applications or managing software code, but after talking to those within the solution engineering team, she realized "the role is a lot less intimidating than it initially appeared."
It relies on collaborating with the account team on figuring out if "what a customer wants, matches their business needs. If there's any place for someone… who is a self-confessed non-techie, but wants to become technical, I think this is a good place to start."
What surprised Victoria was that she already had many of the foundational skills that the job was asking for. By connecting with managers and individual contributors on the engineering team, skilling up on Trailhead, and receiving support from Account Executives (AEs), Victoria accomplished her goal of becoming a Service Cloud Solution Engineer. "People don't realise what free resources are available to them. For example, with Trailhead and the Trailblazer Community people can make a good start on becoming certified Salesforce admins."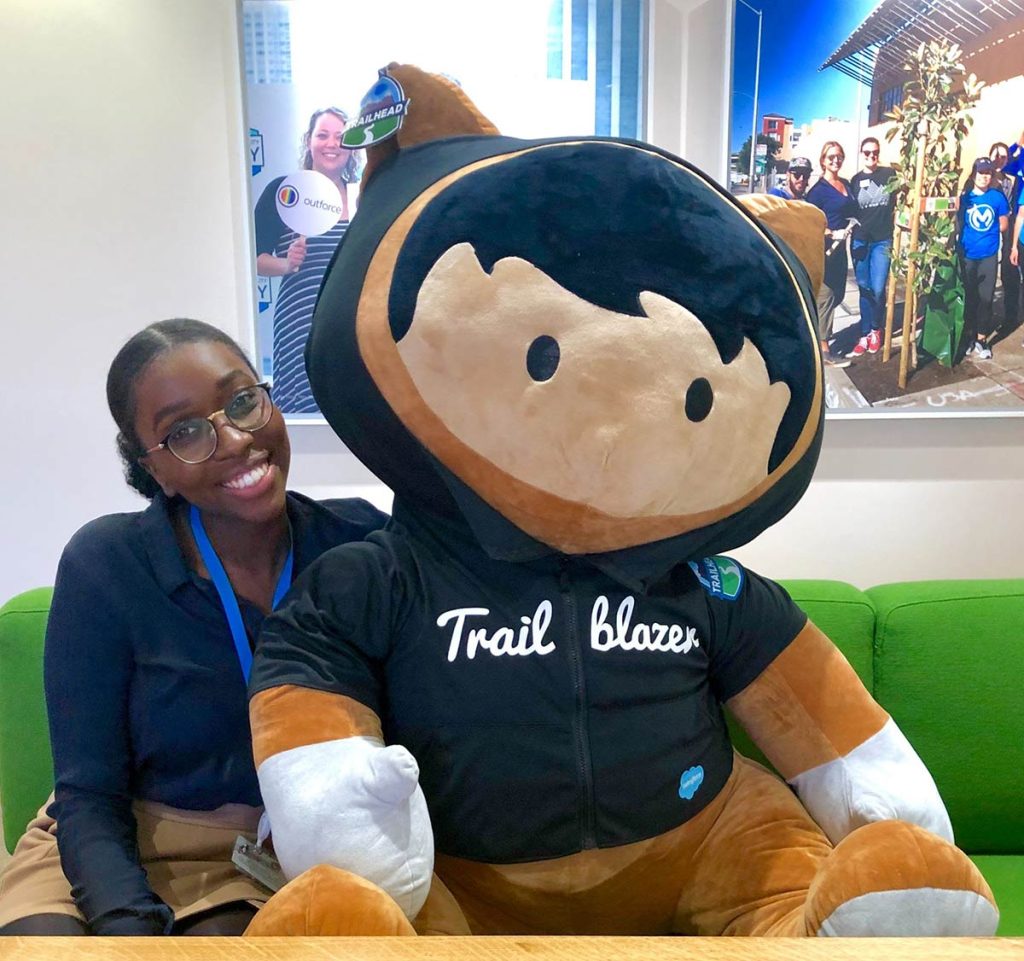 Leave the Binary to the Code
Victoria says the stereotype, that "technology is for guys" and "it's not a girl thing to do," is responsible for many girls exiting the STEM field early on in their education. "You've lost people before they've gotten anywhere close to joining the workforce." Even at her all-girls secondary school, students rarely, if ever, continued in Information Communications and Technology (ICT) studies beyond the age that it was required, including herself.
Fortunately, things are changing. "It's spreading beyond, 'Oh you have to study computer science.' Now, STEM roles rely on a variety of skills. In my opinion, technology is part of every industry, therefore within every degree or specialism there is a place for technology. I'm the only person who went into tech from my group of friends because fortunately someone verbally explained to me "no, you don't have to have this certain degree to get started."
Victoria recalls a period of time before university when she had her "dreams shattered" in STEM. In a math class of about 30 students, she and three other students were the only girls. "I went from being this A star student to getting Cs, due to a major slip in confidence."
Then, in university, she went on a placement year which is taken while earning a "sandwich degree." Between the second and fourth years of school, she was assigned to work in an industry position. During this year, her manager and two mentors were women. "I was seeing them excel in their roles. Later, my first two managers at Salesforce were women as well — Ciarae and Maggie." Seeing women in charge raised Victoria's confidence. "I've been fortunate to see these women in action, standing their ground and being great role models."
Having representation is fundamental to remaining in STEM. To Victoria, representation means more than just a marketing campaign that highlights a Black woman; she wants to see what a day in the life is like of these women doing their jobs. Her goal as co-president of BOLDforce UK is to provide more opportunities for "people within the Black community to share their stories."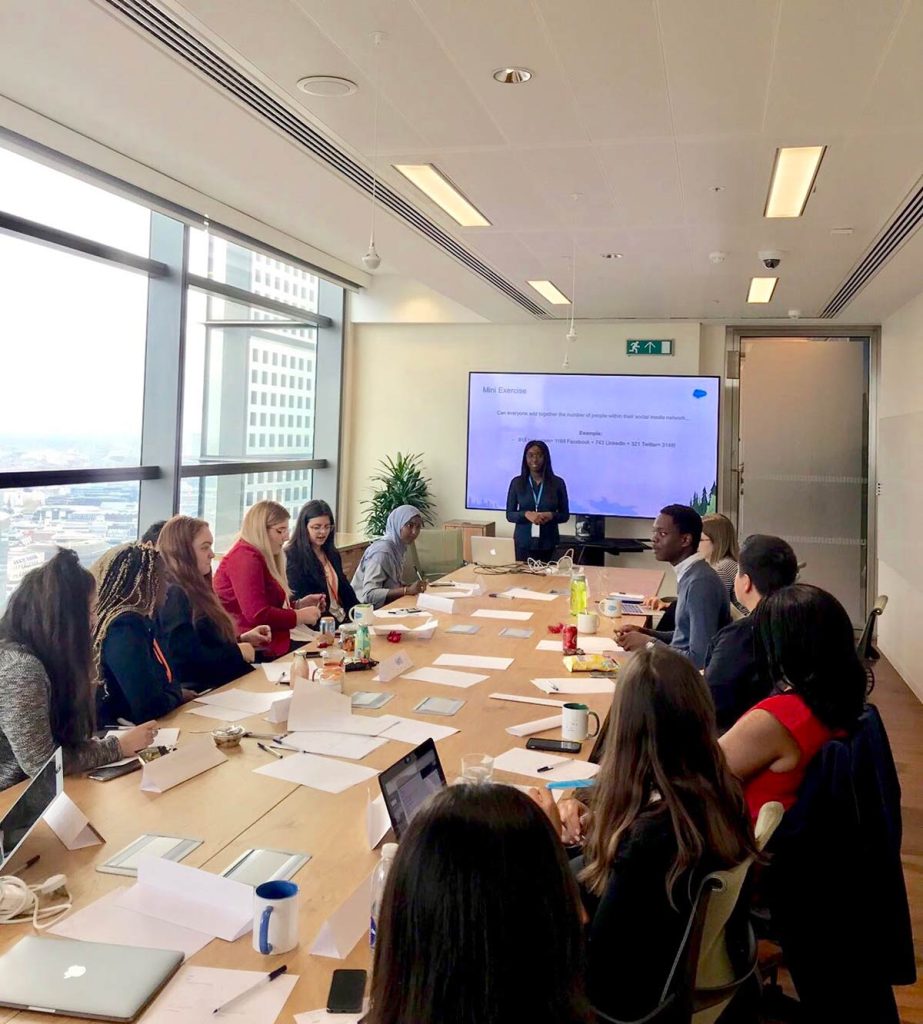 Celebrating Black Excellence
On top of Victoria's burgeoning career path, she has also taken on a leadership role with BOLDforce, Salesforce's equality group for the Black community and its allies. Throughout the year, BOLDforce provides opportunities for employees to use their Volunteer Time Off (VTO) to support activities with underrepresented groups, including but not limited to, Black, Latinx, Indigenous, Asian, and LGBTQ+ communities. Part of this work includes getting involved with local organizations, and not only volunteering with them, but raising funds. "In the last financial year, over $30,000 were donated to our four chosen UK charities and our community and allies logged 1,500 VTO hours ."
It's a goal of BOLDforce UK, Victoria says, "to have at least one event with every single equality group here." So far this year, we have held events with Southasiaforce, Salesforce Women's Network, Earthforce, and have one coming up with Outforce. Victoria believes it's important for BOLDforce to collaborate with other Equality Groups "to make sure we address commonalities, challenges and interests across these groups."
During Black History Month in 2020, Victoria and her team knew that they needed to create something special. "We wanted to focus on Black excellence and give the community something to celebrate," she says. That included not only providing a stage for Black British figures to talk to the Salesforce community, but also raising money for the charities BOLDforce supports. Victoria facetiously admits that the BOLDforce team does such a wonderful job organizing events that attendees forget it's not their full time job.
Equality groups can help drive equality at any company, and this is something that Salesforce embraces. "People sometimes assume that equality groups can create silos, but, if anything, it's an opportunity to acknowledge the differences and realize the overlapping challenges across the groups."
Being Proactive, Not Just Reactive
Beyond employee action, equality groups like BOLDforce go the extra mile by informing Salesforce on best practices for promoting equality. "We make sure that the Black community at Salesforce feels supported if we feel there are problems in hiring practices or promotions we have the platform to voice these concerns." She goes on to explain that the feeling of isolation that underrepresented minorities experience "contributes to attrition of individuals from companies." BOLDforce aims to minimize that.
Part of the solution is for companies to provide transparency around equality statistics. Doing so is extraordinarily important in pushing progress forward. "Whether it's bad news or good news… you'll respect that, whether the numbers aren't showing exactly what everyone wants to see [or not]." "It's something we always tell our customers as well — metrics or targets help bring things to life."
Transparency also allows Salesforce to address any disparities it finds. "Companies need to be able to not just talk the talk, [but] actually take action behind it. A lot of companies in the past year have been accused of performative allyship rather than actually doing things." For example, after conducting a gender pay gap review, Salesforce took action to fix the discrepancies. It was a step in the right direction, but these actions in support of equality should become standard across all companies.
In the technology field, innovation is everything, but innovation doesn't just have to come in the form of technology. It can also be found in the structure of the company and in how it treats the people that are a part of it. More recently, Salesforce has established a Racial Equality and Justice Taskforce to take actions in support of systemic change. "I like to think of Salesforce as being in their own lane," Victoria says, "and not looking left and right to see what other people are doing — just trying to do the right thing."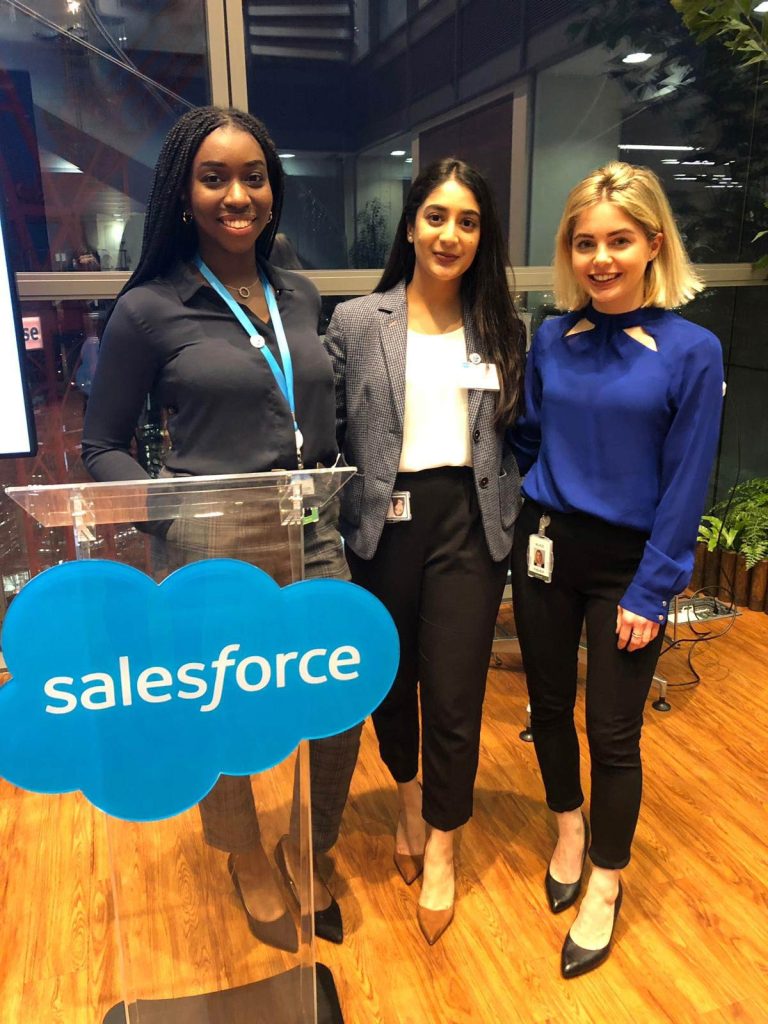 Diversity in the Tech Industry
Victoria believes workplaces should represent society because, when it doesn't, it brings into question whether or not the company is ethical. You can't just open up slots and wait for people to show up. You have to enable a diverse team by developing an environment rooted in equality.
"A lot of leadership teams in the technology industry… are not representative of society at the moment." That's why employee resource groups like BOLDforce can act as advocates. "[They're] closer to the challenges that are going on within the Black community. A lot of leadership teams can rely, depend, and lean on employee resource group leadership teams."
Then, there's the discrepancy between equality and equity. Victoria frames this in the context of recruiting. "For example, if you have two people who've started the job, that's equality — both have made it through the interview process. One of them, however, has several contacts within the company whereas the other knows no one. That's a lack of equity." Victoria shares. "It's kind of like being on a track, running a 100 meter race, and someone is starting the race 20 meters ahead and you're both expected to finish at the same time."
A company's actions are fundamental for achieving equality, but it comes down to others in the case of equity. "If someone from an underrepresented minority group feels they have nobody to talk to, I think that's a major red flag. That's why allyship is so important." Team members and team leaders need to be willing to "understand or do a bit of research as to [someone's] background, or ask these questions, to make sure they feel supported."
Victoria stresses that allyship is not just the massive gestures. "It can be as small as noticing that someone is being undermined on a customer call, stepping in, and using your privilege to help support your colleague."
Victoria continues, saying that she's been in rooms full of people who don't look like her and hasn't felt comfortable speaking up. It's the people who approach afterwards, who say things like, "'Oh that was really bad,'" that she urges to speak up during the meeting. To her, speaking up is good allyship.
Support from others has made Victoria's career path much easier. Sponsors and mentors who became invested in her career have helped her build a support system. But she emphasizes one final point to women entering the technology field. "My motto now is 'the worst thing anyone can say is no.' You're in charge of your career, so if you want to make it happen, it's about committing the time and speaking to the right people."
Interested in learning more about life at Salesforce? Check out their open positions and follow them on Twitter, Facebook, Instagram, LinkedIn and YouTube.