Boomerang Spotlight – Pip White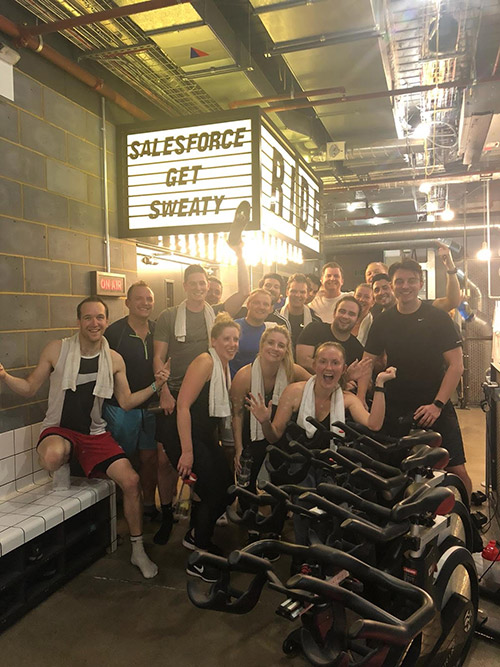 By Theresa Ludvigson & T.J. Vilardi
"There is Truly No Place Like Salesforce"
This month's Boomerang Spotlight features the one and only, Pip White! Read what Pip missed about Salesforce during her time away from the company and why she is so excited about the future of Slack.
From HP to the future
Pip White came to Salesforce in 2018 after more than 13 years at HP. "The move from HP to Salesforce was very big for me at the time. It provided a new learning opportunity and allowed me to see if what I learned over the past 13 years at HP would translate to a new organization," said Pip.
Pip was brought on to lead the Commercial Business Unit in the UK. However, she would go on to hold two other roles as well during her short three-year stay. She told us, "It was an amazing team and a fantastic experience. After that role, I got the chance to run the EMEA Emerging and Small Business Units and the Enterprise Corporate Sales team. This was a very different role for me at the time but it challenged me and helped me grow. My last role, before I left the company, was to be the lead for Enterprise & Commercial Industry Sales in the UKI." As you can imagine, with three different roles in three years, there were a lot of things that Pip got to experience. "Learning was a constant with Salesforce. I learned about scaling businesses in high-growth phases, hiring the Salesforce way, and developing your talent. It is also important to be consistently working on your own professional development and to continue to challenge yourself to be a better leader. The second role allowed me to work in a brand new market. It was a very different type of market than the UK which I traditionally was used to working in. Instead, I got to work in Africa and in the Middle East. These markets provided huge learning experiences for me. When I moved back to the UK market, we moved to more of an industry model which provided new experiences not only for me, but for the company as well," said Pip.
In 2020, Pip made the decision to leave Salesforce and take on a new challenge at Google as the Google Cloud Managing Director in the UKI. Pip told us, "I was definitely not looking to leave and it was a very difficult decision. Someone who I knew and worked with at Salesforce and had been a big part of Salesforce's success in the EMEA region went to Google Cloud and invited me to follow him there. Again, the decision wasn't easy. This new role and new company presented a broader set of learning opportunities for me at the time." Although she wasn't working at Salesforce any longer, Pip very quickly felt a void in her job. "I missed the people of course but that is relevant in any company you leave. I missed most the inclusivity that Salesforce constantly promotes. How that manifests itself for me is how I felt valued, how I felt like my opinion mattered, and that people wanted to hear from me and my contribution. I truly missed that. The other thing that became obvious to me was how important it is to work for a values-based organization. Marc Benioff and the rest of our senior leaders talk about business being a platform for change and it really resonates with me. I never knew how much I would miss this aspect of Salesforce," she said.
Boomeranging back
Pip decided after spending just over a year away from Salesforce that it was, in her words, "time to come home." She boomeranged back to the company but this time with an important role in the Slack organization. "I actually started on the first day that the two companies (Salesforce and Slack) started working as one. It was a monumental day not only for me but also for these two incredible companies," said Pip. Upon her return, Pip told us there was no shortage of people excited to welcome her back. "I am so happy to be back. I have had so many lovely messages sent my way, I have been contacted by so many people inside the organization, and I felt this warm Salesforce hug. I am excited about leading Slack through the next phase of its journey here in EMEA. A lot of super-talented people are in the organization and I can't wait to work with them all. People in Slack are really embracing the challenge and I think the future is extremely bright in the region," she said.
We asked Pip what changed about the company during her time away. She told us, "Obviously, in a very short amount of time, we have continued to get much bigger as an organization. On my first day back, I opened the internal org chart and it was just massive. I have been able to get into the office a little bit and participated in a fireside chat in person. It was with one of my old teams and I don't think I recognized about 60% of the people in the room because they were hired while I was gone. You forget how much the organization can grow in that short time I was away."
Staying well and giving back
Pip is the first to admit that she isn't the "golden nugget" to model after when it comes to staying well outside of the office, however, she told us, "I try to get outside in the fresh air several times a day because it is so important. I have two boys who keep me busy during the evening which provides challenges in itself. I try not to schedule too much on a Friday so I can have what I call a 'deep thinking day'. I limit the video calls and meetings and try to get through my work that has piled up from earlier in the week. It gives me a good way to head into the weekend with some clarity. I protect it as much as I can so I can be productive as possible."
Pip with her family!
As everyone knows, giving back is a big part of the Salesforce culture. It is also a big part of who Pip White is. "I lost my brother Paul to brain cancer after a short illness in 2019. Since then, The Brain Tumour Charity has been very close to my heart. I used the pandemic lockdown to raise money for this charity. If I am ever raising money for a cause this is it. It is so underinvested as cancer research and needs more attention," she said. Inside the office, Pip tries to mentor as many people as her schedule allows. "My success is predicated on people supporting me and saying yes when I have asked for help. When people come to me and ask me to be a mentor, I always try and say yes because it is my way of paying it forward. I definitely would not be in the position I am today if people did not say yes when I asked them for help," she said.
Advice for #SalesforceAlumni
Now that Pip is back at Salesforce and has the experience of the Boomerang journey, we asked her if she had any advice for Salesforce Alumni out there who are curious about doing the same. "Always keep the line of communication open and stay in touch with your former colleagues," she told us. One of the former colleagues that Pip kept in touch with was none other than Brian Millham. "He has been such a fantastic supporter of mine. I can have really transparent conversations with him around what is working and what isn't working. I worked really hard on that relationship during my time at Salesforce and I did my best to ensure I kept it alive during my time away from the company. It really helped me when the opportunity came up for the Slack role," said Pip.
Want to hear more about Pip's amazing #SalesforceBoomerang story? Connect with her on LinkedIn! Or, if you're inspired to find your next role at Salesforce, explore our openings today.