Career-Defining Lessons from Trailblazing Women in Sales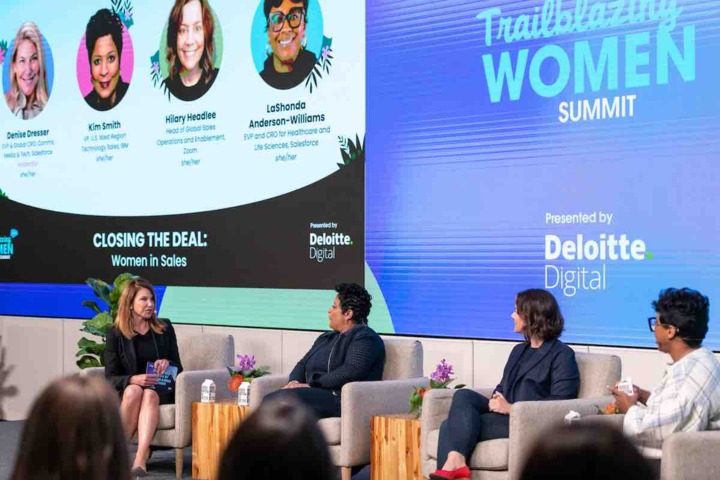 Four pioneering sales leaders discussed leadership, success, mentorship, and more at Salesforce's fourth gender equality summit.
Women are not just changing the face of sales — they're excelling in the field. Further research shows that women not only outperform men in B2B sales, but quota attainment and close rates are also higher when they're well-represented in sales leadership. So, if women are top performers, why aren't they represented in the field as much as their male counterparts?
A powerhouse panel of women sales leaders sought to answer this big question and others at this year's Trailblazing Women Summit session, "Closing the Deal: Women in Sales." Moderated by Denise Dresser, EVP of Communications, Media, and High Tech at Salesforce, she was joined on the stage by Hilary Headlee, Head of Global Sales Operations and Enablement at Zoom; Kim Smith, VP of Technology Sales for the U.S. West Region at IBM; and LaShonda Anderson-Williams, EVP and CRO of Healthcare and Life Sciences at Salesforce.
From developing strategies for managing pressures on the job and navigating the gender pay gap to finding work-life balance, these amazing women shared the hard-won lessons that have fueled their career trajectory. Here are some key takeaways from their dynamic discussion.
Imposter Syndrome Can Also Be Your Edge
As EVP of Communications, Media, and High Tech (CMT) Sales, Denise Dresser leads the distribution and go-to-market strategy for some of North America's largest, most strategic accounts and for Salesforce's industry-leading cloud solutions. For more than seven years at Salesforce, Dresser has held sales leadership roles of increasing responsibility, while giving back by mentoring future women leaders and top talent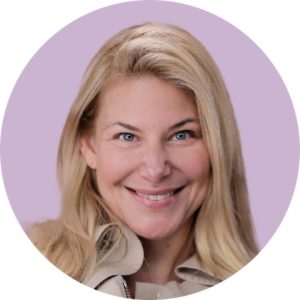 DENISE: I think women struggle with imposter syndrome quite a bit. I'm sure men do. I do, too — it doesn't go away. I thought, "I'm a certain age. Why should I doubt myself? Don't I have it all figured out at this point in time?" Well, the reality is that you never do. If you're always challenging yourself, learning, and trying to be the best version of yourself, you're always going to feel a little bit of that.
I had this great conversation with an executive coach once. She said, "Your imposter syndrome is actually your friend. As long as you don't take it too far." That little bit of that edge is how you show up because you always give the best of yourself. I struggled with it, but resisting it actually makes it even stronger. Embracing and remembering that was a really good lesson.
Know your brand, know your reputation, and tell your story
Hilary Headlee (she/her) is the Head of Global Sales Operations and Enablement at Zoom. With 20 years of experience, she currently manages Zoom's sales operations and enablement teams, including global direct sales, solutions engineering, customer success, and secondary support for business development.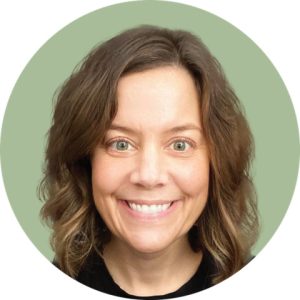 HILARY: My one piece of advice would be to know your brand and tell your story. What is being said about you when you're not in the room? I would start a job, and, frequently, the person who hired me would retire. When a new person came in and said, "What's it like to work with Hilary?" I wanted to know what they would say. I started asking some trusted colleagues, and they would say three things typically: She's smart, she gets stuff done, and either she's great or difficult to work with.
I can ask a lot of questions. I can be very obstinate. I definitely have some of those rough edges. But I needed to manage and get ahead of that so my story could be told — and, hopefully, so the folks who supported me could help tell that story. Frequently, I was the only woman in the room or at the leadership table. I needed to protect myself and find those folks who could understand my story and do some of that sponsorship.
Do the self-work to boost your confidence at work
Kim Smith (she/her) is the Vice President of Technology Sales for the U.S. West Region at IBM. A 28-year sales veteran, she leads teams in support of clients across multiple industries and U.S. states, while helping clients advance their digital transformation and achieve business outcomes through technology solutions.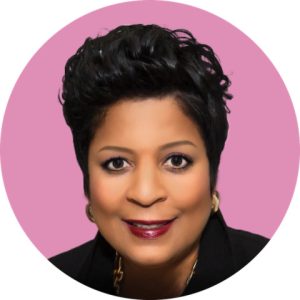 KIM: It's so important to have representation and see yourself and others in management positions. But when you can't see yourself and have no one else to look at, and you're getting hard questions thrown at you … some of those questions, I didn't have answers for. So I literally had to work with myself. I did a lot of self-help. I read a lot of books. I had a lot of conversations with mentors and coaches.
Here's what's important: You also have to get some success and experience under your belt. Once I got a couple of wins and successes, I was unstoppable. I sat at the table differently. I walked into the room with confidence because I knew I could. But there was a moment when I doubted myself. Elicit help from coaches and mentors, and go to sessions like these. Because they can be so helpful.
Focus on what you can control — and let go of the things you can't
LaShonda Anderson-Williams (she/her) is the EVP and CRO of Global Healthcare and Life Sciences at Salesforce. Prior to Salesforce, LaShonda spent 15 years at a major tech company and helped build the organization's healthcare and life sciences practice. Read more about LaShonda, her passion in global healthcare and life sciences, and how she's making an impact as a sales leader.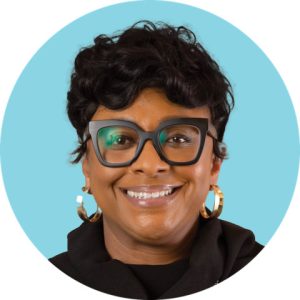 LASHONDA: We put so much pressure on ourselves that if a deal doesn't happen or if a relationship goes sideways, we think our career is over. It's not.
What counts is your ability to have an impact on other people's lives. In sales, that's helping our customers. And in my world, that's helping people save lives. If I can help my customers do a better job of understanding their patients and creating better outcomes, that's the thing that impacts me. Is there pressure? Absolutely. But I can't ground myself in the things I can't control; I can ground myself in the things I have control over.
How employers can elevate more women in sales
HILARY: You have to know how you're representing your company on the front lines and how that's being shared. It doesn't make it feel like a great place to work or join if everybody knows each other and they all look the same when you pull up their LinkedIn profile.
KIM: What does it take to be a strong woman leader? What do you need? I think programs are essential from a nurturing and support perspective for women. I think the other piece would be to have training: training for leaders, training for men, and DEI training.
LASHONDA: Make it more adaptable for those who are entering the workforce who may be from non-traditional roles — that is also important. There are so many women who took the time to raise their kids, took time off to truly be with their children. They are ready and they are capable.
Watch the full panel discussion, "Closing the Deal: Women in Sales," to discover how these industry leaders accelerated their careers and broke gender barriers in tech sales.