Create Your Own Path: Building a Career From Inside Sales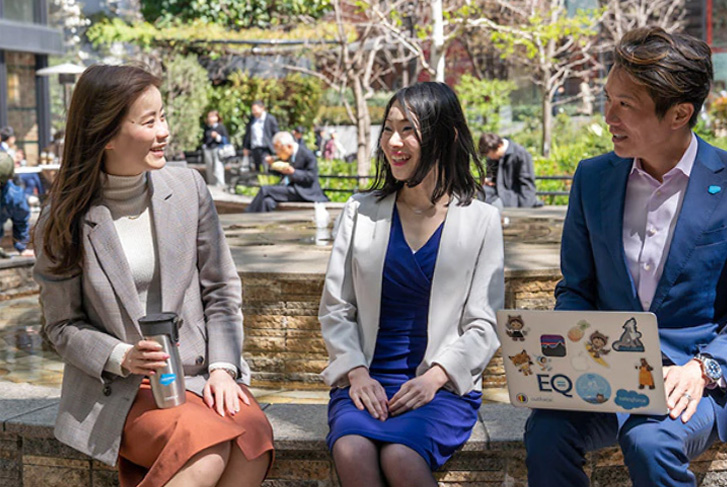 "I joined Salesforce because we have so many diverse career opportunities. Your potential here is limitless," Sayaka Ikeuchi said with a smile.
Sayaka was born on a small island in the Seto Inland Sea, Ehime Prefecture, and used to commute to high school by ferry. Today, she lives in bustling Tokyo and works as an Account Executive (AE) — her third role at Salesforce.
Three reasons Sayaka continually chooses Salesforce
When someone speaks about Salesforce, they often mention the culture of "Ohana," a Hawaiian term that means extended and chosen family. Our culture was the first reason Sayaka decided to join Salesforce a couple years into her career.
"With every interaction during the interview process, I was able to actually feel the welcoming culture. My recruiter Mari Mori passionately discussed why she loves Salesforce. It became apparent that it's not just a corporate philosophy, but something living in every employee's heart. I embraced this spirit of mutual support beginning my first day here."
When she joined Salesforce, Sayaka immediately participated in a hiring seminar designed to give employees all the tools and resources they needed to thrive on day one. "I learned about the 1-1-1 model, in which Salesforce gives 1% of its product, employees' time, and resources to improve communities throughout the world. I also learned how we're helping our customers transform digitally and saw that our employees are passionate about improving the world together."
Secondly, she knows the hard work she puts in will be recognized, appreciated, and rewarded. "Fair evaluation and compensation leads to increased motivation," Sayaka commented.
Finally, Sayaka rallies behind our value of "Customer Success." She was attracted to Salesforce because we conduct business from the customer's perspective, not just for the sake of selling products. And she observes that value every day.
Making an impact
When asked about her most memorable deal, Sayaka began sharing about the time she was a Sales Development Representative (SDR). She made an appointment with a startup and handed over the opportunity to an AE who then successfully closed the deal. Later, she became an AE herself and was responsible for supporting that customer. When she visited the startup for the first time in her new role, the customer warmly welcomed her with a handmade card saying, "Congratulations on your promotion! I recall that I agreed to meeting with Salesforce initially because you were not an ordinary telephone sales representative. Your proposal was thoughtful and I could tell you took the time to learn about our company and truly cared."
Rather than just selling products, Sayaka believes the best part of her job is understanding customers' visions so that she can propose the best solutions. At Salesforce, the ability to identify our clients' business challenges is essential to success.
With that understanding established, our sales teams present proposals that resonate with the customer and establish trust.
Leveraging inside sales experience to become a better AE
"I can offer specific know-how about launching and strengthening sales capabilities to startups. Customers can rest assured because I can share real stories that I experienced as an SDR," reflected Sayaka.
She was actually a bit hesitant to change her role from field sales to inside sales when she first joined Salesforce, but she is now completely confident that her experience as an SDR proved to be the starting point of her current career. "At Salesforce, you can manifest the future you desire for yourself," she commented. With her interest in training and nurturing others, Sayaka says she wants to become an inside sales manager next.
If Sayaka's story leaves you eager to grow your career, indicate your interest to the Salesforce Recruiting team.
Editor's Note: Sayaka is now Manager, Commercial Sales (Region)