Finding Purpose and Fulfilment In and Outside of Work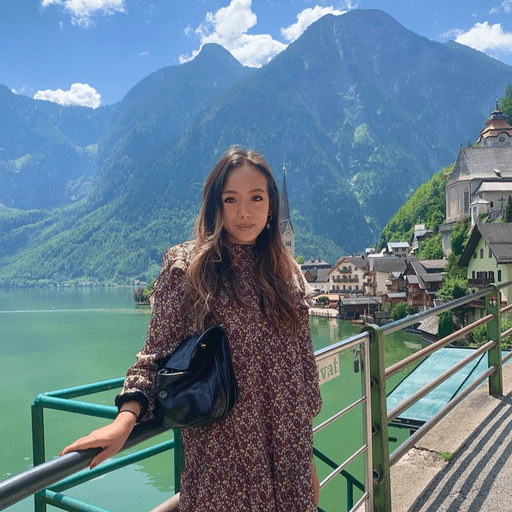 For Nhu Pham, logging into work every day is another opportunity to make an impact, drive inclusivity, and fulfill her dreams. She considers these her top three approaches to finding purpose in life.
Currently, Nhu works on Salesforce's Account Development team supporting the MuleSoft product in the DACH region (German-speaking countries in Europe) and deeply embeds her personal goals and values into her day-to-day role.
Her LinkedIn headline states "I help people to fall in love with technology," yet Nhu's career, like many employees at Salesforce, did not begin in technology. Rather, she held finance roles in the fashion, automotive, and professional services industries after completing her finance studies in Germany and New York.
"I mostly worked with numbers and financial models, and could bring my creativity into my role when I worked in fashion. But I knew I wanted to have a bigger impact and purpose."
How previous experience fueled Nhu's pivot and immediate impact in tech sales
Nhu joined the MuleSoft Account Development team in January 2021. MuleSoft is Salesforce's integration, automation and API solution, and the business' fastest growing acquisition.
"I knew that Salesforce had been recognised numerous times as a great workplace, but didn't know about MuleSoft." Nhu proactively scheduled coffee chats with employees and uncovered more about MuleSoft's start-up vibe. She felt she could make a great impact on the team. "You have the opportunity to transform from the ground up and that was really appealing to me."
"I did have some imposter syndrome," expresses Nhu when reflecting on her first few weeks at Salesforce. "I questioned whether tech was the right path for me, however, I quickly realised all the skills and experience I had gained were transferable to this industry and I could leverage that unique skill set."
"When working in finance, I had to quickly understand complex products and pitch them in a clear, easy way to customers; and in fashion, I gained strong networking skills. I love scheduling coffee chats and now I do that with customers," she adds.
Thriving as a Global Top Performer
Upon joining MuleSoft, Nhu became responsible for sales development initiatives within the public sector. "It was challenging because we had never previously focused on sales towards DACH's public sector, so I had to work on accounts from scratch. I saw a lot of opportunity there and the potential to make it big."
Nhu's high level of intellectual curiosity has served her well in this role. Her ability to quickly understand complex situations helps her put herself in the shoes of potential public sector clients, and her networking abilities helps her create genuine, meaningful connections with them to help bring solutions to their problems by leveraging the MuleSoft product.
This led to her being recognised as the Top Performer on the MuleSoft Account Development team for the Europe, Middle East, and Africa (EMEA) region every month in 2021 and 2022, and even across other regions as a Global Top Performer. "Being coached was important for me to find such strong success. Now I can coach others to become top performers and that comes with the recognition," she says.
Through coaching newer members on her team, Nhu has helped them develop similar growth mindsets to her own, which embody the traits of curiosity and fearlessness to drive success.
Inviting others to an inclusive, growth-driven space
"Business is about people. To understand people, you have to develop emotional intelligence and practise active listening," says Nhu.
Besides networking and coaching, she is equally passionate about influencing equality within the organisation and making a deliberate effort to invite others into the buzzing tech space, having once been an outsider to the industry herself. As such, Nhu is passionate about supporting hiring events and evolving recruitment strategies with her management team. "I want to give people a chance to build a great future here at Salesforce," she says.
Nhu is also an active advocate for racial equality and celebrating each other's cultures. For example, she supported a Ramadan 'Fast & Learn' event with her Muslim colleagues to help others learn about Ramadan while encouraging the celebration of diversity and a culture of allyship inside and outside the workplace.
A candidate even accepted their Salesforce offer after hearing from Nhu about the success of the event and Salesforce's inclusive culture. "I love the opportunity to make people feel welcome in the workplace," says Nhu.
Turning dreams into a reality
One of Nhu's ultimate achievements is being able to help support her parents. "I want to give back to my parents for giving me this life and providing me with the many opportunities which they didn't have," she says. Nhu is of Vietnamese descent and her parents immigrated to Germany before she was born.
Due to her professional successes, Nhu has been able to provide her parents with a better life. "I bought them a small hotel in Germany and my goal is that they are able to easily manage that and leave the demanding restaurant industry behind." Being a values-driven company itself, Salesforce has empowered and supported Nhu in remaining aligned to her family values.
While Nhu's official title states Account Developer, she is continuously encouraged to go beyond her prescribed job description. "What I really love about this job is that you can truly make an impact. I've been able to pull from all my life experiences to drive initiatives, be a leader, a coach, and an innovator within my role," she says. "And even though I've been here for under two years, I have grown tremendously and feel incredibly valued and appreciated."
Interested in pivoting to tech sales and finding a role that supports your personal fulfillment? Join our Talent Community to be the first to know about the latest Salesforce news, events, and career opportunities.