From training in hospitals to nailing it in sales: A Salesforce Career Story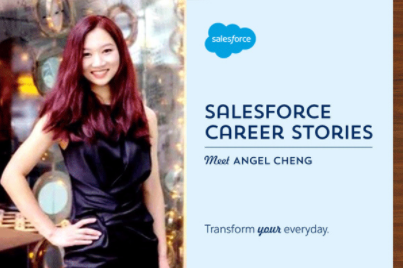 Sales Development Representative (SDR) Angel Cheng is the perfect example that there is no such thing as a typical employee in the Salesforce Ohana.
A registered nurse turned financial planner in an insurance company turned recruiter in a legal recruitment firm turned Salesforce SDR, her breadth of professional experiences across a number of industries all come into play in her day to day work in our Singapore sales development team.
Native to Hong Kong, Angel moved to Singapore with her family in February 2018 and hit the ground running in her new role, establishing herself as an outstanding performer within just 10 months at Salesforce. Meet Angel as she shares her perspective on…
…The benefits of a diverse career:
Nursing was fantastic training in taking a holistic approach. Plus, it's the ultimate environment for honing your personal and communication skills. Just like a great nurse, a great salesperson always needs to convey messages clearly so there's no misunderstanding – especially as there are always a number of stakeholders involved.
As for recruitment, I learnt a lot about designing and planning my own career by helping others with their own. Talking to employers and employees alike all day every day offers valuable business and career insights. It's fascinating to understand the various mindsets of people when changing their position or profession. Similarly, receiving first-hand information on what makes — or doesn't make for — a successful candidate has undoubtedly helped me in my own career pursuits too.
Looking back, each role has been a key brick in building a strong foundation for the work I do at Salesforce today.
…Making a new home at Salesforce, and in Singapore:
I love achieving goals, and I love challenges, growth and learning new things. Technology is a sector that has an inherently fast pace, which really suits me and is why I chose to work in this area when I moved here.
I was referred to Salesforce through a friend. I had first come across the brand during my time in recruitment but researched it thoroughly in preparation for my interview and quickly realised what a great company it would be to join.
"From day one I was excited about how much scope for development would be on offer."
Thankfully, because I had been in recruitment, I had experience in training people for interviews, so that was a fortunate advantage when it came to my own. As soon as I became part of the organisation, it was apparent that Salesforce absolutely walks its talk. From day one I was excited about how much scope for development would be on offer.
…Opportunities for professional progression:
The acceleration has been extraordinary, unlike anything I could have imagined. It can be a tough job that definitely favours a highly driven spirit, but you get out of it what you put in tenfold. To think that in less than one year of working here – in what is essentially an entry level position — I already have three mentees under my wing is so fulfilling.
There are so many internal opportunities and Salesforce as a whole is incredibly encouraging of you moving amongst teams to create the career that you want.
After 12 – 15 months in my position, we SDRs can be promoted to BDRs (Business Development Representatives) and choose what to work on. For instance, the core product, or the marketing cloud, or something more specialist – depending on the current vacancies and your particular skills and interests.
Then we progress into an Account Executive role, where the renewals, solutions and customer success teams are all on offer. There are numerous options available based on your individual characteristics and aspirations.
…The importance of an 'Ohana' workplace culture:
I'd say the most unique trait of Salesforce is the culture itself – how it emphasises trust, and the 'Ohana', which is our philosophy of family.
The team is definitely what I love the most about the job. I'm lucky to work with so many intelligent people, who are all like-minded in their ambitions and are really open to share. Like anywhere, we all have different strengths so are always learning from one another. It's naturally collaborative – but a with healthy dose of competition as everyone strives for their best.
Salesforce makes a huge effort to bond their employees through all sorts of events, which has made it very easy to meet others, especially in a new city and country.
"I'm lucky to work with so many intelligent people, who are all like-minded in their ambitions and are really open to share."
The workforce actually comes from all over the world. We hire people who are fluent in the local languages of the markets we are servicing, so all around my desk are people speaking Thai, Vietnamese, Indonesian and more. This tapestry of expats had made settling in a lot less difficult than I thought.
…Her typical working day:
I handle most of the inbound leads from Hong Kong and Macau with exposure to support the Greater China Region — from prospects who visit our website, download an eBook, enquire via our chat or have come to an event. I'll call them or take their calls, so spend a lot of day on the phone jumping between English, Mandarin and Cantonese.
SDR is the only position in the company that touches every industry. As you progress to being a BDR you tend to focus on a particular field and take care of the clients within that alone. So it's a great opportunity to gain a wide viewpoint on all different types of businesses.
I am the first point of contact for any potential customer, so am essentially the conversation starter! I ask questions, listen to concerns and find out how they do — or don't — use technology.
Occasionally people call me because they want to know more about the Salesforce stock and are curious about how the business works. So part of my job is filtering out what's a solid lead and what isn't. But what's fantastic is once we pass the sale on to an Account Executive we can still see what's going on at any stage of the funnel and how the conversion performs. The whole process is completely transparent, which is very satisfying when you have been involved right from the beginning.
…The most rewarding aspects of her job:
I'm delighted by how much I can learn and grow with the support of my manager and director. Early on in my role I identified a couple of areas that could be tweaked and voiced them. They both took the suggestions seriously, I got approval to implement them and the team's performance has improved ever since. My contribution felt valuable very quickly.
This open mindedness and commitment to positive change is definitely Salesforce's most unique selling point as a workplace.
Helping customers see new possibilities is also hugely rewarding. Often they know they need technology but they may not be sure of the whats and hows. I really enjoy the process of explaining and educating of how the Salesforce platform can help their business achieve their goals. Wherever my trajectory at Salesforce goes next, I know I want to keep thriving in a client-facing role to help my clients to be successful in their business.
…The most challenging:
The Greater China Region is expanding rapidly so the inbound leads can become overwhelming for our team that is still growing to meet the vast demand.
But busy business is still a great problem to have!
…And lastly, her guilty pleasure:
The classic trio of wine and cheese and chocolate!
Oh, and cartoons. I love their element of surprise and the way imaginative animation boosts my own creativity!
Editor's Note: Angel is now a Regional Lead, Account Development