Manifest Your Future: Relocating with Salesforce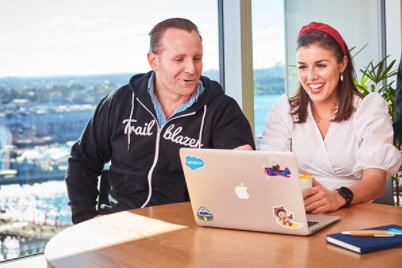 As Salesforce employee Chloë Carton rode the train into work each morning, she would turn on her meditation app and visualize herself on the warm beaches of Sydney.
The sun kissing her skin as she explored new terrain. After 10 minutes, she'd open her eyes and find herself in familiar surroundings — the hustle and bustle of Dublin. While she loves the lush Irish landscape, she longed for something different.
Would you believe that her simple act of picturing a future in her mind helped manifest that dream?
Today Chloë is an Account Executive for Enterprise Corporate Sales based out of Salesforce's Sydney office. She spends her days connecting with people, relishing in the nature around her, and investing in her passions.
Discover how Chloë's intentional choices crafted the future she imagined for herself.
It all started with ice cream
Chloë was preparing to graduate from college and wasn't sure what to do next. She was chatting with her sister's boyfriend, an employee at Salesforce. He recognized that she was coachable, motivated, and resourceful — all skills needed to excel in sales — and suggested she apply for a Business Development Associate role. So she looked into it.
"My Salesforce connection put me in touch with a current intern to share more about the team. That individual then introduced me to one of the hiring managers and we had an introductory call.
In each conversation I realized what a super team I'd be surrounded by. And the development opportunities were immense. I just knew it was for me after my first meeting," she reflected.
But as she was fresh out of college, and applying for a role that didn't fully align with her degree, she had gaps in her skills. The hiring manager noted she'd studied marketing but was looking to get into sales. She needed more experience to make the cut.
[Related: Turn Daydreams into Action: From CSG to Software Engineering]
So Chloë immediately got a sales job at an avocado and coconut-based ice cream company. "I was so sold on the product — I could have converted a carnivore to the vegan treat." This helped her realize the importance of believing in the product you're selling, and only furthered her interest in Salesforce.
With her sales skills established, she officially applied and landed her first role as a sales trainee.
Learning isn't just for classrooms
"For me, and in Ireland, you don't necessarily move away for college. It's common to stay at home. So joining Salesforce was the first time I really immersed myself in meeting new people from different cultures," Chloë reflected.
At Salesforce she began to uncover her passions — like promoting inclusivity.
Chloë partnered with Outforce, Salesforce's employee resource group for allies in equality of sexual orientation and gender identity. During Ireland's vote to legalize same-sex marriage, she realized her drive for equality. Chloë shared, "It really shocked me that you could be in the same school as someone, live on the same road, and just because of the way that they were born, they don't get the same rights as you. I want to be a part of changing that."
Today she's her hub's local Outforce lead. Chloë would encourage you to keep searching for your interests, and incorporate them into your job. "We're connected to work like never before, so it's more important than ever that we bring our true selves to the office. Our passions help bring people together and make the world a better place."
Growing a career
While Chloë joined Salesforce in a trainee position, she quickly developed the skills needed to master various roles, ultimately becoming an Account Executive in just three years. Her career path is often referred to as the "Salesforce MBA" because you emerge with such unique sales and business skills.
"Salesforce provides you with so many enablement resources. We're introduced to various sales methodologies — like Sandler, John Barrows, Situational Leadership, and negotiation training. I've benefited from the education reimbursement, too. I completed a Digital Marketing Diploma in Dublin and am working on an Applied Finance post-graduate degree in Sydney."
Chloë's path to success also includes a supportive network. "Surround yourself with a team that you can lean on," she offers. "Seek out people who can help and ask questions — whether it's above, below, behind, or sideways from where you sit."
Chloë would also tell you to be bold. "Career progression is what you make of it, and no one is going to push you ahead as much as you can push yourself."
Steps toward a 10,000-mile move
Speaking of being bold, we want to tell you how she made a move from Dublin to Sydney.
Chloë built upon her visualizations and surrounded herself with tactile reminders. "I hung a sign in my old room that said 'Sydney October 1,' with a list of all the things that I had to do to get there," she noted.
Based on Chloë's experience, here are some actionable steps to position yourself for a big change like this:
Have a clear vision for yourself. "I knew what I wanted, and did everything I could to position myself as the most obvious decision for the role."
Grow your skills. Maybe you don't need to sell avocado-based ice cream like Chloë did. But, if the role of your dreams requires new skills, then pursue them. Try tools like Trailhead, Salesforce's free online guided learning paths, to build and demonstrate your expertise.
Network with others who've made similar moves. Chloë connected with a Salesforce executive who was speaking at a women in technology event she'd helped organize. This exec had made a move to Sydney herself, and offered feedback to help Chloë get there.
Really, it boils down to this: "The best recipe to achieve your goals is to identify very clear steps to get there. And sprinkle that with determination beyond belief," Chloë said with a chuckle.
Transform your everyday
At Salesforce, anything is possible if you set your mind to it. There are many miles between Dublin and Sydney, but the path to a new career can be right around the corner. Start your journey to a role at Salesforce today.