"Talent Is Evenly Distributed but Opportunity Is Not": How Chris Vargas Transformed His Career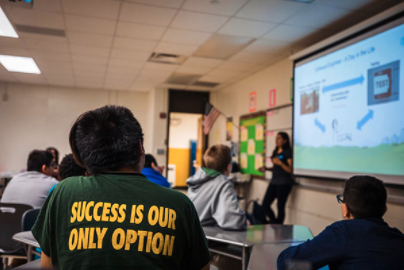 Account Executive Chris Vargas didn't think he'd end up in tech, but fate had a different plan.
After a few years working at startups, he landed a role at Salesforce, an opportunity that changed his life personally and professionally. In addition to the career possibilities Salesforce offers, Chris has been able to pursue his passion for giving back thanks to Salesforce's Volunteer Time Off (VTO) and employee giving programs.
An ambassador for how much companies can achieve when they embrace equality, diversity, and philanthropy, Chris is committed to helping those less fortunate, and reminding others that they can achieve career success despite any challenging circumstances.
Here, Chris shares his story.
Growing up, I always thought I would end up in sports. I left the tech startup scene when I received an offer to work with my favorite football team – I jumped at that opportunity! But it turns out I didn't like working in the sports industry. It just wasn't what I expected, so I returned to tech startups.
Fast forward – I had a chance to meet with a connection who worked at Salesforce. I wasn't considering Salesforce at the time, but my connection convinced me to apply. I was blown away in the interview process. Everyone made me feel welcome. I got the sense they really wanted me to join them.
Salesforce Surprised Me, Then Exceeded All My Expectations
When I heard 'Salesforce' I thought 'massive company.' A lot of people assume it's very corporate, but it's actually quite the opposite. The sales team welcomed me with open arms and made me feel like I was home. Salesforce invests a lot into its employees, including promoting a healthy work-life integration.
There's a sense of community. My colleagues gather at the park and for dinners, so it's a great opportunity for us to get to know each other outside of the workplace. I originally associated that with startup culture. I wasn't expecting to feel a sense of family at Salesforce, but I got that right from the start.
I'm passionate about helping companies achieve their goals or overcome challenges so it just suits me so well that every meeting we have, the goal is the success of our customers. I want to work with mid-sized businesses who sometimes have more nuanced problems, which will make the work more challenging for me.
Giving Back
I have always tried to give back to the community, but pre-Salesforce that desire competed with getting my work done. At Salesforce, we're encouraged to spend seven working days volunteering for causes that are important to us. Now it's easier for me to not only work hard and be successful, but also know that it's okay for me to step away from work to contribute to organizations I care about.
It's beautiful to see how Salesforce employees come together for different causes. Earlier this year Latina Safehouse, an organization in Denver that helps Latinas who are survivors of domestic violence, had to cancel all its fundraising events because of COVID-19.
It was a really bad timing for a domestic violence organization to lose funding. I was able to work with my colleague Carolina Chavez and our Denver chapter of Latinoforce, our Latinx Equality Group, to launch a virtual talent show featuring 10 very gifted Salesforce employees from across the U.S. From spreading the word internally (and with some amplification from our executives), we were able to raise $25,000 for Latina Safehouse.
Education, Challenge, and the Pursuit of Change
Recently, I was on a panel speaking to about 250 – 300 Latinx and Black students who were interested in working at Salesforce. I had the chance to show them that it's possible to work in tech – I was the first in my family to graduate from high school, and I graduated college. If I can do it, so can others.
I grew up in an inner city. I spent time in Compton and Lynwood California, and I grew up in Mexico as well, moving back and forth. I was living in a bubble, and only interacted with people like me — minorities in the inner city.
I always loved school, and even though my parents didn't graduate from high school, they always instilled the value of education. I had a couple of teachers along the way too who spoke to me about college and how it had impacted them.
That opened my mind to the idea of leaving my bubble. I took summer classes at Yale University when I was about 16 years old. Before that I'd wanted to stay close to home and go to the University of Southern California, just because it was in my backyard in Los Angeles. But that summer set me on the trajectory that I'm on now. I decided to go to UC Berkeley, further away but still in the same state, to figure things out by myself – I like that challenge of figuring it out for myself, and setting a good example for my cousins, nieces and nephews, and brothers.
I think many school districts that have the resources prepare kids for college very early on, and I feel like that doesn't happen enough at inner city schools.
I'm a firm believer that, as entrepreneur Leila Janah stated, "talent is evenly distributed but opportunity is not." I want to keep doing outreach to inner city kids to tell them about my career with Salesforce, and the impact it has on my life and my family's life.
I like to tell the kids it feels really good to prove people wrong when they think that you can't do something. You actually can do it and you can do it a lot better than they thought you would. It's a great feeling to be able to prove that.
Looking for a workplace that will recognize your potential and help you reach it? Find out more about careers at Salesforce.