The career path to Account Executive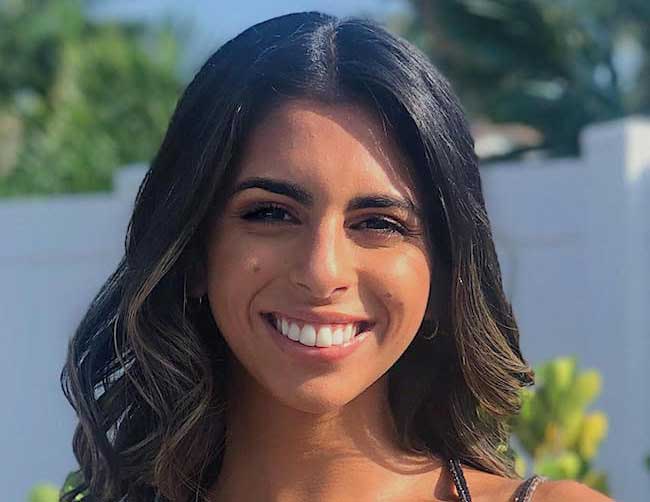 Sabrina Montañez's career at Salesforce can be described as a series of firsts — both the "scary-trying-something-new" kind, as well as becoming the top performing team member.
Sabrina was born and raised in Puerto Rico, completed her undergraduate studies at Florida State University, and had big dreams of moving to New York City. Shortly after graduation, she started her career in tech consulting but soon realized that rather than advising technology companies, she'd prefer working at one. So, she began her job search with Salesforce, and New York City was top of mind.
"I knew Salesforce was a market leader, but I had never heard of MuleSoft," says Sabrina. MuleSoft is Salesforce's API and integration solution. "The recruiter told me about the MuleSoft team and when I met with the hiring managers, I was sold. I loved the idea of working in an environment with a start-up feel, but enterprise-level backing."
Starting in account development
Sabrina signed her Salesforce offer letter — and New York apartment lease — in March of 2020, joining the MuleSoft account development team. Ah yes, March of 2020. It was a scary time for everyone, especially those in the midst of a life change. "I remember calling my manager and being like 'Hey, do I still have a job?'" Sabrina recalls.
Of course, Sabrina still had a role and was a part of the first cohort of MuleSoft's account development team to onboard remotely and did so while living with her family in Puerto Rico. Sabrina leaned into Salesforce's Success from Anywhere culture to onboard and excel remotely. These were her three main observations as she started in her new role:
"Building connections online is not easy, but it's not impossible. I learned that not all relationships need to be face-to-face," she says. With collaboration tools like Slack and video conferencing, we can effectively replicate in-person interactions. "Through my onboarding class, I've made friends that I've never actually met, but we are really close."
Leveraging technology to learn alongside her peers served her very well. "Selling tech is a challenging concept and there are terms we don't use in our normal vocabulary. But, the more you practice it, the more confident you become," she recalls. Sabrina and her peers regularly practiced reciting their talk tracks via video calls with each other to get confident in the dialect that is used when speaking about the technology with prospective clients.
All the materials you need to succeed are available to you. "I read all the white papers and every single page of the website," says Sabrina. Through working remotely alongside a tremendous enablement team, Sabrina was able to build her technical knowledge without having to step into the office. "Taking the time to learn the ropes, understand the MuleSoft technology and the value behind it propelled me to take an even bigger step when I was ready to be an account executive."
Powering firsts in healthcare innovation
Sabrina specifically supports Health and Life Science brands with their integration and API needs. This was an especially interesting industry to support against the backdrop of the COVID-19 pandemic, and Sabrina was able to see the tremendous impact and potential that the MuleSoft product could have. "We support healthcare in ways I didn't even know existed," she says.
"It was so eye-opening to see how integration can impact things like COVID-19 response and the incredible impact that APIs can have on patients and healthcare organizations," says Sabrina. "We were behind the scenes powering COVID-19 response through supporting pharmaceutical companies with rolling out COVID-19 testing and even helping them track adverse events of drugs — this was instrumental for creating COVID-19 vaccines."
Becoming the top performing team member in AD globally
While Sabrina's start at Salesforce was definitely unconventional, what surprises her the most is how willing and supportive the team has been. "During one of my regular reviews, my manager asked me what my goal was. Without really thinking, I said 'I want to be the top performing AD in the world!' She actually took me seriously and socialized this with my team and upper management. I was so pleasantly surprised by how supportive everyone was and how they helped me achieve my goals. At the end of the year, I was awarded #1 Global AD for having sourced over $5 million in closed business."
The account development team supporting the MuleSoft product is lovingly referred to as the "talent engine" of the organization, especially for account executive roles. The skills and product knowledge that team members garner in account development set them apart and make them very desirable for closing sales roles. In the words of MuleSoft CEO, Brent Hayward, "We've built the company off the strength of our account development bench."
Accelerating into account executive
During her time in account development, Sabrina was also part of the first cohort of students to participate in the MuleSoft Sales University, a program designed for individuals in account development who are keen on continuing their sales careers as account executives. The program equips them with the necessary mindset and sales skills to excel as an account executive and accelerate their journey to becoming world-class sales professionals.
"The training that this program gave me was very valuable and really prepared me to excel in the account executive role before fully stepping into it," Sabrina says.
Armed with the skills she garnered from MuleSoft Sales University, Sabrina moved into an account executive role. Reflecting on her career so far, Sabrina shares, "The road is not an easy one, but it's a rewarding one. Nothing is supposed to be easy, it's supposed to challenge you."
Apart from crushing it in her role, Sabrina finally made it back to New York and is taking full advantage of Salesforce's commitment to health and wellness to take in everything new around her. "Our company mandated wellness days off are so helpful so I can have the extra time to just explore and visit all the different neighborhoods in the city."
Ready to pivot into tech sales and thrive in Salesforce's Success from Anywhere world? Join our Talent Community to stay connected and take part in the future of work.
Follow Salesforce Jobs on Twitter, Facebook, Instagram, and LinkedIn for more stories on the unique career journeys of our dynamic sales team.