Think Bigger, Live Better: A Decade in Sales at Salesforce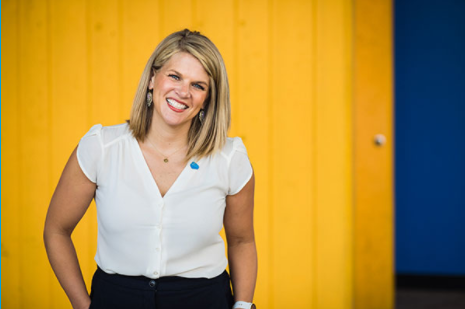 In an age where the average employee spends four and a half years with a company, those who reach a ten-year milestone catch our attention. Meggie Dials, Regional Vice President, Marketing Cloud, Enterprise Sales at Salesforce, is a prime example. If you're as dynamic and driven as Meggie, the notion of staying with one company for a decade may leave you wondering how you can quench your thirst for adventure. But Meggie says at Salesforce, "Every year has felt like a new journey from the previous one."
Keep scrolling to learn how Meggie has crafted a long-tenured career that allows her to think bigger, and live better, every year.
Network courageously
Meggie started her journey with us through an acquisition. She had been a Channel Sales Manager at an email marketing software company, selling products to partners or resellers. After joining Salesforce through M&A, she knew she wanted to move into direct selling, and started networking to make it happen.
"I found a pocket of sales leaders that really believed in me. We had worked together on the channel side. They saw what I could do and they were very invested in my success. One of those leaders took me in as a mentee and invited me to his team meetings so I could get exposure. By the end of that year, one of those meetings sparked a conversation with a hiring manager who approached me and said 'why are you not in direct sales?' And I said, 'funny you should ask, I want to be!'"
Meggie's experience in channel sales combined with her hustle to network and gain exposure positioned her for an incredible leadership opportunity. She landed a role as Regional Vice President of Sales, Marketing Cloud Enterprise Life Sciences, leading a team of Account Executives (AEs) to provide digital marketing solutions to the Health and Life Sciences industry.
Looking back, Meggie realizes how beneficial those meetings were to her long-term success. "Sometimes it's hard to connect-the-dots looking forward, but in hindsight — I can see how these little steps jumped me forward into my new career."
Make a big impact
Within the healthcare space, Meggie saw incredible potential for her team and her customers.
"Our mantra was to think bigger and live better. For the AEs on my team, that meant — get creative about how you sell and problem-solve for the customer so you can be more successful. But it had a deeper meaning, too. We were helping pharmaceutical or medical device companies reimagine their digital marketing to reach more people and ultimately improve patients' quality of life."
One example she shared was a pharmaceutical customer who adopted a social media command center. The pharma executives wanted a social listening tool so they could know what was being said about their drugs and their business at all times. They valued the immediate feedback and wanted to continually improve for their patients. It was so important to the execs that they built a physical command center that their employees had to walk by every day. "It helps their employees be more conscious of the overall impact they have, and stay in tune with their customers — the patients."
But for Meggie, making an impact isn't just about technology.
"While I love encouraging organizations to think differently about their customer engagement, I'm also hoping we can inspire them about the things we stand for."
While Meggie is aligned to all of our values, she is particularly passionate about Equality. She's a member of Outforce, our employee resource group which brings together employees who are allies of equality in sexual orientation and gender identity.
"Being an ally to others is crucial. The best way to make change in our world is for us to listen to others, lock arms, speak up, and help raise the overall voice in support of equality."
Raise your hand for something new
"While I loved the opportunity to help shape our go to market strategy for life sciences, at some point I realized it wasn't my forever home," Meggie shared.
Salesforce's focus on internal mobility is something that has kept her engaged over the years. Employees are encouraged to raise their hands for new roles.
"I saw an opening that looked like a perfect fit," she recalled. "I was attracted to the potential and excited about the great people I'd be working with. Today, in this new position, I sell Marketing Cloud to companies with 4,500 to 10,000 employees. It's a mix of industries — everything from heavy manufacturing to hospitality."
But beyond the challenges of adapting to new verticals, Meggie is excited about the impact she can make as a people manager. "I got to take on a team that previously didn't have a manager, hire new people, and help create a vibrant team culture." Salesforce supports managers with training resources to help foster a workplace where employees think and act with courage and compassion in order to collaborate on meaningful and impactful work.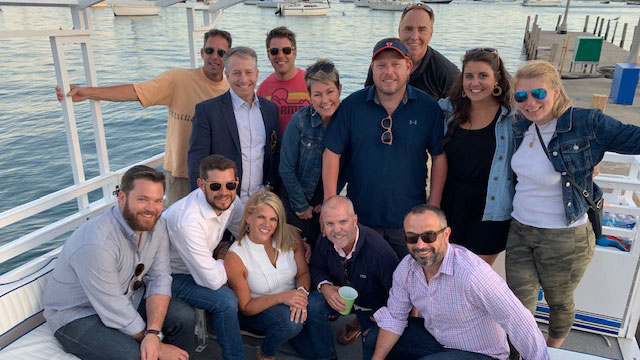 Use your unique superpowers
Meggie's journey has taught her the importance of leveraging your unique strengths as a leader.
"Find something you have in common and start a conversation. If you're in the same location, ask them if they're originally from here. That simple question opens the door to learn about their unique background."
"I have always been very empathetic and have recently found a way to make that my superpower. I don't believe you can lead a team without caring about them. The most trusted salespeople are ones that have first sought to understand before being understood."
She encourages her team members to bring their unique selves, to work too.
"I recently hired someone who didn't have tech sales experience. Everyone else on the team came from tech, and it was really obvious to me that diversity of thought could only benefit all of us."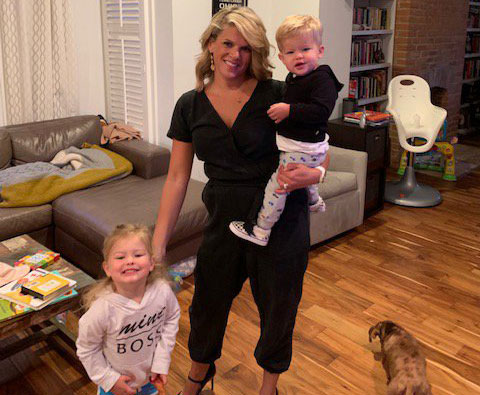 Prioritize work/life integration
Outside of the office, Meggie has three clear passions: her family, her health, and her community. Integrating those joys with her work is essential to her happiness and success.
"My husband and I are both in tech and have similar travel schedules, so we recognize that family time is precious. When we're home, evenings are sacred to us. And my team and leaders all respect work/life integration."
"It's also important for me to continually check my batteries and recharge when I need to. If I need to go for a run in the middle of the day, I just do it. And I feel psychologically safe sharing that because I know wellbeing is prioritized here."
"Also, as a working mother of two little children, the fact that volunteer time off (VTO) and service are prioritized means that I didn't have to make a choice when we had our kids — I could do my job, be a mom, and still contribute to the community."
Have fun giving back
It's interesting to hear how Meggie's work and volunteer passions have merged together too.
Today she serves as Vice Chairperson of the board of Random Acts of Flowers, which collects expiring flowers from grocery stores, floral shops, and social events and arranges them for those under medical care.
"The CMO for one of my pharma customers was looking for board members. I thought — what a fun and meaningful activity to play with these plants and then surprise someone with a beautiful arrangement to make them smile. The recipients might be people in hospitals, dialysis centers, or nursing homes. They might not have someone special in their life to do something like this and make them smile. Showing up for each other is what community is all about."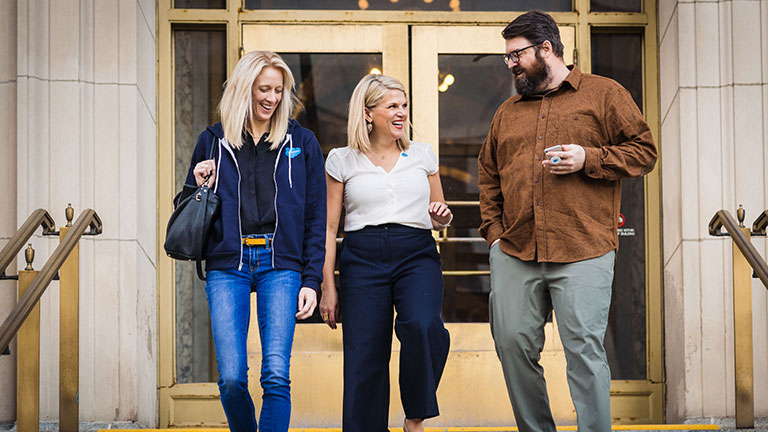 Join us
There's always a new adventure here — whether it's changing roles, a major acquisition, or meeting new people — we promise you'll constantly be energized. And while there are many paths that can lead to sales at Salesforce, Meggie says there are three prerequisites:
Get gritty and hustle: Sales is challenging, and grit helps you through. Hustle helps you climb walls and get things done.
Show empathy: Understand what motivates your customers, coworkers, and partners so you can relate to others and build stronger relationships.
Come in with a beginner's mind: Did you land a role here? Welcome! You were selected because of your past performance and future potential, but be curious and willing to learn. Raise your hand and ask questions.
Apply for a sales opportunity to transform your career while changing the world at Salesforce.
Editor's Note: Maggie is now AVP – Enterprise Marketing Cloud, Industrial Products & EUC