Tips to Enable the Next Generation of Sales Professionals, Backed By Neuroscience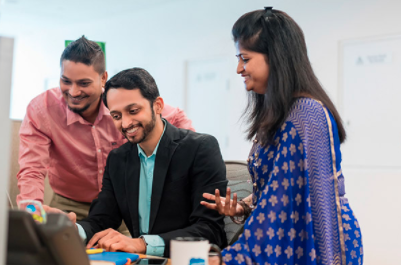 When Kiran Kumar joined Salesforce to help enable sales teams, he was diving into a brand new adventure. Kiran had a long and successful career in sales with several companies, but he'd never branched into a training role. Although the position built off his experience, he had some reservations about trying something new. Fortunately, the regional sales leader made it clear that if he wanted to return to sales, he could. This freedom and reassurance made him even more committed to finding success in sales enablement.
"It's been over seven years now and work just gets better with each passing day. I'm living my dream!" Today, he serves as Director of Sales Enablement for the Asia-Pacific (APAC) region.
Effective Sales Enablement — A Constantly Moving Target
"Gartner research finds that B2B sales reps forget 70% of the information they learn within a week of training, and 87% will forget it within a month."
Sales enablement, more commonly known as sales training, is not a one-size-fits-all proposition. And Gartner's research certainly makes a case for crafting individualized training approaches that put a premium on engagement, rather than simply information transfer.
"The sales enablement role at Salesforce is primarily focused on coaching and guiding new hires," explains Kiran. "We are their first point of contact. We explain about the company culture, the products, the selling process, the skill sets needed, and how to get those skills."
Salesforce attracts people with varied cultural, educational, and work backgrounds. Kiran and his team are focused on creating programs that take this into consideration. From new hires just entering the workforce and salespeople with a decade or more of experience to new executives in sales leadership — there are enablement programs that fit every category.
"We work constantly with the sales leadership team to understand what training is needed. Is it product based? Is it skills based? Based on their input, we plan and put those programs in place."
Gamification and its Role in Sales Enablement
"When we work with new hires, we want to understand their background and their learning style so we can create a program that fits their needs."
Salesforce recently created an ebook and webinar on the value of neuroscience in sales. Gamification, which has gained a lot of traction in sales training especially for millennials, owes much of its effectiveness to fundamental neuroscience principles.
Kiran's understanding of how gamification can support sales enablement increased after completing an executive education program at Stanford University using Salesforce's educational reimbursement program. This program covered topics like design thinking and neuroscience.
"That program gave me a different perspective on how we work with generations. For example, for most millennials, it takes more than money to excite them. What makes them tick is recognition. They want to be respected, valued, and listened to. That's what makes them give their best effort. Gamification helps us tap into that."
Five Reasons Why Gamification Works
The neuroscience of gamification has been well researched. Regardless of the learning task, gamification can help people learn more easily while improving knowledge retention.
Gamification forges an emotional connection
Gamification creates a narrative around the learning activity that describes why the task is relevant to the learner. Attention spans improve when a subject's emotional connection is tied to a narrative.
The hippocampus controls recall
During learning, strong hippocampal activation makes the content easier to remember and recall (Foerde & Shohamy, 2011). In clinical tests, game play has been shown to stimulate these conditions.
Dopamine creates positive associations with learning
Dopamine, the feel-good hormone, is released whenever we're rewarded for a specific action. Gamification gives learners virtual rewards for achieving learning goals, so they associate learning with positive emotions.
The brain processes stories better than facts
When we're engaged in a strong narrative, the brain releases oxytocin — a chemical that generates feelings of trust and empathy.
Gamification helps deal with cognitive overload
Gamification presents learning material in a challenge-based format. This helps "chunk" the learning into smaller, easier to retain pieces.
Tips for Smoothing the New Hire Journey
Kiran has years of experience engaging with new hires as they enter Salesforce. "I tell every new hire, 'Salesforce is very fast paced, which can be overwhelming at first. Don't let it throw you.'" He offers three things they should focus on learning very thoroughly:
Product insights
Ability to articulate customer stories
Knowledge of the internal sales process
These he says are the keys to success.
Kiran also finds quality of adaptability very helpful at any stage in a Salesforce career.
Being part of an innovative and customer-centric company means pivoting to meet new demands. "Projects at Salesforce can change mid-stream. So, people who can handle that gracefully, without clinging to a rigid procedure, do well. Adapt, change, and move on."
Adaptability in Practice
When Kiran started developing training for the India sales teams, the programs were product based. But sales leadership shifted course to concentrate on industries. Of course, training needed to support that. And it needed to start immediately. To get up to speed quickly, one option was using industry content from North America and EMEA. But Kiran knew that wouldn't fly.
"Whenever I speak with salespeople in India, they often find that what works in other markets doesn't work here. We need to localize and custom build for India."
So, the requirements were: build custom industry content for India and do it quickly. Plus, Kiran's small but mighty team consisted of only Kiran and one other person.
"We didn't have the capacity to build programs from scratch. And we weren't creating programs for just one or two industries. We had to cover 15 industries."
So, Kiran and his teammate reached into their gamification bag of tricks. They assigned each salesperson an industry. The salesperson and their sales engineer and customer success resource would develop a presentation for their industry, customized for India with two use cases. Then the teams would battle it out. May the best presentation win. The prize: an exclusive dinner with the India executive sales leaders.
"The teams had two weeks. Everyone knew they would be presenting in front of the other teams. At the end of the month, we heard 15 highly polished presentations. The teams really dug deep with their research."
The presentations included 27 use cases that revealed overall industry dynamics, current customers, prospects, sales challenges, and key stakeholders, as well as appropriate products and positioning.
"When there's pressure to do multiple tasks and activities and time is limited, you prioritize. You start to see the best way to succeed in the shortest possible time."
To learn more about neuroscience in sales be sure to check out our ebook or webinar. And, if you're hungry to make an impact and apply your expertise in a complex, intriguing market, visit our careers site to see the range of exciting roles we have open.
Editor's Note: Kiran is now Sr. Director APAC – Sales Enablement