Use Psychology to Transform Your Sales Approach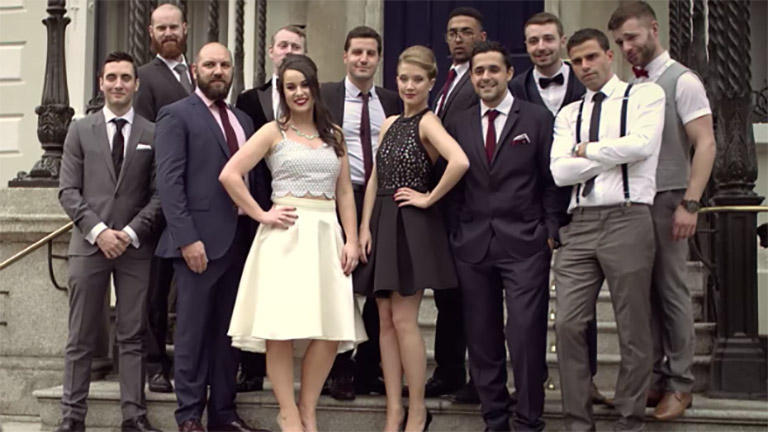 "Defining the psychological needs of clients in tech sales is just as important as understanding product requirements," shares Salesforce account executive (AE) Martina Mahady. 
As a former psychotherapist, Martina sees a parallel between a counselor's responsibility with patients and an AE's approach with customers. Promoting emotional well-being throughout the sales cycle can have a significant impact on customer outcomes.
"If you're dealing with humans, you're dealing with behaviour. Within sales, it's been a massive bonus to understand what truly motivates individuals and their behavioural differences. It's a resource I use everyday."
Today, as an AE, Martina's role is to bring digital transformation to the Business Services industry. She's tasked with more than just modernising a single process — her work reimagines the technology that is a foundation of her customers' businesses.
Martina shared with us how she considers the human mind and behaviour in her interactions as an AE to not only enhance her sales of digital transformations, but to create a better world.
Be part consultant, part counselor.
Google the term "digital transformation" and you'll get close to 500 million results. 500 million! There's a lot written about the benefits, the technical challenges, and the you-better-do-it-now sense of urgency. But it's critical to remember that behind each of these projects there are humans.
"When you see a client who has a big digital transformation project in front of them, it's analogous to seeing a client in psychotherapy. You're trying to help them unravel a problem. There's always a psychological dimension. There's a lot of pressure and complexity, in addition to the technical challenges," Martina said.
The top tactic she borrows from therapy? 
"Offering an empathetic ear is one of the most important ways we can help relieve pressure."
Martina feels that the intensity of digital transformation is simply one high-profile example of the importance of mental health in the workplace.
Create a psychologically safe workplace.
Salesforce emphasizes the importance of creating an atmosphere of trust — where people feel safe to speak up and take risks. It's a climate that supports psychological safety in the workplace.
This environment is equally important when collaborating with customers as it is in internal settings.
For Martina, creating this culture starts with a hospitable environment — like she experiences at Salesforce Dublin.
"I've known everybody here for five years and there's a great sense of community. Everybody helps everybody. If you're new in the office, they'll welcome and get to know you straight away."
She carries this sense of community into her interactions with customers.
"When working with a new customer on a digital transformation, there's an entire ecosystem that's important to consider. I feel comfortable asking questions that appear basic so I can dig deeper and understand their unique challenges. How do they make money? How do they lose money? This curiosity builds trust and creates a space in which everyone knows it's okay to raise your hand and ask."
Admitting uncertainty can be uncomfortable, but it's one step in creating a psychologically safe environment, which contributes to wellbeing at work.
Prioritise mental health.
"I think nowadays people are more aware of mental health for themselves personally and within the workplace. Poor mental health is the number one debilitating disease that stops people from coming to work. It's a major problem."
Martina points out that leading companies like Salesforce are recognizing this and starting to put wellness initiatives in place.
"Wellbeing is a topic that's advocated throughout Salesforce. Pip White, our Senior Vice President, recently started a social group for the team I sit on. We run regular wellness initiatives and fun social activities. Having a dedicated group ensures we don't get so absorbed in work that we forget to check in with ourselves."
Martina also delivered a talk on Minding Your Mental Health at Work at her Sales Kickoff. Some of her other tips for preserving mental health included getting regular exercise and participating in volunteer work.
Volunteering is one of Martina's favourite ways to protect her happiness.
"My most rewarding experience is not directly related to my job, but to our corporate volunteerism. I am massively proud to say I was one of the founding members of Give2 which has raised over $200,000 for the Make-A-Wish Foundation. I am grateful not only that we raised funds for children with critical illnesses, but also for the chance to meet Salesforce teams across the globe."
Martina relishes in sharing her Salesforce experiences with customers, knowing it will bring attention to mental health at other companies.
Salesforce Dublin is looking for passionate people who want to guide customers through digital transformations while promoting wellbeing. And Martina is ready to welcome you to the team. "You're going to enjoy working here and will have a clear career path. If you're considering relocating to Dublin, know that it's worth the move."
Ready to transform your everyday? Indicate your interest to the Salesforce Recruiting team.