Virtual Sales Is Here To Stay – The Latest Research Tells Us Why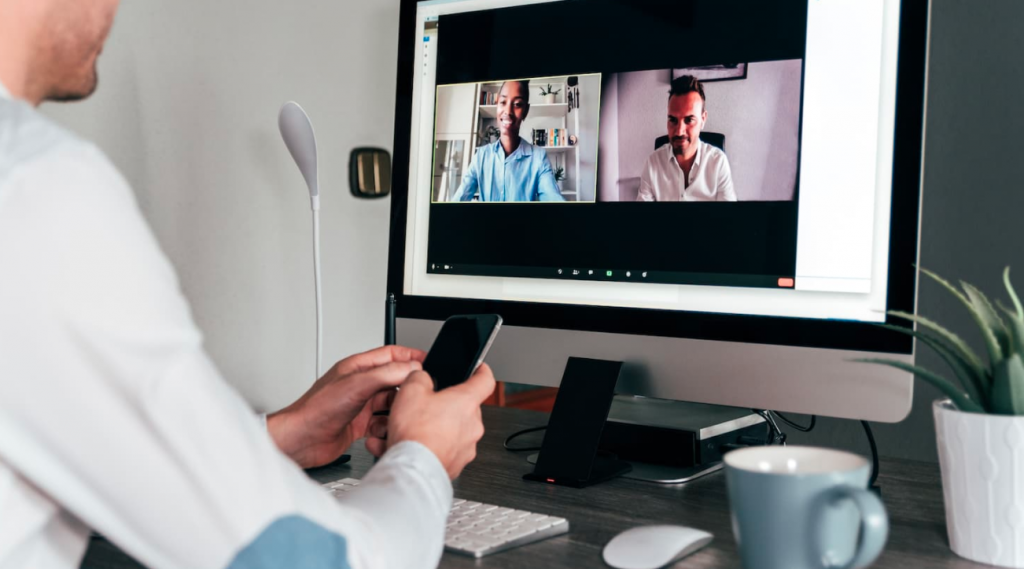 In 2018, a survey of more than 2,900 sales professionals worldwide showed that virtual sales was on the rise. 2021 numbers show virtual selling has gone into hyperdrive. It's no longer just a trend; it's now the way we work.
With advancements in technology and the rise of artificial intelligence (AI), salespeople now have the tools they need to find leads and close sales quickly — without leaving home. In fact, sales reps are increasingly likely to chat with a customer or prospect through a video chat rather than meet them in a conference room.
In March 2021, we asked 250 sales reps about their expectations for growth a year after the pandemic began. Their feedback was clear: Sales organizations have ramped up their efforts at connecting virtually three times faster than in-person sales.
Celebrated sales coach and speaker Larry Long Jr. said he's seen this in spades across all industries. "Virtual sales is definitely the new normal. Businesses can have this imposed on them, or they can write a new script. The best organizations are writing their own playbook."
Long said the key to making this "new norm" work is to keep customers and sales reps engaged and motivated – and use all the tech tools at their disposal.
"Flash a poll, draw a picture, show a video," Long said. "And keep your calls short so people don't tune out."
How virtual sales affect sales teams
The implications of virtual selling extend beyond the sales call, too. Managers are rethinking sales staffing models. They're increasingly filling the ranks of in-office reps and sales development staff instead of bolstering field sales teams.
Our research examined high-performing teams (those at companies with increased year-over-year revenue) and found they were more likely to hire inside sales staff. Adoption of new technology like video-conferencing tools, AI software, and mobile apps made this possible.
Does this mean field sales reps can get comfortable at their home offices? Not at all. Field sales plays an important role in building customer relationships: 71% of sales reps said building personal rapport has a substantial impact on converting a prospect.
Bring in more training and team support
Rapport helps, but it's not quite enough. Our 2021 sales rep survey revealed that they need additional support and training to truly thrive in a new, digital-first selling environment. Reps generally feel good about their ability to meet quotas remotely (63% are able to access customer data from anywhere), but they also said that virtual selling presents a lack of preparation. Only 32% of reps said they received excellent training for this new reality.
The biggest pitfall of virtual sales training, said Long, is sticking with the status quo. "I've seen sales managers do the same training while expecting different results. You've got to rewrite the equation."
His advice:
Schedule regular check-ins with reps who need ongoing motivation in isolated work-from-home environments.
Provide guidance on keeping sales calls impactful and short (around 30 minutes).
Offer ideas for making calls interactive, such as mini question-and-answer sessions, polls, and collaborative whiteboard idea mapping.
Customers expect connected, personalized — and most importantly fast — engagement from sales teams and brands. The rules of engagement shift a little each day, and the data shows virtual selling has been on the rise. Given this shift, sales teams that can adapt quickly will be increasingly effective in a digital-first sales environment.