A Place for Everyone: How Salesforce India Supports Veterans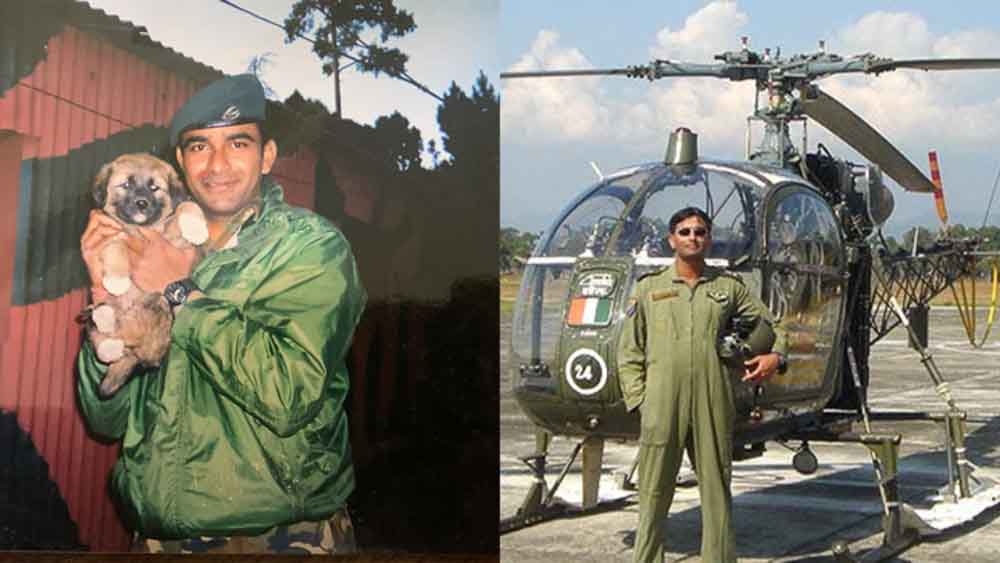 Salesforce employees Manish Phalgunan, Physical Security Manager and President of Vetforce India, and Gourav Ray, RVP of Sales, are both veterans. Though they served their country bravely, neither wish to be called heroes. Today, they're still serving and making an impact at work and in their communities through active involvement in Vetforce, Salesforce's employee resource group made up of veterans, families of service members, and allies passionate about supporting the military globally.
As president of Vetforce India, Manish says the ultimate aim is "to be the platform for change and create rewarding employment opportunities for the military community." Gourav adds "Veterans bring with their discipline the courage of conviction, leadership, and integrity," so Vetforce's work in India is especially important.
Hear more from Manish and Gourav on their many lessons from their military days and transition to civilian life that can apply to anyone. And join our Talent Community to stay updated on the latest news, events, and happenings at Salesforce.
Meet Manish Phalgunan
President of Vetforce India, Manager of Physical Security at Salesforce, and veteran
Prior to Salesforce, Manish served as a major in the Indian Army. "My tenure came to an abrupt halt with a battle casualty. I had to make a tough decision to retire from the army and carve out a new career in the corporate world."
As Manish progressed in his technology career, he found Salesforce. "As I learned more about Salesforce, its values, and culture, I got hooked on its DNA of inclusiveness and the impact it had on veterans' lives through giving back. Looking back, I have no regrets."
From the military to the corporate world
Manish says the teamwork and attitude he learned in the army were incredibly valuable. "The kind of training, comradery, commitment, and adaptability that you learn — it's amazing." Manish also learned valuable leadership skills such as putting people first, being optimistic in the face of adversity, using effective communication, and trusting the process, all of which he works hard to utilize as a leader.
Even though he gained transferrable skills from the military, Manish shares he still struggled with the transition to civilian life. A few of those struggles included not knowing where to start, learning how to work within a corporate ecosystem, and not being sure where to get guidance or information from. Navigating such a transition becomes increasingly difficult, especially when one is also dealing with Post-Traumatic Stress Disorder (PTSD). "With all this, settling into a new world becomes a daunting task," he says.
The beginning of Vetforce India
In 2019, Manish went to Dreamforce and realized he wasn't the only one who had a hard time transitioning after serving. "Seeing [veterans] on stage and listening to them talk about their struggles and triumphs gave me hope. This translated into the launch of Vetforce India." Today, he's dedicated to continuing to build this special community for veterans, military spouses, and allies, and is already seeing an impact.
So far, Vetforce India has volunteered with Association Saikorian – Krushi homes, an NGO run by veterans to support underprivileged kids. They've also been engaging with military talent, teaching others how to expand their career by learning Salesforce, and holding fireside chats with veterans. Manish is looking forward to doing even more in the future to help veterans find gainful employment.
Meet Gourav Ray
RVP of Sales at Salesforce and veteran
As a regional vice president of sales, Gourav has a very different role than he did in the Indian Army Aviation. Gourav served for 13 years in command, staff, and instructional roles as a flight commander and senior flying instructor.
"I had the opportunity of fighting insurgency in the Kashmir valley, flying along the Chinese border and the Siachen glacier. I also had the privilege of serving during the entire duration of OP VIJAY- the Kargil war."
Lifelong lessons from the army
After leaving the army, Gourav worked as a plant head/business head for several manufacturing businesses and a large Fortune 500 company before coming to Salesforce. "I was attracted to technology and innovation, and Salesforce seemed like a great place to work. Most importantly, the values of trust, customer success, and equality resonated with me." At Salesforce, Gourav manages the Manufacturing, Automotive, and Energy sales verticals.
Like Manish, Gourav also brought his skills from the army into the corporate world. He shares his three greatest learnings:
Be a lifelong learner
Never consider yourself an individual contributor
Champion diversity and inclusion
Gourav says every veteran is a lifelong learner, something that helps them adapt to civilian life after serving. "When I left the army, I had no clue what the outside world was all about. But it's this spirit of lifelong learning that has helped me [get to] where I am."
As for never considering yourself an individual contributor, Gourav says veterans have a great team mindset. "Their identity is not about themselves but the unit they are part of." As a result, they become better leaders. He adds that anyone can become a leader with the right understanding of team spirit and motivating others.
The importance of diversity and inclusion
Lastly, Gourav says he learned the importance of diversity and inclusion. He recounts a moment in the Indian Army when a woman was stuck waiting to be rescued. She was praying to a Hindu god and was rescued by a Parsi pilot with a Christian para-commando. At that moment, religion didn't matter. It was people helping people. Gourav emphasizes that at work, we shouldn't judge others for their religions or backgrounds, but rather come together to help the company thrive.
Gourav also shares his gratitude for the hiring experience he had at Salesforce. He hopes to welcome more veterans to Salesforce by working on veteran-friendly company policies and helping them transition to civilian life.
Are you a veteran interested in roles at Salesforce? Join our Talent Community.