A Values-Driven Career: Caring for Customers and the Planet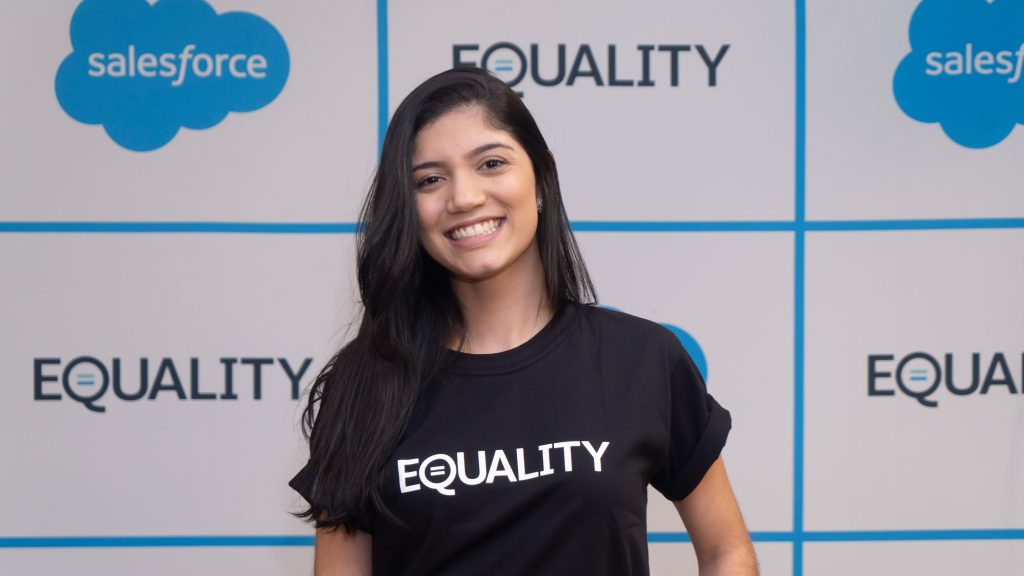 Beatriz Santos, Solution Consultant at Salesforce and President of Earthforce Brazil, an Employee Resource Group (ERG) dedicated to environmental responsibility, sees her success as a reflection of her parents' support.
With her drive for achieving goals, passion for giving back, and love for customer success, she's combined her personal values with work and built a purpose-driven career.
"Salesforce was my first job. I didn't have previous work experience or the best English. I wasn't studying at the best college in the country, but I wanted to be a great professional. I wanted to be in a company where I could be myself and find people to help me grow. Joining was the best choice of my life."
"I wanted to be in a company where I could be myself and find people to help me grow. Joining [Salesforce] was the best choice of my life."
Growing her career at Salesforce
In 2016, Beatriz began university and searched for an apprenticeship to help support her tuition. After interviewing at multiple companies, she was offered a position at Salesforce, sharing that it was the happiest day of her life.
Once she joined the company, Beatriz worked hard to make the most out of her opportunity. "I met as many people as I could, engaged in as many volunteer groups as possible, and studied our clouds."
After only a few months, Beatriz was hired as a Futureforce intern, later progressing through multiple roles in marketing and customer success. Eventually, she was invited to join the solution consulting team for the Marketing Cloud product, which provides businesses with a 360-degree view of their customer to create personalized campaigns. "That day, I knew that with a lot of work I could achieve everything my parents and I wanted for me."
As a solution consultant, Beatriz works with businesses to help improve their customer relationships. Through Marketing Cloud, she helps them interact with their customers across channels and devices to gain brand loyalty. What's her key to happy clients, you ask? Before every meeting, she asks herself, "What can I do to deliver good results and help my customers achieve success?" By placing herself in the customer's shoes, she can understand their needs and provide them with the best solutions.
Beatriz loves her role, but at times she's had to overcome self-doubt. How can you really know what a customer wants? How can you be confident you can provide what they need? Whenever she struggles with questions like these, Beatriz remembers all she's been through, reminding herself she's not only capable of success but much more. She is grateful to be backed by supportive colleagues who help her grow and gain confidence. "I found incredible people to help, support, and encourage me every day to be the best professional I can be."
Interested in driving customer success at Salesforce? Join our Talent Community.
Aligning professional and personal values
Beatriz's three main personal values — empathy, courage, and proactivity — are shown in her work daily. Empathy helps her understand customer needs, courage helps her remain confident, and her proactivity through volunteer work serves her community and colleagues.
In alignment with her personal value of proactivity, Salesforce's core values of equality and sustainability are two of Beatriz's favorites. Being part of a company that champions both is important to her. "As the leader of an ERG with a focus on sustainability, I could not be more proud to help reduce inequality in the world and make it more sustainable with the support of my company."
Beatriz has seen the impact of deforestation in her country and is proud of Salesforce's commitment to the One Trillion Trees initiative. "About 60% of the Amazon rainforest is in Brazil and deforestation is the worst it's been in the last 10 years.
Seeing a company like Salesforce concerned about planting trees is to be certain we are on the path to change." Salesforce has pledged to plant 100 million trees by 2030.
"Seeing a company like Salesforce concerned about planting trees is to be certain we are on the path to change."
As Earthforce Brazil's president, Beatriz has put her passion for the environment to work. "Being president of Earthforce Brazil is one of the best things about my day. I've had the opportunity to meet interns, executives, and VPs. I've improved on skills that aren't related to my day job, and have been able to connect with many companies and organizations I admire who also care about the environment." Among other responsibilities, Beatriz meets with customers about their sustainability efforts, partners with internal teams to cultivate sustainable workspaces, and organizes volunteer events.
Although Beatriz is heavily involved with Earthforce, she's always been an ally and volunteer in other ERGs at Salesforce. "Volunteering is not our day job, but we offer our time and dedication as if it were. Seeing so many people together for the same goal and fighting to make the world a better place makes me confident that I am where I should be." As of 2022, Salesforce employees have completed over 7 million volunteer hours.
Beatriz is grateful to be supported by her community at work, not only in her role but also in her volunteer efforts. "In all my years with the company, I've had many experiences. But one thing has never changed: I can continue to dedicate myself to volunteer activities, be president of a group, and be an excellent professional. At Salesforce, I get support from my manager, colleagues, and customers to continue volunteering. That makes all the difference."
Are you ready to align your values with your career? Stay up to date with the latest news, events, and job openings by joining our Talent Community.