Apart, but closer than ever: My unforgettable internship at MuleSoft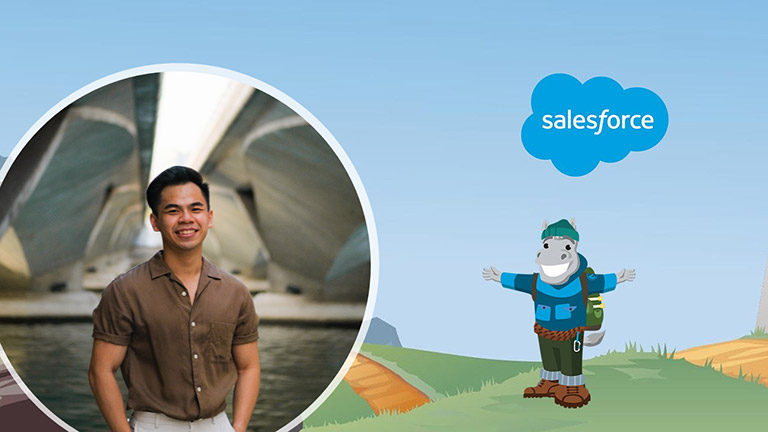 By Susanto
As I reflect on the past twelve weeks of my internship journey with Mulesoft as a Customer Success Manager (CSM) Intern, I can't help but think back and remember my first impression of this role. "CSM? Isn't it Company Sergeant Major? Customer success? Are MuleSoft's customers not successful enough?" These uncertainties were dispelled quickly during this internship, as I witnessed and worked alongside the most brilliant and incredible Customer Success team, I recognized the importance of the Customer Success (CS) function, not only in MuleSoft but also in every other organization.
I am Susanto, an undergraduate at Singapore Management University (SMU). Hailing from an Information Systems course, I have always been fascinated by how business and technology can go hand in hand. In addition, growing up as a child, witnessing and being a part of my family business has certainly honed my interpersonal and relationship-building skills.
Therefore, as a "people person" with a technical background, the CSM role aligned perfectly with my career aspirations, and when the opportunity presented itself, I took it up right away. Needless to say, I had also heard a lot of good things about Salesforce and MuleSoft, which made me inclined towards accepting the offer.
From the inclusive company culture to its deeply rooted core values and the ohana spirit, it is no wonder Salesforce was awarded as One of the Best workplaces in Asia, not just once, but five consecutive years. Interns were given the equal freedom, opportunity, and exposure as any other full-time employee to contribute to the company and give back to the community. As a CSM intern, I was given the opportunity to join the CS Bootcamp (only required for full-time employees), facilitated several customer meeting cadences, and supported APAC C-level Executives Customer Advisory Board.
Customer Success Manager
Customer Success is the team that focuses on helping customers to achieve business agility through leadership, advocacy, and enablement. As a CSM, we engage with our customers to help them get the most out of the MuleSoft technology and achieve their desired business outcomes. To achieve this, we work collaboratively with different functional teams in MuleSoft and orchestrate the actions to drive adoption, best practices, and measurable outcomes. We act as the voice of the customer within the organization, making sure that our customer's needs are duly represented throughout the customer lifecycle.
Onboard and onward with the Futureforce
Futureforce is a set of dedicated programs and paths filled with excitement and endless opportunities designed to enable interns to seamlessly integrate into the Salesforce family. From the interviewing process to the onboarding experience, it was a fun-filled and smooth sailing journey, all thanks to our recruiter, Theresa Ong. Theresa has been with us right from the beginning, showering us with a plethora of Salesforce Swag and always ensuring that our welfare was well-taken care of. With countless of Futureforce campaigns and initiatives, it allows interns to understand, appreciate, and advocate for our Trailblazer Community and Equality Groups at Salesforce.
The heartiest welcome
Unfortunately, because of the pandemic, the entirety of my internship was spent working from home – like all of my fellow interns. However, that did not discount the overflowing amount of warm welcome we received right after we landed. And you'd think it will just stop there? Not at MuleSoft! Our tightly knitted family continued to cheer us on for our slightest milestones. Their words of encouragement, willingness to help and the gung-ho spirit had taught me to become a better ally and that we can only rise by lifting others.
More than a team, just like a family
This is me meeting some of my teammates in person for the first time. The social gathering rules were followed accordingly to keep everyone safe.
"Ohana means family, and family means nobody gets left behind. Or forgotten." – Lilo and Stitch. I was truly blessed with the best manager, buddy, and Asia CS team.
My manager, Frederick Oon, is a passionate customer success leader, a life mentor, and a selfless individual who always puts his teammates' welfare first. He gave me sufficient freedom to execute my work while constantly challenging me to think above and beyond. He is the pillar of support who cheered us on when the going gets tough and someone who ignited my passion to want to pursue this career further.
My buddy, Mielan Raj, has been there from the get-go, guiding me on the actual role and responsibilities of a CSM. We worked together to set clear objectives and he has given me timely and constructive feedback through our weekly catch-up sessions. His words of affirmation kept me going through difficult times.
As a team, we never hesitate to share our challenges, achievements, and feedback with one another. Just like a family, we always put others before ourselves and we sincerely care for each other's well-being.
A real internship test: Joint Success Plan (JSP)
JSP is a collaboration between the customer and MuleSoft team. It is a roadmap that specifies a set of collaborative and collective actions that the MuleSoft team and customer-focused on to achieve the customer's desired business outcomes.
I was tasked to craft out the JSP as my key internship project. As a first step, I am required to uncover what are the short and long-term business outcomes from a strategic point of view. As easy as it may sound, that was actually the most challenging part of this project. There are dependencies on many aspects such as the business priorities, the volatility of the current pandemic situation, and the industry dynamics. Therefore, conducting research on the company's annual report, media release, and industry forecast before engaging in a strategic discussion on the clients' business outcomes was necessary and important.
While planning for activities, I had to apply the 3 core pillars of MuleSoft's Catalyst Methodology, define the right ownership and outcome for each activity. After reviewing the JSP with my buddy, I presented my final project work to our Customer Success peers and the leadership team in the JAPAC geography. It was a truly nerve-racking but inspiring experience. This project taught me that a CSM should be proactive instead of reactive, predictive instead of responsive so that we can help our customers on their success journey effectively.
Work hard, give back, and play hard!
This is the intern-led virtual LinkedIn Livestream that my teammates and I from MuleSoft and Salesforce hosted on 7th July.
Corporate volunteerism is a vital part of our Salesforce culture. Every employee, including the intern, is given 7 days of volunteer time off (VTO) to give back and strengthen our communities. I had the opportunity to volunteer physically and virtually and both experiences had been equally rewarding.
From packing 250 bags of staple food for lower-income families to raising awareness about the deaf community through learning basic sign language online, it has taught me that our smallest action can actually make a huge impact in creating a more inclusive and diverse community. Along with my fellow interns, we also shared our collective experiences on Salesforce's volunteering culture and views on the future of tech through a Linkedin Livestream as part of the Futureforce program. It was such a fulfilling experience having to design our marketing collateral, plan for the streaming flow, and to share our experiences as part of the Salesforce family.
As Muleys, we give back, we work hard, and most importantly we play hard as well. At the end of the quarter, we have a regional bonding activity like a virtual pizza-making session with all the ingredients delivered right to our doorsteps. All we had to do was to sip on some drinks and try our best not to burn our kitchen!
All in all, there was never a dull day at Mulesoft and I am really grateful and proud to be a Muley for the last 12 weeks. The knowledge I have acquired, the relationships that I have forged, and the values that I have gained are what make this internship an unforgettable one. Never miss your chance to be a Muley!
Editor's Note: Susanto is now an Associate Customer Success Manager