Celebrate Your Successes — From Anywhere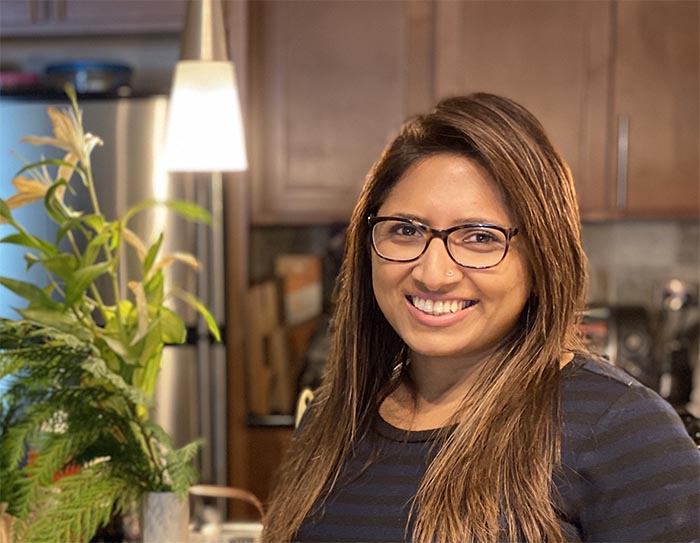 Suchi Das wants everyone to feel empowered to celebrate themselves and their personal success stories. Read about how she is using her role at Salesforce to encourage and support others in their career journeys.
Six years ago, Suchismita (Suchi) Das left her tech consulting position and started her career journey at Salesforce. Excelling first as a performance engineer, Das continued building her resume at the company and realized she could pivot to different roles that suited her and her overall career goals. Investing in herself and encouraging the people around her to do the same has served Das well, and positioned her as a valued, well-respected leader. Now a Customer Quality Lead in San Francisco, and Global Growth Chair of the Salesforce Women's Network (SWN), Das credits her growth to two main things: one, being able to define what success looks like and means to her and two, receiving support from colleagues who served as advocates while she simultaneously acquired and strengthened her skills.
Das knew that making a job transition would be a new experience but she was up for the challenge. Working with an onboarding buddy as she adjusted to a more customer-facing role led to increased comfort and confidence. As her role evolved, Das gained more responsibility. Fast forward to today, she's the program owner of two customer testing enablement programs, which she loves. Das also prioritized having a conversation with her manager to discuss her personal definition of success as she was developing her skills so that she would be seen and understood in the ways most helpful to her.
"My manager acknowledging [success] the way I am defining it and the way I want to celebrate it — I think that's a huge, huge deal and very important."

How to Show Up for Yourself
It can take time to learn how to best advocate for yourself at work, but Das is a firm believer that everyone should feel empowered to voice what they need in order to be successful.
"Everyone should get to define what success looks like to them. What success looks like to me might not be the same as what it looks like to my teammate," Das said.
Salesforce and its Success from Anywhere culture allows more people to apply for roles wherever they are. Apply today if there's a potential fit for you.
This mindset is a great example of why Success from Anywhere is being embraced across the company. The future of work is rapidly changing. Many people are still figuring out what works best for them — whether it be logging in from home or an office. Salesforce encourages a flex mindset that helps build meaningful connections and discover new, better ways of working. It's important to give everyone the space to share what they need in order to thrive.
For example, during Das' team meetings, each person has the opportunity to share weekly highlights and lowlights. They also prioritize discussing what they're grateful for. Nothing is too big or small to share, a concept Das acknowledges some people may wrestle with, but she encourages colleagues not to be afraid of advocating for themselves. It's not a matter of how wins are celebrated, it's about doing what's best for each individual.
"Whenever they come across the thought, 'Is this good enough to celebrate?' Yeah, it is! If you think it is, it is. And you get to celebrate it in your own way."

Growing with the Salesforce Women's Network
Being a part of the Salesforce Women's Network (SWN) Equality Group has also been an integral part of Das' journey. "From my first day at Salesforce, I have been part of the SWN. I started as a committee member, then [became] a hub leader, and now am the Global Growth Chair."
Das firmly believes women are the CEOs of their own lives, and through SWN, they are met where they are and provided with more resources to achieve their goals. She uses her position to remind members that the pressure should not be on women to amplify their own voices, leadership should proactively be making strides to do so.
Das' advocacy as a SWN leader is one way she's contributing toward building a better tomorrow for women and their allies. She recognizes that Salesforce still has work to do in terms of achieving gender equality. Through company-wide programs, such as its Black Women Experience initiative, the women's leadership program, the Women in Technology International (WITI) partnership, and the company's annual Trailblazing Women Summit (taking place in May — secure your spot now!), Salesforce is proving its commitment to advancing gender equality in the workplace and beyond.
Suchi's Advice for Celebrating Your Success
Das' commitment to fellow SWN members is strong but she ultimately wants all Salesforce employees to thrive. Lucky for us, she shared some keys to success!
Write down your wins: When Das first began working in a customer-facing environment, she made sure to write down what she describes as "ta-da moments." The first time she led a customer meeting on her own, and the first time she onboarded a customer from beginning to end, were some of the wins that served as motivation to keep moving forward.
Track and talk about your growth: Make it a point to talk about your achievements and areas of growth with your manager and colleagues. It can make a huge difference! "I think this tracking of successes has definitely been one of the most helpful things to get me a promotion in 15 months."
Slow down and pause: Take it one day at a time. While increased work flexibility is exciting, some days are hard and celebration doesn't come easy. Taking time to pause has positively impacted Das' outlook the past couple of years.
Be a cheerleader: To Das, "it's such a relief" to be a part of Salesforce because the company is invested in acknowledging and celebrating its employees. That support has been important for Das over the last few years and hopefully will be for years to come as she continues to cheer for herself and others.