Connor Thorsen's Trip of a Lifetime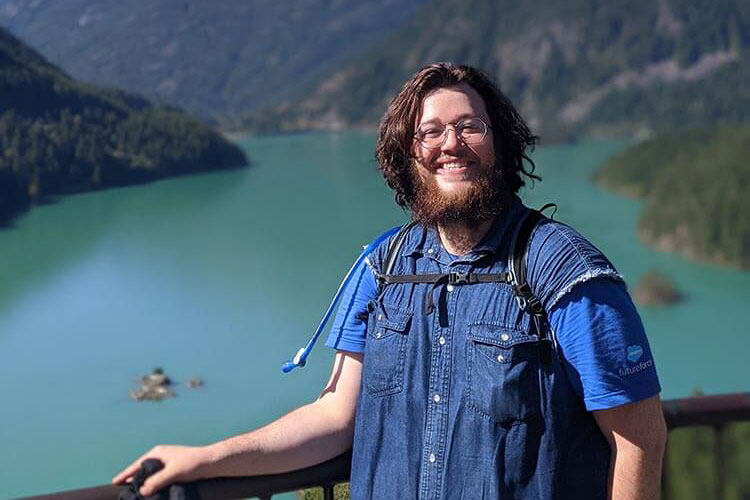 Connor Thorsen had just moved to San Francisco to start his new full-time role at Salesforce when the pandemic called many employees back home. A former two-time summer intern with Salesforce Commerce Cloud in Massachusetts, Connor was hired as a software engineer on the Security UI team to build internal services and websites for the network security organization. Thanks to an amazing cohort of co-interns, a friendly team, and a great learning experience during his internships, he was confident that coming on full-time was the right move for him after graduating from the Rochester Institute of Technology.
Now with Salesforce for over two years, Connor still hasn't been inside a Salesforce office since the pandemic began. Instead, he's been leaning into Salesforce's Success from Anywhere culture — including a stint spent hitting the open road on his motorcycle.
From July through October of 2021, Connor drove, worked, and camped his way across the United States, starting from his home base in Philadelphia. He started his journey with two weeks of vacation, making his way to Colorado and taking advantage of the National Parks & Federal Recreational Lands Annual Pass, which he was able to get reimbursed through the Salesforce Wellness Benefits program. He visited the Shenandoah and Great Smoky Mountains, then started working remotely from an Airbnb in Colorado — specifically, from his back porch overlooking the Rocky Mountains. From there, Connor strategized how best to balance work with sightseeing and make sure he could fulfill his commitments to his team.
Fully loaded bike on Day 1 of the trip.
"The way our team works, we have a very flexible schedule where we're able to work asynchronously due our globally dispersed team and nature of our work," says Connor whose teammates live in India, Singapore, and both coasts of the United States. "My manager has always trusted me to get my work done, and after letting me work on the road previously to go skiing in New England, realized that I should be able to work from anywhere."
While on his trip, regular communication was key to maintaining the trust of his manager and team members, so he made sure to join their daily standup in Slack (sometimes from the ski slope!) and plan his working hours so that he could overlap with his colleagues in India. His team members knew that they could reach out if they needed help, and he was vigilant about checking his messages to stay on top of his work.
In fact, while Connor made his way through the American West—including stops at a tiny home in Utah, campsites in Arches and Zion National Parks, a helicopter tour of the Grand Canyon, and rain showers in Sedona, Arizona—he always made sure to stop where he could have access to an internet connection and a place to work. He chose to put in most of his travel miles over the weekends while staying at each location for about a week, though there were some exceptions.
"The strangest place I ever joined a meeting was from the parking lot of a truck stop gas station," he remembers.
One of Connor's many work from home views, this one in Silverthorne, Colorado
Connor finally made it to San Francisco — a true coast-to-coast drive that had started on the East Coast over a month before — and was at last able to safely meet up with some coworkers face-to-face for the first time. Then he began heading home via a different route that allowed him to see Seattle, Montana, the Badlands, and finally Acadia National Park in Maine — his 22nd national park of the trip.
Unfortunately, Connor was in a motorcycle crash only five hours from home, which was a downer of an ending to the trip of a lifetime. "I was on my way back home from seeing the fall foliage in New England," he says, "and I got into an accident on the interstate right outside of Boston. Funnily enough, the hospital I went to was right down the road from the Salesforce office where I did my previous internships, so there was some comfort being in a familiar place!"
Still, he says he's already thinking about his next plans to travel, although it may be a few years before he tries a trip like this again.
Connor says 13,000 miles on a motorcycle gave him lots of time to think. He realized just how self-reliant he could be when he needed to navigate mechanical issues, get creative with where he would work each week, and practice "epic time-management skills and scheduling gymnastics" to make sure he could get from point A to point B while also getting his work done. If this sounds like an experiment you'd like to try, Connor offers a few tips from his experiences.
Have your vehicle inspected before you set off, and avoid Connor's experience of running into engine trouble after only three days on the road.
Set standards for how you'll communicate with your team. Your team has to trust that you'll communicate well and still do your job, even though you're having the time of your life.
Take some time off work if you can so you don't miss out on sightseeing experiences.
All that said … Success from Anywhere at Salesforce doesn't have to look like a multi-state road trip on two wheels, like it did for Connor. We use Flex Team Agreements that empower our teams to determine how, when, and where they work based on their unique needs and projects. And flex behaviors — like setting boundaries so we can do focused work — help us be our most productive and balanced selves. Connor's flex was epic, but yours could be smaller, like working from a coffee shop one day a week for a change of scenery.
The pandemic has certainly changed the ways we work, sometimes for good. If you'd like to explore what success from anywhere could look like for you, take a peek at our open positions. You just might find your next adventure with Salesforce!