Earthforce: Empowering Salesforce Employees To Lead Greener Lives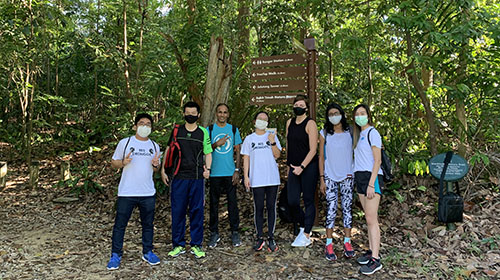 Regina Lim is the group lead for the Singapore chapter of the Earthforce equality group, which is Salesforce's community for sustainability. In this post, Regina shares how Earthforce promotes environmental responsibility.
Every month at Salesforce, groups of environmentally conscious staff members come together to help make the world a better, safer, and more sustainable place.
Our teams sometimes take boat trips along waterways to collect rubbish. Once a month, we trek nature trails to learn from guides about the unique local ecosystem. Other times, we welcome special guest speakers. They help our members figure out what we can do and who we can partner with to help protect the Earth.
We are members of the Earthforce equality group. Globally, Earthforce boasts over 9,000 adventurous and passionate nature lovers throughout the Salesforce family. Every one of them is aware of the power of the individual in creating change.
Together we can make change
Individuals, particularly when they come together in groups, can make a big difference. Climate change has many serious effects on the Earth. Therefore, it's more important than ever that we bring as many people as possible on board to make that difference.
Salesforce's Earthforce chapters around the world help to spearhead this movement. Local chapters have their own processes and events.
For Earth Month, we have planned themes in advance and activities to match those themes. For example, we also compile lists of local organisations we'd like to make contact with, or partner with, to promote our cause.
The more people and organisations we can get involved with, the more empowered we become. For instance, we encourage our customers to join us by creating Earthforce groups of their own. Salesforce has even released videos such as this one, showing interested customers how they might best do this.
What the Earthforce Singapore chapter does

Here's what we had lined up for April 2021:
Week one of April was about the importance of biodiversity in Singapore. The group's plans for the week included:
Contacting several local nature societies, including Nature Society Singapore and the Restore Ubin Mangroves Initiative;
A fascinating nature tour with a group from the Bachelor of Environmental Studies program at the National University of Singapore; and
Attending a Earth Optimism Cambridge event, called In Conversation with Sir David Attenborough
Week two of April was about food waste and what we can do about it. Food waste is a huge problem in Singapore, with around 744 million kilograms of food wasted every year. This food waste makes up 10% of Singapore's total waste, and only 18% of it is recycled. To raise awareness about food waste, Earthforce Singapore and Bamboo Builders  will run an Explore Food Wastage program on 24 April. Participants will have the opportunity to "rescue" ugly vegetables and redistribute these to people in need.
Week three was all about e-waste and what we can do about it. E-waste includes home appliances such as washing machines, and devices such as laptops and mobile phones.
In Singapore, there is a "repair coffee shop", where you can get broken appliances fixed while having a coffee. That way,  you don't have to throw your appliances away and buy new ones. Another organisation, called Engineering For Good, collects laptops or desktop computers and refurbishes them, then gives them to people who can't afford computers. Our members contacted both of these businesses to discuss how we might partner in the future.
Week four, coinciding with Earth Day on April 22, is about reflection and what we can do to encourage others to join us in taking small steps toward big change.
Earthforce is a community for sustainability
We at Earthforce recognise that there are urgent and systemic issues that contribute to climate change.
These may seem too daunting to overcome. But by getting employees, customers, and like-minded organisations together, we can fix some of these issues.
Along the way, we're connecting with amazing people and having great adventures.
Learn more about how to make a positive difference and combat the effects of climate change, take the Sustainability Trail on our free learning platform, Trailhead.