Honoring the History and Impact of the AAPI Community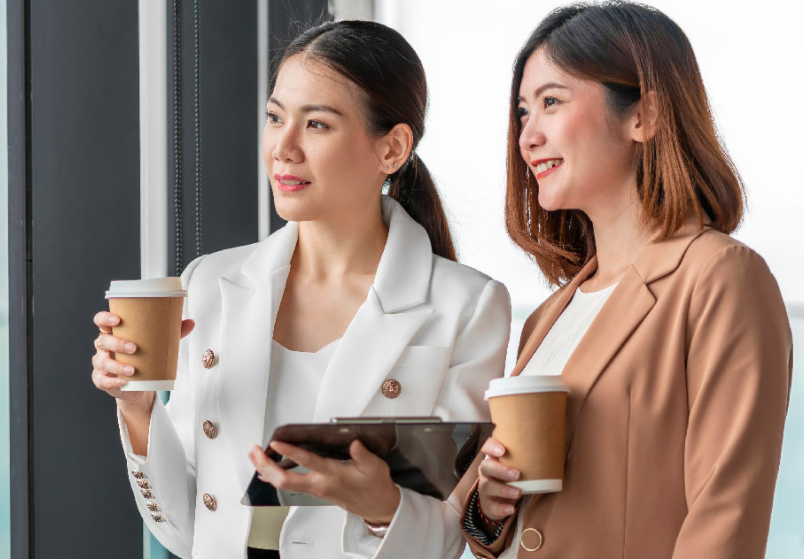 A recent survey of over 2,700 people in the U.S. found 42% of those asked could not name one single prominent Asian American. Many weren't able to name Vice President Kamala Harris, Star Trek actor and activist George Takei, or Alphabet (Google) CEO Sundar Pichai — this data reaffirms actor Steven Yeun's quote in a New York Times Magazine feature. "Sometimes I wonder if the Asian-American experience is what it's like when you're thinking about everyone else, but nobody else is thinking about you."
Yet, the first documented Filipinos came to North America on ships with the Spaniards in the 1500s and the first group of Asian immigrants in the U.S. came in the 1850s. Since the founding of the nation, Asian Americans and Pacific Islanders have helped build America: they dug for gold, were lumberjacks, railroad builders, craftsmen, farmers, and soldiers.
As we honor Asian American Pacific Islander (AAPI) heritage month throughout May in the U.S., we recognize the impact of the community. Asian American history is American history. The term — Asian American — has its origin rooted in political activism bringing together those of Asian descent under an umbrella identity. It has always been important that this identity is at the intersection of what it means to be both American and Asian.
A rich American history
Asian immigrants played a vital role in developing America, most notably the over 20,000 Chinese and Sikh Indians that built the transcontinental railroad. The finished railroad stretched 1,912-miles and changed how the country travelled and traded. Once the railroad projects were completed, many turned to lumber mills and agriculture to make a living. Here, Asian Americans, alongside Mexican-American activists, worked to pass agricultural labor reform acts to establish farmworker benefits.
Unfortunately, these achievements are often overlooked. Laws such as the Chinese Exclusion Act of 1882 and Executive Order 9066 (establishing Japanese internment camps during WWII) prohibited immigration based on national origin and limited the rights of residents and citizens. Despite this history, many generations of Asian Americans have served in all branches of the U.S military since the Civil War.
Representation and role models
The strength of the diverse AAPI community has shown resilience; excelling in professions as diverse as politics and sports. They've been startup founders and CEOs, actors, musicians, social influencers, activists, and authors. Asian Americans are your neighbors and coworkers.
Among the Asian American community, you'll find entrepreneurs and business leaders such as Honeywell Connected Enterprise CEO Que Dallara and Tatcha CEO and Founder Vicky Tsai. Other Asian-led companies like Zoom and DoorDash saw their demand and revenue rise during the pandemic. While leading their companies through the pandemic, over a thousand Asian American business leaders have also donated a combined $10 million to end anti-Asian hate.
The visibility for the Asian American community (and the wider diaspora) in film and television has also increased over the last few years. Asians are receiving awards for both onscreen and behind-the-scenes representation; from the 2020 Oscar win of "Parasite" to "Minari" winning this year's Golden Globe to Chloe Zhao's "Nomadland" 2021 Academy Award for Best Directing and Best Picture. In addition to those films already mentioned, films like "The Farewell," "To All the Boys I've Loved Before," "Never Be My Maybe," "Crazy Rich Asians," and on the small screen: "Never Have I Ever" and "Warrior," show a diversity of American and Asian diaspora experiences. Many of these found receptive audiences on streaming services during the pandemic.
Champion the AAPI community
Even with this groundswell of representation as the pandemic wanes in the U.S., anti-Asian racism and xenophobia is ever-present. In response, activism in the community has accelerated.
At Salesforce, we're committed to taking action against racism, violence, and hate. Our Racial Equality and Justice Task Force was formed to address systemic racism, brutality, and injustice. Salesforce is addressing anti-Asian hate by donating $700,000 to Stop AAPI Hate and $250,000 to Chinatown Community Development Center. Following an increase in COVID cases in India, Salesforce has also donated $1 million to support both colleagues and communities in India.
This May, celebrate Asian American Pacific Islander heritage month by championing the community:
Learn more about Asian American Pacific Islander history. 
Support Asian American Pacific Islander businesses from your local restaurants to your everyday purchases
Amplify the voices of the community and include AAPI employees as an integral group in Diversity, Equity, and Inclusion initiatives.
Find out more on which organizations to support
Read books by Asian American and Pacific Islander authors
Salesforce is committed to supporting the AAPI community through a number of initiatives as part of the Racial Equality and Justice Task Force. See other ways you can support the AAPI community today.