How Salesforce is Working to Support Moms: Three Employees Share Their Stories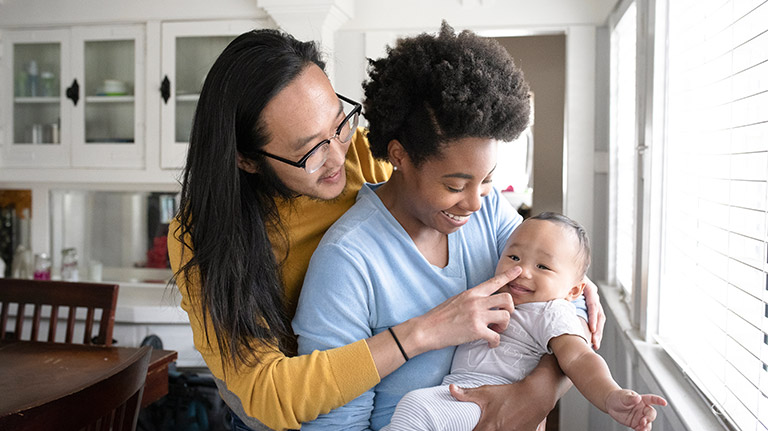 Balancing a growing family with priorities at work can feel daunting — especially among the uncertainty we've faced over the past year. Now more than ever, companies are being called upon to pivot and rethink the future of work, as well as the impact on working parents. In fact, family benefits platform, Cleo, recently reported that working parents in the US are losing a cumulative 720 million hours each week to stress/anxiety and caregiving, with women losing 49% more time than men. Statistics like this demand action, and many companies are stepping up.
Salesforce is committed to ensuring working parents are supported with the resources they need. During the pandemic, we pivoted and expanded our family care leave, making parents eligible for six weeks of paid time off, and increased our global back-up childcare offerings.
In honor of Women's History Month, here are three Salesforce employees who shared some of the unique challenges parents — and those planning to become parents — are facing: balancing work and raising a family, how company family benefits options have helped, and some pro tips they've learned along the way.
Supporting Parents During a Pandemic
Dana Chery, VP of Product Marketing at Salesforce, is the mother of two wonderful, smart, and energetic children — 4-year-old Callan and 14-month-old Zaria.
As a vice president, Dana leads the Service Cloud Product & Solutions Marketing team within Service Cloud Marketing. She has always led with empathy, but even more so during the pandemic, especially when it comes to working parents. "As a people leader, I have made an effort to listen more reflectively, lead with empathy, and be more attuned to the needs of my team than ever before. For me, this entails hosting more regular 1:1s with my directs and skip levels across my team to more personally touch-base with everyone — this is time that I value. Working remotely has also put a spotlight on how much more challenging it can be to share important, timely information with the team so everyone feels in the loop. To address this I post a weekly (sometimes semi-weekly) update in our team channel to share what is top of mind for me and the broader leadership team. This helps give the team context for initiatives they're working on and insight into what's important.  In addition, I often try to host camera-free meetings to encourage people to have a conversation without worrying about how they show up on camera and to even take a walk outside while doing so."
Be Intentional with Your Time
"Prior to the pandemic, I always made it a point to set boundaries. However, with everyone working from home while sheltering-in-place for months on end with seemingly nothing to do but work, boundary-setting felt elusive. My husband and I are both full-time working parents, and while we're committed to being present with our kids, we are also career-driven. I live by my calendar, and that is what has enabled me to set intentional boundaries and prioritize effectively. I block time in the early morning and evening and label it "Family Commitments" for public visibility. Those times are reserved for my family and generally include getting my two kids ready for the day, transporting them to childcare and then picking them up, prepping meals with my husband, and getting the kids ready for bed."
"We're a global organization made up of driven, customer-obsessed employees and I'm no exception, so occasionally, I'll have a meeting that overlaps with my "Family Commitments" time block, but generally, colleagues are respectful of that time. Some departments at Salesforce have instituted monthly Wellness Days to give people across an entire department an opportunity to recharge. This has been a very well-received program because it allows everyone to take a pause all at once, which means there's a shared understanding and commitment to not have people working on those days."
Pro Tip from Dana: Don't be afraid to block time on your calendar to take care of your family and set intentional boundaries. Prioritizing how you spend your time leads to better focus when you're at work, and joy when it's your personal time with your family.
Starting a Family on Your Terms
The decision to grow a family is a different journey for everybody — and it's rarely a linear one. From unexpected fertility issues to long adoption processes and everything in between, it's impossible to predict the twists and turns you'll come across. But in some cases, you can think ahead.
Planning for Fertility
(Robyn Kraft, Sr. Solution Engineer)
Robyn Kraft, Sr. Solution Engineer and President of a subgroup of Outforce, our Employee Resource Group for the LGBTQ+ community and allies, is tapping into her options now to make future fertility decisions easier. "My wife and I want to be really present and intentional parents, but we're not ready to do that right this minute," said Robyn. "It's amazing that we have the opportunity to reflect on that timing."
Robyn and her wife are exploring the process of freezing embryos to help grow their family in the future. And while a major roadblock for fertility treatment is cost, Salesforce's fertility benefits have helped lighten the load. "As an LGBTQ+ family, all of our fertility options are expensive — adoption, IVF, or freezing embryos are incredibly costly processes," noted Robyn. "The financial assistance our benefits provide has given us peace of mind while we sort through all of the questions and decisions around our future."
Pro Tip from Robyn: If you're feeling unsure about growing your family, open the dialogue by asking, "Are there things I can do now to make the decision to become a parent easier on myself later?" If the answer is yes, then it's worth exploring.
Planning for Change

(Alison Hays, Sr. Recruiting Manager)
For many, thinking ahead means finding the balance between family growth and career goals. As difficult as it may be to wrap your head around managing career shifts on top of becoming a parent, having the right support system makes all the difference.
When it came time to grow her family, Sr. Recruiting Manager, Alison Hays, was also growing in her career. "I moved into a people manager role when I became pregnant, which was a huge adjustment," recalled Alison. "But even with six months of maternity leave (as a U.S.-based employee) on the horizon, there was never concern about my ability to handle the expanded responsibility. Thanks to the trust of my peers and leaders, as well as the support of Salesforce's fertility and parental leave benefits, I felt hopeful for the future of my career and my family."
After maternity leave, Alison gradually returned to the office — working four days per week for the first four weeks — to get acclimated to life as a working parent. "I'm extremely grateful for the months I had to bond and enjoy time with my son," she said, "I was truly excited to dive back into work when my leave ended."
Navigating Parenting in a Pandemic
Thinking ahead is great, but we can't plan for everything — like, say, parenting during a global pandemic. Over the last year, we've all felt a major disruption in the face of COVID-19, and there's no denying that working parents, in particular, took a pretty hard hit, from navigating COVID-19 health concerns to juggling distant learning and childcare. According to a recent Pew Research Center survey, 52% of employed parents say it has been difficult to handle child care responsibilities during the pandemic. And when it comes to gender equality in the workforce, COVID-19 has disproportionately affected women. According to a McKinsey & Company report, as of July 2020, women makeup 39% of global employment but account for 54% of overall pandemic-related job losses.
Like many, Alison spent the early part of quarantine adjusting her working and leadership styles to meet the needs of her team — all while caring for her son as her family's daycare provider took time to safely reopen. "It was a really tough shift in the beginning," Alison recalled. "As a leader and someone who was accustomed to being in the office four days a week, I was struggling to feel like I was doing a good job or making an impact."
Pro Tip from Alison: There will be days where you feel like you're failing in your career or failing as a parent. Sometimes both. Give yourself grace — you'll rebound from those hard moments.
"Looking back, it feels really intense and challenging, but Salesforce is an extraordinarily parent-friendly workplace. There are no questions asked when it comes to taking care of your family," Alison added. "The back-up childcare program offered throughout the pandemic has been extremely helpful from a financial standpoint, and we've all been granted incredible flexibility. Meeting times got shuffled, my toddler made noise in the background, I worked weird hours, and felt supported through it all."
The Future: Success from Anywhere
While the initial office closures may have felt abrupt, the pandemic has served as a catalyst for broader changes. Salesforce is majorly transforming how we work, empowering employees to continue doing the best work of their careers — on their terms.
For Robyn, despite being ready to reconnect in person with her team and the Equality Group community, working from home has its upsides. "We've been able to spend more time outside, especially walking our new puppy," she said. "When we choose to grow our family, I plan to enjoy the ongoing flexibility. It'll be a really cool opportunity to watch our children learn and interact with the world even more closely."
Dana reminded us of the importance of self-care, especially during this pandemic. "In this always-on, results-oriented world where we're always connected through multiple collaboration applications, it's so important that we consciously take the time to disconnect, strengthen relationships with loved ones, and replenish our mental, physical, and emotional wellbeing — otherwise known as the areas of our lives that have to be intact in order for us to bring our best selves to work."
Better understanding the ins-and-outs of remote working has been a silver lining for Alison. "Since adding childcare back into our routine, I've been able to get comfortable in my home office and tweak my team's meeting style to bring a more inclusive experience for remote employees," Alison said. "I'm looking forward to bringing that perspective into the mix as we look toward re-opening offices and embracing this new work-from-anywhere environment."
Pro Tip from the Benefits Team: Salesforce provides resources to help you navigate parenthood from pre-birth/adoption through age 12. Take advantage of these benefits for an added support system as you find the right balance for yourself and your family.
At Salesforce, we are committed to advancing gender equality in the workplace and in society. Click here to view the recap of our third-annual gender equality summit, Trailblazing Women, where we heard from inspiring authors, business leaders, and activists. If you're interested in a career at Salesforce, visit our careers page.
Editor's Note: Allison is now Director, Recruiting