How Three Women Blazed Their Trail in Salesforce Professional Services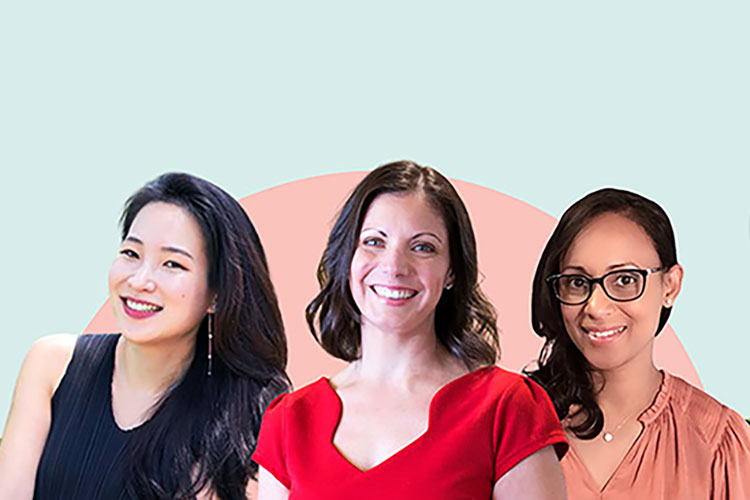 Our Customer Success Group (CSG) helps customers unleash the full power of Salesforce by designing and implementing technical solutions to business challenges while providing guidance to product development based on clients' needs. Recently, we talked with Eunbee Marie Kim, Kim Davies, and Valérie Raffa to discover what inspires them about their work in Professional Services. We explored how Salesforce helps them stay true to their values and how the company is an attractive choice for women looking to grow their technology career.
While their jobs require different skill sets, the women have many similarities: a relentless focus on the project at hand, a highly developed sense of empathy with team members and the customers they serve, and a passion for using that empathy to deliver the best possible business outcome.
As an Experience Architect, Eunbee Marie Kim (Marie), leads customer engagements, facilitates design thinking workshops, and injects a human-centered development approach to encourage innovation within project teams. She has overseen over a hundred design thinking workshops unlocking insights to create an actionable solution roadmap for customers like Nestle, P&G, and Lenovo.
For five years prior to joining Salesforce, Marie worked with a design team in a customer-facing, co-innovation spaces in which customers and end-users worked collaboratively on projects, putting humans and their experiences first. During her tenure her team grew from 2 to 14 members.
Looking for Fresh Challenges
When searching for open roles, Marie saw the Senior Experience Design (XD) job description and was pleasantly surprised to learn it was a perfect fit for her mindset and skills. As this was a more senior role with at least 10 years of experience recommended, she decided to just go for it because like she said "you never know if you don't try."
"After five years at my previous company, where I learned a lot, I was ready for a fresh start. I felt driven to take on new exciting challenges in a more senior role, with more complex projects. The timing was ideal to join Salesforce, Asia. I couldn't wait for the change marked the first time they provided these services in the Asia market."
Marie Kim takes Volunteer Time Off (VTO) to support the Sapa, Vietnam community.
Q: So, what gave you the confidence to "go for it" even though your experience didn't entirely meet the role's requirements?
I saw an article, Why Women Don't Apply for Jobs Unless They're 100% Qualified. The article gave an overview on behalf of the Harvard Business Review explaining how men tend to be more confident of their skills and abilities if they're given a chance, thus they take initiative and apply for jobs they may not be 100% qualified for. While women, who could be overqualified, heavily consider the requirements before applying and question, "Will I fit in? Am I good enough?". And this is a further reason why I decided to take a chance on myself because I had nothing to lose.
In 2019, Salesforce sponsored a highly attended design conference in Singapore, with executives from around the world in attendance. It was obvious Salesforce was serious about human-centric design and there were open career opportunities available. Everything lined up and here I am!
Q: What do you love most about your role in Experience Design? How does your role contribute to the success of the Professional Services organization?
Professional Services, Asia, transforms the way we interact with customers during user requirements gathering. It's not just one person talking and asking questions, and another person recording the answers. We use visual workshops to show the customer what we're proposing, how it will work and what it will impact. That way, there is transparency and alignment ensuring we fully understand the solutions we need to deliver to meet their business needs.
"I love connecting with customers and solving their problems. My job is humanizing this cool technology to make it useful and meaningful for the customer. We learn how they do their daily work, the systems they use, and the challenges they face. Once we understand the challenges, together we co-create a solution."
Regional Vice President, Services Leader, Kim Davies, joined Salesforce in 2012 and loves being part APAC CSG Professional Services team, located in Melbourne. She currently leads a team of talented Services consultants across ANZ South (Melbourne, Australia), delivering customer success through cross-cloud programs and projects.
Kim has extensive experience leading large software development and business solution teams. Prior to joining Salesforce, she spent 15 years with a company that helps newsrooms around the world produce websites, newspapers and magazines — online and print. 
Starting as a developer, she took on the role of collaborating with her team of developers and the company's customers. With one foot in the technical camp, Kim could saw how she made a difference on the business side, which gave her valuable insight into customer challenges, an opportunity she really enjoyed!
Innovation Guides a Career Path
Prior to joining Salesforce, Kim was working at a great company, well known for its industry expertise and customer satisfaction. In the early years when her daughter was young, she was grateful to work at a company that was very supportive of her time spent with her family. She recalled catching up with a colleague that has previously worked for the company who later joined Salesforce and she kept asking Kim, 'When are you coming over? What's it going to take for you to move?'. This friend was instrumental in her transition to embarking on a career move.
At the time, I hadn't learned much about the company and I was eager to learn more about Salesforce. The more I learned, the more excited I became! From a technology viewpoint the company was a perfect fit for my background and experience in product solutions and product direction. The Salesforce core value and focus on innovation was key for me. We empower businesses to change the way they worked which is so different from what I've seen before in my career." Kim joined Salesforce in 2012 and began her journey with Professional Services.
Kim joined by her fireside chat guest at the 2019 Regional Kick Off Salesforce, Melbourne.
Q. What were the first six months like — different company, different role, different culture?
I went from working directly with a CEO and leading a team to being an individual contributor. That's how much I wanted to join Salesforce. The Professional Services team in Melbourne was hugely supportive from the very beginning which really made a strong impression on me when it came to the team culture at Salesforce. No one was hoarding knowledge as a weapon and everyone was eager to help each other. Team members would take time out to make sure I was successful. And in that first six months, I got my Salesforce certifications, which was a great experience.
Q. What do you love most about your role as a services leader?
If I had to choose just one thing it would be getting to work with an amazingly talented team every single day. It can be quite intimidating just how smart the team is, but it's also inspiring. With customer success as a core value, it's intuitive to make the right decisions.
"When working with customers I continue to be inspired by the impact we are making through enhancements across industries in the local region and throughout the world! After each phase of a project it gets more and more exciting, for instance, when the platform is ready to launch for our customers and their audience, which we call "go live", our customers begin to see outcomes and can truly see the investment they've made in Salesforce products and the business impacts."
"The first thing that attracted me to Salesforce was the narrative around employees, customers, and the number one value being trust. That ticked a lot of boxes for me. To put the cherry on the cake, the role I was offered required a good mix of technical and consulting skills!"
Based in Melbourne, Senior Program Architect, Valérie Raffa, joined Salesforce in July 2019. She's 12x Salesforce certified as well as certified in The Open Group Architecture Framework (TOGAF). Valérie is very passionate about helping organizations make smart business decisions supported by innovative technology. Before starting at Salesforce, she had several roles as a consulting architect implementing SAP, ServiceNow and Workday in Australia and other parts of the world, across the public sector, commercial industries and education.
Valérie began her career with an internal role in IT, as a Java developer, on SAP implementations. Valérie soon realized she really enjoyed interacting with her internal customers. Through the feedback she received, it was clear connecting with people and talking about their technology challenges was a natural gift.
In Professional Services, Empathy can be a Superpower
As a program architect, Valérie feels like the orchestrator. Although she doesn't necessarily write code or configure in the live system, she needs to be comfortable in programming languages such as Apex, Javascript and Java. Programming is a foundation domain to master on the platform, alongside Security, Application design, Integration, Data, DevOps, Identity and Access Management. For instance, when there's a complex problem, the program architect is the first person customers turn to for a solution. Valérie sees empathy and the relationship built with the customer as essential to bringing everything together – people, process and technology.
"Empathy for me is number one"
As a child my parents describe me as independent, reserved, and certain to follow the rules. As an adult, I now see how my traits of observing and analyzing helped me develop my super power of empathy. To me it all makes sense and fits perfectly with the work I do which directly involves the ability to recognize, understand, and digest something that may be complex and package it up into an easy to digest output. In my career, I have to be able to walk in our customer's shoes. We're measured on our customers' success which is tightly linked to our ability to understand their goals, problems, and desired outcome. For me, that's a key success criteria.
Valérie finishing strong at the Run Melbourne 2019 5K in support of Cancer Research on behalf of the Peter MacCallum Cancer Foundation in Melbourne.
Q. What attracted you to Salesforce after you re-entered the workforce from maternity leave?
I've worked with many customers, companies, and different types of technology. When I came back from maternity leave, my number one criteria was working for a company that looks after their people in a way that is sustainable for the future. I was at a point in my career where I could reflect on what I liked or didn't like about a company and a job. I had a lot of offers, but I was very picky. What mattered most were the company's values.
That's what first attracted me to Salesforce — the narrative around employees, customers, and the number one value being trust. That ticked a lot of boxes for me. To put the cherry on the cake, the role I was offered required a good mix of technical and consulting skills. Again, it fit the direction of where I wanted to advance my career.
Q. What do you love most about your role and how does it contribute to the success of the Professional Services organization?
I think I'm a problem solver at heart — a storyteller and a connector. I see problems and try to solve them. That consistent opportunity to solve problems is a reason why I enjoy my role. I think for a program architect, success hinges on our ability to bring people together to solve problems.
The role is especially pivotal for our large accounts that come with the expectation that you have a high level of expertise and the responsibility to ensure end to end success. By doing our job well, we build a long-lasting partnership and learn from our experiences along the way.
Trailhead: on the Trail to Learning and Growing
Launched in 2014, the Trailhead platform breaks down barriers to learning and creates an equal and accessible pathway into the Salesforce ecosystem for anyone with an internet connection. From admins to developers, marketers to architects, consultants to analysts, sales to service, and everything in between. Whatever your background or interests, there's a Trailhead path for you.
The three women featured here swear by the value of Trailhead and have all attained the rank of Trailhead Ranger, which requires earning 100 badges and 50,000 points.
"Trailhead is great platform to help in the certification process. It's designed to make you think about what you're learning. The curriculum actually teaches you the fundamentals and why it is important, rather than telling you what you need to know. It does take hard work, so my advice is to know why you're doing it. What's the purpose? You'll need these tools to overcome challenging and complex tasks. I was completing trails because I'm passionate about my work and I wanted to be equipped to help my customers."
"In my journey, Trailhead was essential. It didn't exist when I first started but later became a place where I could continue my learning journey in bite-size chunks with the amounts of time I had. There's a huge amount of breadth in terms of the topics and areas you can focus on. You can find a trail or module you're interested in, mark it as a favorite and work on it when you get the time. I've even got the Trailhead app on my phone."
"Even though I'm not a technical or solution architect, our team of designers and consultants is encouraged to become certified. I wanted to equip myself with platform knowledge so we can work together to bring the best solution to the customer. The best way to gain that knowledge is through Trailhead. The step-by-step learning and wealth of information also presented an opportunity to connect with other colleagues to learn together. There are many of Trailhead community members online and offline who are ready to support you."
Fueling a Passion for Customer Success while Supporting Women in Technology
Marie, Kim and Valérie all believe strongly in the Salesforce values of trust and focus on the customer. As highly successful women in technology, a field still largely dominated by men, they want other women who may be considering a technology career to know that there are many opportunities to learn, grow, and succeed at Salesforce.
Salesforce is willing to step up and have the tough conversations when it comes to advancing equality. Here the shift in access and opportunity is greater than the company it is about inspiring a cultural shift. Valérie notes, "When I notice a lack of gender diversity, I can give my point of view without fear of retaliation. Salesforce helps create a safe space where everyone has the freedom to speak up."
At Salesforce, we are committed to advancing gender equality in the workplace and in society. Click here to view the recap of our third-annual gender equality summit, Trailblazing Women, where we heard from inspiring authors, business leaders, and activists. If you're interested in a career at Salesforce, visit our careers page.
Editor's Note: Valerie is now a Lead Solution Engineer