How to Grow Your Customer Success Career at Salesforce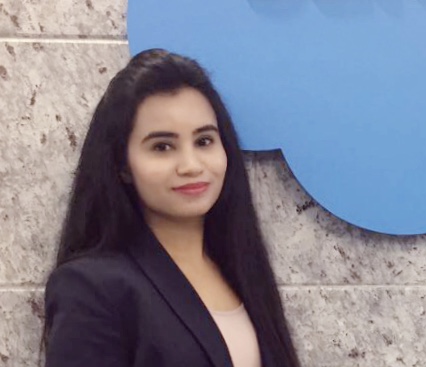 When Vinita Mishra joined Salesforce in 2012, she didn't expect to stay more than three years. Hired to work on complex technical issues as a Success Agent, she said, "I had worked at my previous job as a software developer for three years, and I thought three years might be enough to work for a big company."
Now approaching her 10-year anniversary with Salesforce, Vinita shares what she loves about the culture, the values, and the professional opportunities that have kept her here.
From software developer to technical support and customer service
Prior to joining Salesforce, Vinita worked as a software developer for a global consultancy based in Dubai. It was an intense environment with no set working hours.
"We just had to make a project go live," she says. "No one left the office on time. And if you did leave, you wouldn't progress like your colleagues, which is not the case at all at Salesforce. I was looking for a role where I could use my skills, plus have work-life balance."
Vinita's best friend worked in Salesforce customer support, and from her, Vinita learned how important customer service is to the company — and how much Salesforce emphasizes employee well-being. "That's what attracted me," Vinita says, "and that's how my Salesforce journey began."
Remembering the Salesforce of a decade ago
Looking back on her 10 years at Salesforce, Vinita recalls one of the things that surprised her when she started with the company.
"For any role you take on, you receive very well-defined training," she emphasizes, "and you get a training 'buddy,' which I liked very much. There was no Trailhead back then, but a training culture was still deeply rooted in the Salesforce DNA. In my previous job, people were just thrown into new projects, without help. Here, you're encouraged to ask for help and to give it wholeheartedly if asked."
Vinita joined Salesforce in the role of Success Agent where she stayed for a year, learning the basics of the company's support offerings.
"Salesforce offers different types of support," Vinita explains. "One is Basic, which is free and comes with the product. Then there's Premier Support, which is where I worked in my first year. If a customer wants to go beyond Premier, there's Signature Support. I was one of the three people who started the Signature Support team in India."
Taking advantage of global opportunities
Several promotions later, Vinita moved to Dublin in 2017, primarily for personal reasons. Her husband, who's from Central America, was in Ireland, which is nearly a midpoint between Central America and India. Of course, there's a Salesforce office in Dublin.
"My leadership was very supportive," Vinita says. "They wanted me to lead and expand the core and Marketing Cloud support teams. I didn't feel as if I'd changed jobs. It was the same company, the same culture. Even the offices look the same."
Vinita is proud of the fact that her team sits in many different regions "My team is very diverse, I manage a team from nine countries in Europe. And the Hyderabad and Dublin teams work together."
"I'm loving it here; the city is amazing and the people are very welcoming."
Offering the highest level of support for the biggest customers
Vinita now works with customers who are so big and well-known that even a generic description would make them easy to identify. At her current level, there's a lot of contact with senior executives, a steep learning curve, and constant growth.
"It changes you," she notes. "I'm very different now than when I started this team seven years ago. Many of the customers have been working with Salesforce longer than I have. They know a lot. So you need to build a team that's very technical, which we have. And I love the pressure."
The evolving role of women in technology
Vinita graduated with an engineering degree and went directly into a technology career. She's seen the roles for women in technology grow and evolve over the last 10 years.
"There's more to be done, but we are in a very good place compared with where we were 10 years ago," she says. "I would also say I saw more women in technology careers in India than here." She believes India's educational system, which strongly emphasizes math and science, partially explains this discrepancy.
"India has thousands of engineering colleges, and the IT field is considered a 'safe' career choice for women and men," Vinita comments. "India also has a population of 1.3 billion, so that translates to a lot of engineers, many of whom go into technology. I'm one of four sisters, and three of us work in technology."
Vinita also participates in the Salesforce Women's Network equality group at the global and regional levels.
"We discuss challenges we face as leaders and strategies to break into leadership," she says. "Salesforce is a huge advocate for all forms of diversity, including gender diversity. We understand the benefit of having diversity in our companies. We need to keep working on it."
Customer service can make or break a product
Vinita observes that customer service has a become a huge component of sustainable product success.
"If a product is amazing but doesn't have good customer service, and it's competing against an okay product that has amazing customer service, it's quite likely the customer will stay with the okay product," she says.
A key element of amazing customer service is how simple and easy it is to access expert support. Delivering ease and simplicity has been a significant focus for Salesforce over the past year, which has led to enormous changes in the structure of the company's service organization. To learn more about our Customer Success segment please checkout this spotlight.
"We've made tremendous changes this year," Vinita says. "Over my past 10 years, this has been the biggest change year. We've modified our support team into a cloud model to make them more expert in cloud technologies. We've also simplified and improved our customer portal."
Perhaps the biggest change was made to the way the support team worked internally. Instead of working in tiers, they've adopted a "swarming" model.
"A swarm is a pod of usually 8–10 people," she explains. "The pod works together on issues, helping each other and working against team-level targets. Instead of escalating issues through tiers, we've flattened the structure. The whole team attacks a problem and it makes the investigation and resolution move faster."
A balanced life
To relax, Vinita and her husband love to cook. "Even though my husband is not Indian, he loves Indian food, and he has learned to cook a lot of Indian dishes. So we invite friends over to show off our culinary expertise," she laughs.
Vinita also loves enjoying the great outdoors. "Ireland is a beautiful place," she says. "It's a country of gardens. So we love to explore the countryside."
A commitment to giving back
Although the pandemic has reduced some options for Volunteer Time Off (VTO) and in-person community outreach, in Ireland Vinita is active in virtual projects related to environmental and climate-related causes. Previously, in India, her favorite VTO experiences were with orphanages and old-age homes. "We would go as a team and spend a whole day," she recalls. "Cook for them, bring gifts, celebrate a birthday. That remains very dear to my heart."
"Its values are what keeps me attached to Salesforce," Vinita says. "I'm proud to be part of this company. At every level, we are committed to giving back to the community. It just gives me a very good feeling that what we are doing has a great purpose attached to it. That's what has kept me here."
If, like Vinita, you're ready for a new challenge, check out our open roles in Customer Success. Visit our careers site today to get started.