More Than Solutions: Engineering Positive Energy and a Career You Love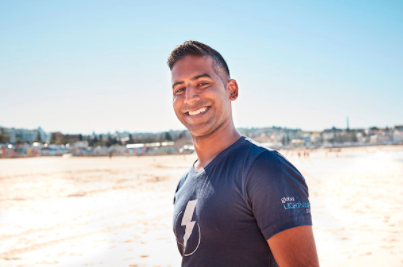 "I love what I do at work — and that allows me to come home every day with energy to enjoy the time I have with my family."
Keran Wijetunga is a Principal Solution Engineer based in Sydney, Australia. He's also a husband, a father, and a lifelong learner. By continuously trying new things, staying curious, and never limiting himself, Keran's journey has led him to an unexpected career he loves.
"If you had told me 18 months ago that I'd be talking to CEOs around their digital strategy and what they should be doing, I would have just laughed," Keran says. "I never thought I'd be able to have these conversations."
Keep reading to discover Keran's journey — you might just be inspired to take the first step in transforming your career, and your everyday.
From curiosity to career
Keran's career began in financial services as an analyst. He spent 10 years in the field across a range of organizations and positions — most pivotal being a technology manager, a role in which Keran had little prior experience. His curiosity and desire to learn propelled him into the position though, and he welcomed the challenge. After noticing Salesforce wasn't being fully utilized at his new company, Keran made it his mission to master the platform's capabilities and became the self-proclaimed product owner.
"This was effectively the turning point in my career," Keran notes. "I decided to focus solely on Salesforce, educating myself through Trailhead and working on the platform over the next four years. During this time I engaged heavily with the Salesforce account team and in addition to loving the platform, was impressed with what the team was able to bring to the table."
TIP: Trailhead is an online learning tool that anyone can use to build skills. Yes — that means you, too! 
When Keran saw a Solution Engineer opening pop up, his wife encouraged him to apply. "You seem to really enjoy it, why don't you actually go for the job?" she said. Solution Engineers effectively present product offerings and architecture to prospective and current customers, demonstrate solutions that address business requirements, and eliminate any technical objections during the sales cycle — all responsibilities that intrigued Keran.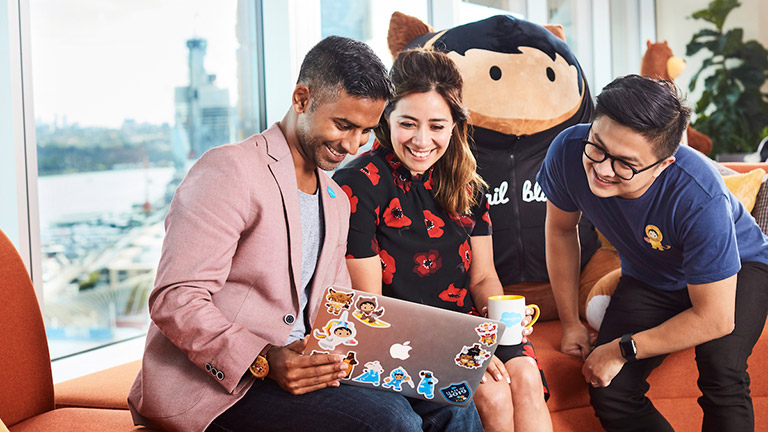 Although apprehensive about his traditional financial services background translating to a tech company, he saw this as a golden opportunity to network courageously and explore a new career path. Keran sat down with someone in the role on his account team who echoed his wife's enthusiasm. "Look, just trust me," he told Keran, "you understand how the platform works, you understand business, you know what users need."
This was the push Keran needed to shift his newfound interest into his actual career, and he made the jump.
TIP: Think about connections in your own professional and social spheres. Is there a role or field that piques your interest? Ask them to sit down for 20 minutes — you never know where the conversation may lead! 
Focus on industry
"Having that industry focus, actually being a customer, and being in financial services was really critical for me to be able to join Salesforce," Keran says.
Now supporting Enterprise Accounts in the financial services vertical, Keran walks into customer meetings and knows how to speak the language — a critical piece in earning trust. As someone who has always thrived on fixing things, he sees his current role as "understanding a customer's business strategy, how technology enables that strategy, and how we can help them deliver on that."
TIP: With customers across so many different industries, you can find a place here — even if you aren't from a tech background. Find a role that supports the vertical you're from, and your existing knowledge will take you far!
Every day provides new challenges and opportunities to generate solutions. For example, trust within financial institutions has been a specific topic in Australia — a lack of customer-centricity being the root cause. "If I'm a customer and I've raised a complaint with the bank, I should not be receiving an email tomorrow asking me to increase my home loan," Keran explains. "From a technology perspective, you need to have a customer-centric platform that can actually coordinate all those activities across the bank."
Blockchain is a tool on the rise and has the potential to positively impact situations like this one. As a database that documents each change, instead of overwriting information when a change occurs, a customer's activity is tracked more accurately. "Blockchain is all about transparency, accountability, and cost effectiveness. I'm sure that will probably come into the mix at some point," Keran says.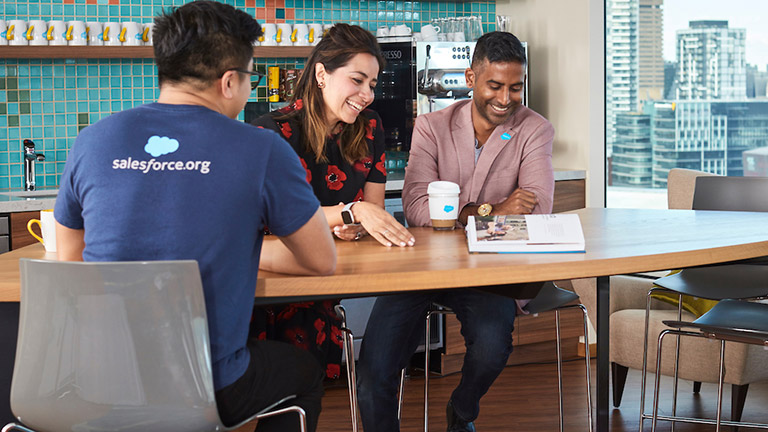 In addition to looking at industry trends, Keran may spend one day discussing strategy with customers and the next working internally to build prototypes. "The role of a Solution Engineer itself is incredibly broad and I feel like there's been plenty of flexibility to choose my own approach to work," Keran says. "I've always been more business orientated than deeply technical. Salesforce has supported me by allowing me to focus on my key strengths within my role."
Not only has Keran been able to focus on his strengths, but also on his genuine interests — the same curiosities that got him to Salesforce.
"Most things I do on a day-to-day basis are things I would probably be reading about outside of work," Keran says, especially when it comes to topics like trust and ethics within technology and artificial intelligence.
"That blend of work and interests is what keeps me energized throughout the workday and beyond," Keran says. "You bring a lot of that positive energy home, and especially with a young kid, you don't want to be coming home tired and irritable. By really enjoying what you do, it means that you can bring that joy home with you as well."
Transform your everyday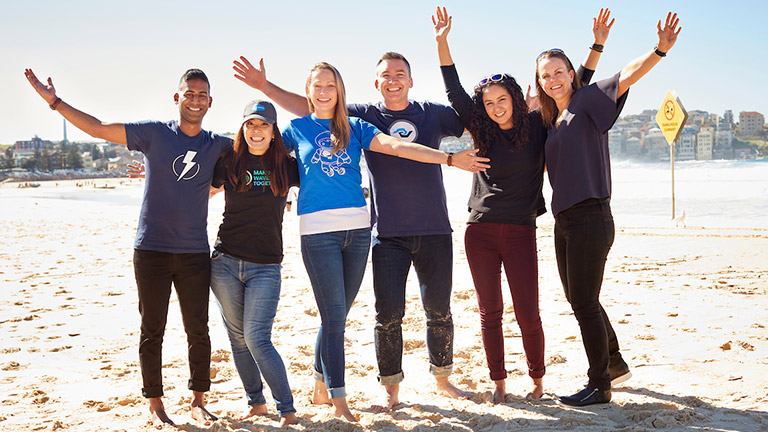 While technology skills may be one part of the equation for someone interested in a career at Salesforce, Keran believes that empathy and curiosity are the most critical qualities needed to excel.
"We do so much more than provide software. Customers expect us to deeply understand their organizations, their culture, and the people within," Keran shares. "Salesforce is an incredibly broad platform and new capabilities are being released all the time. It's challenging to keep up with the pace of change — but I believe naturally curious people enjoy learning new things."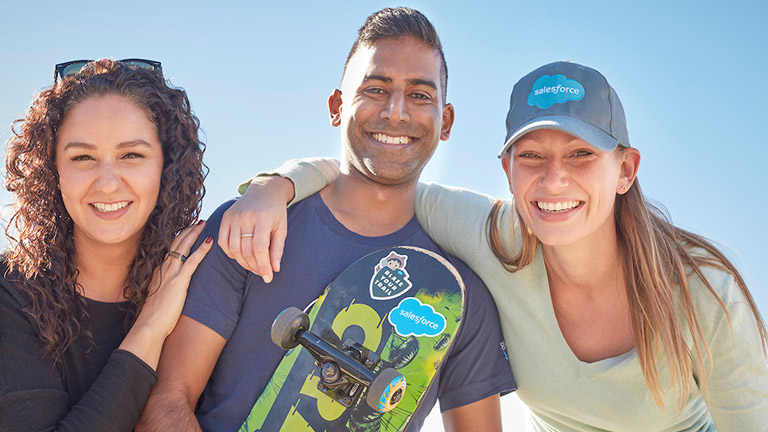 Natural curiosity is how Keran made his shift in the financial world from more traditional roles to the technology space, and eventually on to Salesforce as a Principal Solution Engineer. And while he knows firsthand it can feel daunting to consider a move into the tech world, Keran encourages prospective candidates to apply. "I think it's about taking the hesitation away from joining Salesforce as a tech company, because a lot of the conversations I have aren't really about technology, so much as understanding people, businesses, and how to help them."
What sets Salesforce apart? For Keran, it's the people. "I've never worked within an organization with such a high caliber of people and diversity of skill sets."
Ready to engineer a career you love? Play around in Trailhead, take a look at our ever-evolving list of opportunities, and come join us.
Editor's Note: Keran is now Senior Manager, Solution Engineering